For many teens, one of the most exciting times in their lives is when they drive by themselves for the first time. Not only is it a rite of passage declaring their burgeoning independence, but it is a milestone marking how much their parents have grown to trust them. Yet, for many parents, as exciting as this first solo drive is, it's still nerve-racking and a car tracking device for parents or a teen driving tracker can help provide a little peace of mind.
There are all sorts of devices and services available to help you track your teen's driving and keep them from experiencing any distractions. Just because your child is driving alone, that doesn't mean that you can't supervise their behavior. Some of them are built-in, and some can be installed after you purchase a car.
Do I Need A Teen Driving Tracker?
You might think that tracking your teen is unnecessary, and you might be right; however, many parents feel more comfortable if they put a teen driving tracker in the car. But in 2017, 2,734 teenagers ages 13-19 were killed in motor vehicle crashes, according to the Insurance Institute for Highway Safety. In fact, teenage drivers have the highest crash risk per mile driven.
One reason for this relates to their inexperience coupled with their natural tendency to behave impulsively. To help teens build their experience and good driving habits, each state has graduated driver licensing laws in place. Teens are restricted to driving in low-risk environments until they obtain a full license. But even with this system in place, teens (like all drivers) may still be subject to the temptations of driving while intoxicated or distracted. Monitoring devices can be a great tool in helping you further educate your teen on being a safe driver. Any of these tactics will in part help avoid easily preventable auto claims.
Considerations for a Teen Car Tracker
Teen Drinking and Driving
With regard to teen alcohol use and driving, many parents might be quick to say, "Not my kid," but the National Highway Traffic Safety Administration reports that young drivers, ages 16-24, accounted for 42% of drivers involved in accidents where alcohol played a role.
Teens and Distracted Driving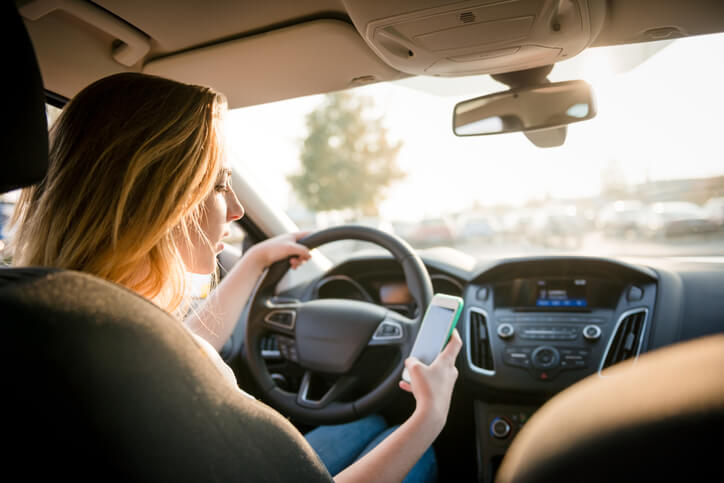 Cell phone use is even more prevalent among teen drivers. When the AAA Foundation for Traffic Safety analyzed 1,700 videos of teen driving, in the last 6 seconds before a crash, distraction, most commonly in the form of cell phone use, was a factor in nearly 60 percent of moderate-to-severe teen crashes. In fact, in more than half of the rear-end collisions recorded, teens using a cell phone while driving were so distracted that they failed to react at all before the impact. Thankfully, there are now hands-free devices in cars that are essential for your young driver.
By using monitoring technology and explaining to your child what you expect to see (or not see) when they drive, you can create an ongoing dialogue around safe driving behaviors. What's more, you can help prevent your teen from getting into an accident, keeping them safe and your car insurance rates down.
Take the Pledge!
Educate your teen about the dangers of distracted driving, and together, as a family, download and print your certificate and promise to not drive distracted in any way. Don't forget to sign it yourself, remember you must set a good example.
Tracking System Features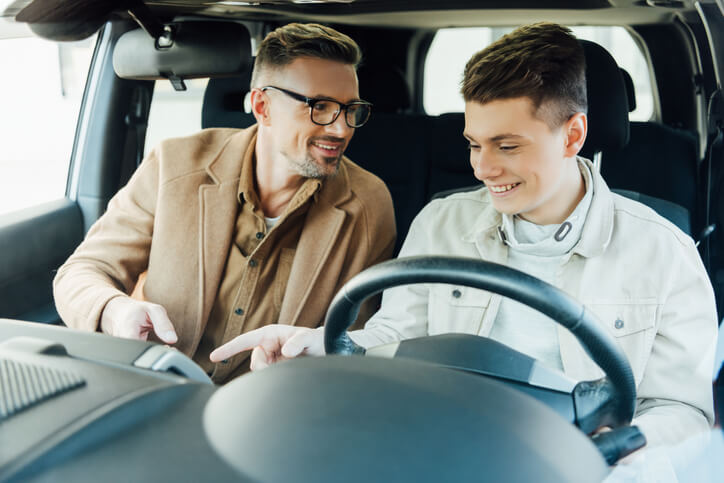 Vehicle Tracking System Features Can Become a Teen Car Tracker
Many of the new vehicles sold in the last four years come equipped with different types of devices and services that allow you to track your teen's driving behavior. Some features include:
Alerts you via text or email when the vehicle crosses a physical boundary in real-time.
Destination Alerts.Alerts you via text or email when the vehicle arrives at a preset destination (e.g., your child's school).
Speed Limits.Limits the vehicle's top speed. Even if the driver tries to accelerate beyond that speed, this setting will prevent them from doing so.
Volume Limits.Prevents the driver from increasing the car's volume above a certain limit. Depending on your device or service, parents may also be able to block explicit radio stations.
Do-Not-Disturb Mode.Diverts the driver's incoming phone calls to voicemail and holds all text messages for later viewing.
If you are on the market for a new car, keep in mind that a tracking system may not be included in the make and model you're interested in. And even if it is, it may not have all the features you're interested in and may require an additional monthly fee or subscription to activate your car tracking device for parents.
GPS-enabled Tracking Devices
GPS-enabled tracking devices can be plugged into your car's diagnostic port, which is typically found under the dashboard, by the driver's left knee. Consumer Reports found that the three models they tested in 2014 all worked well on vehicles built after 1996. Since that report, many more devices have come on the market, including Zubie, Mastrack, MobiCoPilot, MotoSafety GPS and Delphi Connect. These devices all work the same basic way, although some have a few different bells and whistles.
Each is controlled via a website where you can set geographic driving limits (such as a geofence) for the driver. You can view a map that shows the vehicle's location and route. If the car crosses a geographic boundary, exceeds a set speed, or breaks any other limit you've set, the vehicle tracker, acting as a car tracking device for parents, will send you an e-mail or a text (or both) to notify you. Most also come with a mobile app for use with a smartphone or tablet.
Wondering if your child can just disconnect the device? You'll receive an alert if they do, or if someone decides to reconnect a disconnected device.
Using a Drive Cam as a Teen Driving Monitor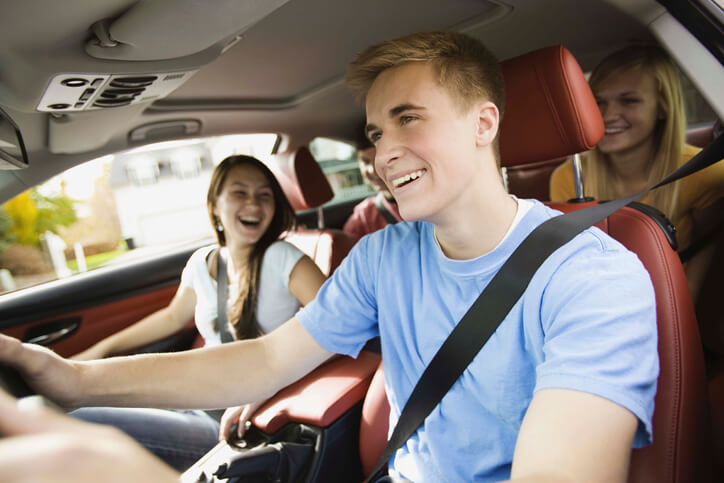 This video camera monitors the teen directly, rather than the car. You place the camera on the windshield behind the rearview mirror where it films your teen as they drive. The device records risky maneuvers and alerts the driver by flashing lights that change colors. Parents can then watch the video of their teen driving monitor and discuss what they've seen.
According to research from the University of Michigan Transportation Research Institute, this can have a positive impact on teen's driving behavior: teens who received an alert when they engaged in risky driving along with feedback from their parents changed their behavior immediately, whereas teens who received an alert but no feedback did not.
It is important to note that some behaviors can't be tracked, such as drowsy driving.
Forgetting something? Download your certificate to accompany your conversation with your teen about the dangers of distracted driving.
Disclaimer: This article is meant for information purposes only. The Hartford does not endorse or have any association with the products and/or services referenced.