One of the most difficult decisions you'll make in life is choosing a senior living or care provider for a loved one.
In this resource guide, you'll find practical tools for evaluating options, advice on knowing when "it's time," and encouragement for what can be a lengthy and trying process.
Managing Difficult Emotions Around Senior Care
Making the decision about senior living or in-home care is tricky and fraught with emotion. Some common contributors to the stress that many caregivers experience include:
Witnessing a decline in your loved one's health.
Seeing your loved one struggle to maintain independence after they've lost a spouse or partner.
Feeling the strain of balancing your career and family with being a caregiver.
Disagreeing with your siblings or other family members about certain decisions.
Having a strained relationship with your parent or relative.
Having a parent or loved one that's unwilling to accept help.
If you've been the primary caregiver for a parent or older relative, you're probably also wrestling with guilt, grief, feelings of inadequacy or even burnout—especially if you've been caring for the person for a long time.
It's important to be aware of—and process—the complicated feelings and emotions that shape this entire experience. Some tips you can follow to help inclue:
Talking to a trusted friend, relative, mentor or therapist.
Seeking a support group online or in-person. Learn from others who've gone through something similar.
Knowing that it's normal to be feeling this way about such a life-changing decision, as it impacts you, your loved one and your family.
10 Signs Your Loved One Needs Support
Aside from the emotions on your end, keep an eye out for the things that may signal a parent or relative's need for support. Sometimes the signs are subtle but other times, they're quite obvious and can include:
Piles of unopened mail or unpaid bills
Piles of laundry (clean/dirty)
Failing to take required medications or to seek medical help
A poorly stocked refrigerator or pantry, with a number of expired items
Dirty dishes in the sink
An unkempt appearance or body odor
Comments about isolation or loneliness
Mood swings
Personality changes
A change in sleep patterns (how often they sleep, what time they wake, etc.)
For the skeptical siblings or family members who aren't involved with helping on a regular basis, sharing these concrete red flags may help them understand why you're concerned. Or, if you're feeling guilty about considering care, seeing these signs may be the affirmation you need to take that next step.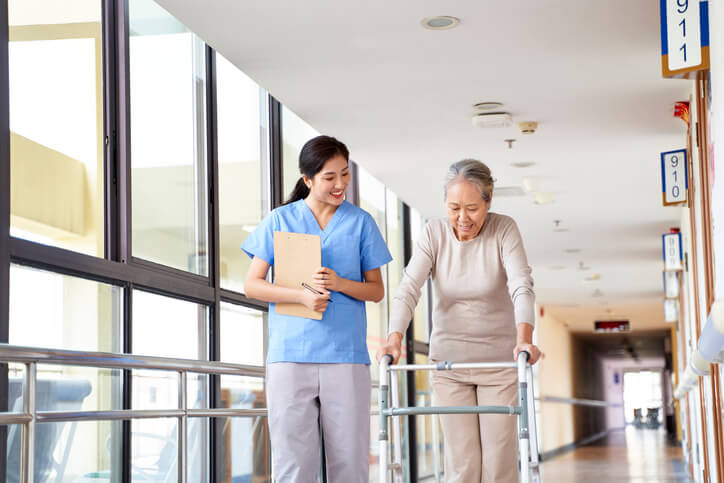 Levels of Care: A Quick Look at Options
Not every older adult requires the level of care that a nursing home provides. Here's an overview of alternate settings and supports.
Adult Day Centers
These community-based centers offer socialization and meals. In some cases, they can also help with medication administration if your loved one needs it.
Skilled Home Health Care
There are two types of home care. Home health care means that a skilled worker, like an RN, would come to your loved one's home to do things like:
Taking care of wounds
IV therapy
Administering medication
Non-skilled Home Care
This type of home care consists of services like:
Bathing
Dressing
Meal prep
Laundry
Light housekeeping
Companionship
Assisted Living/Personal Care
Assisted living, or personal care, offers help with activities of daily living (ADLs) and instrumental activities of daily living (IADLs). Examples of ADLs include bathing, dressing and using the toilet. Some examples of IADLs include:
Meal planning and preparation
Balancing a checkbook
Making doctor's appointments
Doing laundry
Dementia Care
Nowadays, there are more freestanding dementia care communities available. These settings are similar to assisted living in terms of services offered, but the entire community is tailored to the needs of people living with dementia.
Continuing Care Retirement Community (CCRC)
In a CCRC, you'll find several levels of care, from independent living to assisted living to nursing home care. You can progress through the levels as your loved one's needs change.
Independent Living
Older adults that don't need assistance may do great in apartment-style living with amenities like:
Meals
Activities
Fitness programs
This setting is attractive to older adults who may not need support but find the maintenance or upkeep of their home no longer desirable or doable.
Short- or Long-term Rehab
Sometimes, a broken hip or a bad fall could prompt a visit to the ER or hospital. Depending on the level of injury or independence prior to the fall, an individual may only require short-term rehabilitation and can return home after.
Skilled Nursing Facility (SNF) or Nursing Home
In a skilled nursing facility or nursing home, care is provided around the clock by skilled workers like nurses, physical therapists and more. Because the care is intensive and hands-on, there are often more staff in a nursing home than in an assisted living, where the residents live with some independence.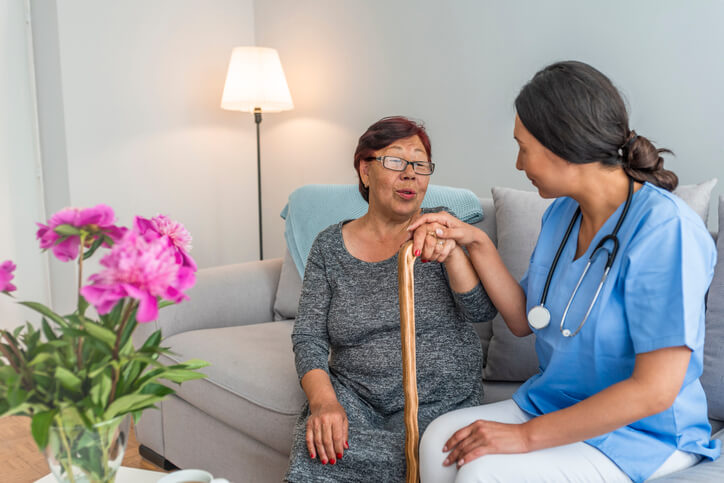 Checklist: Step by Step Process for Finding Care
Once you've determined the type of care your loved one needs, you can follow this checklist to find the right housing:
Start your research online or through word-of-mouth referrals from friends or peers who have been there.
Make a list of three to five home care agencies or senior living communities that are in your price range, have been recommended by others or whose values align with those of your family.
Contact these agencies and communities to learn more. Interview prospective caregivers (if it's a home care agency) or take an in-person tour (if it's a senior living community).
Ask as many questions as you have. Not sure what to ask? Consider suggestions in the section below.
Remember, there are many support options and levels of care. If you're noticing a few signs of concern, that doesn't mean a move to a nursing home is imminent.
5 Important Questions to Ask When Considering Care
Asking questions is one way to assess the quality of care at a community or agency. Some questions you can ask to determine a facility's quality includes:
What kind of background checks are required for the employees at the community or agency?
How much training does the staff get?
What's the ratio of care staff to residents?
What if my loved one needs more care than can be provided by the community or agency?
How much turnover in staff does the community or agency have?
You should also pay attention to how the prospective company answers your questions. Are they transparent? Authentic? Will they follow up if they don't have the answers to these or other questions of yours readily available?
How to Talk to Your Loved One About Next Steps
While it's okay to do some research ahead of time, your loved one should be involved in a decision like this since it affects them directly.
Aging and caregiving expert Sally Abrahms says it this way: "…when it's our parents who are receiving the care, we need to understand their mindset and concerns. Of course, if they are cognitively impaired, that is a different situation. Knowing their feelings will also help with necessary but difficult conversations, whether it's about driving, banking, hiring help, safety, housing or something else."
As you consider what kind of care is best, make sure you keep your loved one's feelings and fears in mind. Find a senior living setting or home care provider that will enhance their independence for as long as possible. Respect their feelings and empathize with their fears. Work alongside them as a partner in care, not the boss of their care. You may be shocked at their openness to a care setting, or you may be surprised at their denial of decline. Either way, be patient, listen well and move forward together.
How to Find Quality Senior Care
You could always use Google or just go directly to the website of a community or home care agency that has been recommended. However, there are many sites dedicated to searching for senior care. Some of them are referral-based, so be aware that you may end up receiving phone calls from the communities or agencies whose sites you've clicked on. (And please note, we are not endorsing any of these sites but simply sharing a few options.)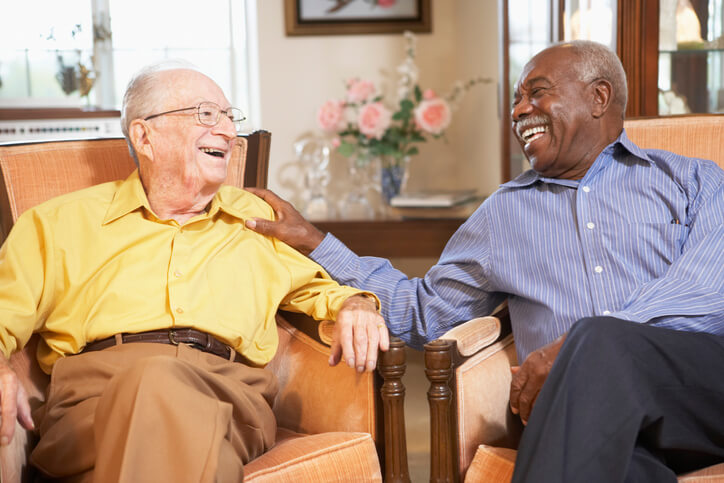 How to Evaluate a Care Provider
Finding the best fit is worth it, but it can take time. You may find that your ideal community has an extensive waiting list or only a few available beds. In fact, a study from the CDC National Survey of Residential Care Facilities estimated that 29% of communities across the country have a waiting list.
That's why it's important to start this process as early as possible. You don't want to feel rushed by a broken hip or any other type of health emergency that requires a speedy decision.
Moving is difficult at any age, but particularly at this stage of life. Take your time so you can minimize the number of moves your loved one will need to make later in life. If you think your loved one may need more care in the future, a continuing care retirement community (CCRC) may be your best choice.
And if you're seeking home care, be patient with the process. It could take time to find a caregiver that has the best personality and professional experience to work with your loved one.
Signs of a Quality Care Provider
Whether you're looking for a nursing home, assisted living community or home care agency, look for these signs of a quality company—which often translates to the best care:
Cleanliness of the office (for a home care agency) or the campus (senior living).
Friendliness and competence of the staff.
Robust training and background check requirements for employees.
A good reputation in the community and in online reviews.
A good track record in terms of state licensing and survey requirements. NOTE: You can ask the facility where they post their state survey results. Most states require that this information is posted in a prominent area in the community for this reason. You can also find the information via your state's ombudsman program. The ombudsman follows up on complaints and care violations that are reported. Find your state's ombudsman via this link.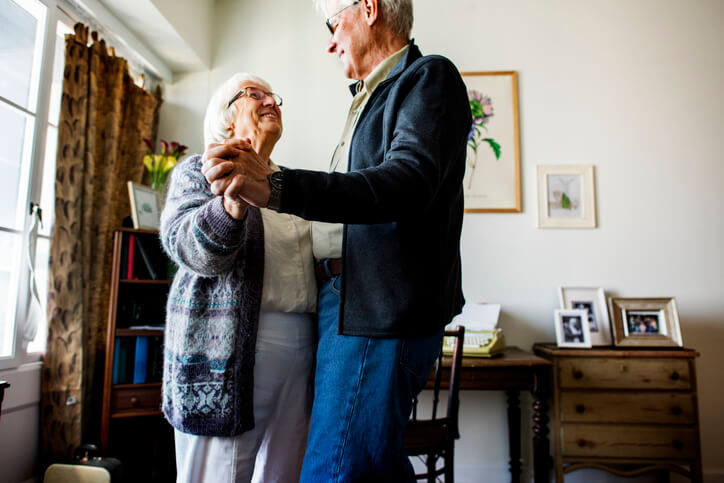 Helpful Resources From Our Blog
As you prepare for a senior living community move, or to bring care into your parent or relative's home, you'll likely face the daunting process of downsizing. You may be clearing out cluttered spaces and ultimately selling the house and everything in it. For helpful advice, read our article "Cleaning Out a Loved One's Home."
Another difficult aspect of preparing for care? The legal ramifications. Go into the process with a better understanding of all that's involved by reading our article "Everything You've Ever Wanted to Know About Trusts."
Our very own Center for Mature Market Excellence also created a number of free home and car safety guides. They cover everything from talking to your parents about driving to practical ways of enhancing independence in the home. These guides may be a good starting point if your family is not quite ready for a senior living move but is heading in that direction. Check out the full collection here.
What to Remember
The ultimate decision to add in-home care or move a loved one to senior living rests with your family. No matter what experts, your friends or the price tags say, finding what works is a highly personal process. It will be unique to where you live, who you are, and what your loved one needs and wants.
Remember that your relative—even if their decision-making capacity is limited by dementia or another diagnosis—has a say in their care.
Even if it feels too early, establishing preferences for support and care is best done before a crisis hits. While these conversations are incredibly difficult, it's much harder to make decisions after the fact, and without knowing what your loved one wants.
In some cases, your loved one might prefer an assisted living move for the social connections. Sometimes, older adults don't want to burden their families with their care needs. They may prefer to live in a setting where that care is provided. Not all seniors want to age in place at home.
It's Ok to Ask Difficult Questions
Consider talking about end-of-life wishes at this stage as well, even if your loved one doesn't require hospice care. Yes, it's another incredibly difficult conversation. But it's one worth having in advance. This conversation requires emotional bandwidth that you may not have during a crisis. And as mentioned before, don't make assumptions. Your loved one may have already thought about their wishes or have clear preferences to share.
Above all, remember the relationship. You may have something in mind that seems to be the best solution. Try to put your agenda on hold until you have a better sense of where your loved ones are coming from. Perhaps you'll be able to come to a decision together. Having their trust and buy-in will preserve your relationship long-term, no matter the address.
---
If you've been through this process, what would you have done differently? What do you wish you had known? If you're new to the experience, what has been the most challenging part so far? Share in the comments below.