There's no shortage of research touting the therapeutic benefits of the human-animal connection, whether it's through an official pet therapy program or via the four-legged fur babies under your own roof. Here, we'll share stories and statistics that show just how helpful and healing animals can be to their humans.
The Path to Pet Therapy: Marlene and Ola's Story
When she first noticed the black heart-shaped patch on her Harlequin Great Dane puppy's forehead, Marlene Boyer knew her dog had a special purpose. "When I saw that, I thought, 'this means something,'" said Boyer, a retired teacher residing in rural Pennsylvania. So when Ola was eight weeks old, Boyer registered her with the Alliance of Therapy Dogs to start the extensive certification and training process. "She had to get evaluated by a number of testers. They checked her reaction to loud noises and observed how she gets along with other dogs," she said. Obedience training was also required, and Ola passed all her tests with flying colors. In the seven years since then, the pair have completed over 260 visits, going to hospitals, preschools, nursing homes and airports.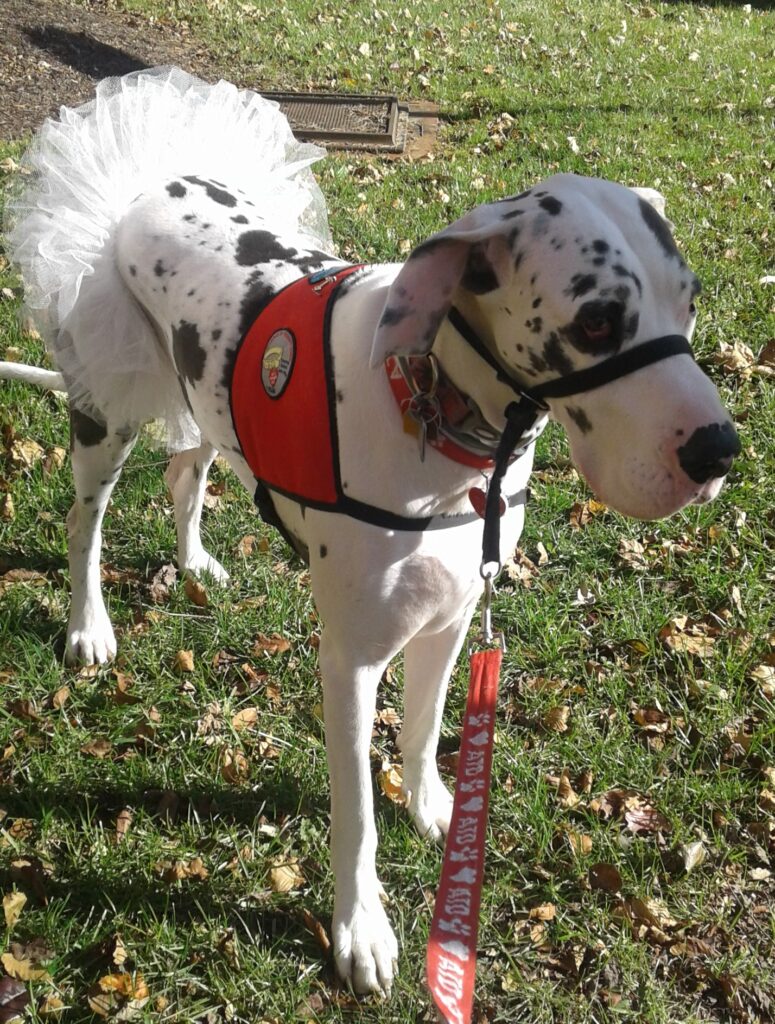 To keep Ola's certification current, Boyer and her canine companion must make at least three therapy visits per month. At their prime, the pair did three visits a week. "Ola loves being out and about," said Boyer, whose experience with her gentle Great Dane has been her first in pet therapy.
When Caregiving, Community and Pet Therapy Collide: Amie's Story
Years ago, after starting a new volunteer position at a local animal rescue, Amie McGraham had a vision.
The Foothills Animal Rescue in Scottsdale, Arizona, was located near the small, close-knit memory care community her mother called home. She started thinking about ways to connect her mother's community with the animals at the shelter.
McGraham and the community's executive director discussed a few options for engaging the residents in pet therapy. They partnered with Foothills staff to pilot a program first in the memory care unit, then extending it to assisted living and the larger senior living community.
Eventually, McGraham's initial vision expanded into three programs: Yappy Trails, Yappy Care and Yappy Yoga. And the programs' benefits are far-reaching, enhancing the lives of:
Animal rescue workers
Volunteers
Residents like McGraham's mom
Family caregivers who visit the facility
What Is Pet Therapy?
So what's the difference between the therapeutic benefits of having a pet versus actual "pet therapy" programs?
Pet therapy is a broad term, with animals underneath that umbrella being grouped based on the services they provide:
Animal Assisted Therapy (AAT) animals are used under the guidance of counselors.
Service animals are trained to provide specific services for people with disabilities, such as autism, blindness, epilepsy or the hearing impaired.
Emotional support animals are pets that are not specially trained but do provide emotional support to their owners.
The Many and Varied Benefits of Pet Therapy
In a 2020 PetPartners report, the human-animal bond is defined as "a mutually beneficial and dynamic relationship between people and animals that positively influences the health and well-being of both."
Here's a long — but still not exhaustive — list of the ways interacting with an animal may help:
Reduces boredom and stress
Increases movement and activity through walks and play
Provides comfort and companionship
Decreases loneliness
Boosts social interactions
Improves mood and general well-being
Increases mental stimulation
Lowers anxiety
Facilitates relaxation and the release of mood-elevating hormones
Offers an escape or "happy distraction"
Assists in the therapy process by breaking the ice or reducing initial resistance to engaging with a therapist
Reduces amount of medications needed
Lowers blood pressure
Improves cardiovascular health
Diminishes overall physical pain
Assists in memory recall and event sequencing for people with head injuries, dementia or other cognitive disorders
Promotes social interaction with peers (for those with autism or Alzheimer's, for example)
Fosters a more balanced mental and emotional state
Improves important health markers in as little as 12 minutes of pet therapy
Helps rehab patients meet their goals faster
And the list goes on, covering all dimensions of wellness from the physical to spiritual. It can help people of all ages, whether they're:
Healthy
At the end of their lives or in Hospice
Going through cancer treatment
Experiencing PTSD
Recovering from surgery
The beneficiaries are as diverse and numerous as the benefits!
How to Integrate Pet Therapy Without Getting a Pet: Eliza and AJ's Story
When you consider all the benefits, you may wonder why every caregiver isn't bringing home a pet. But the responsibility is often too much for an already overwhelmed caregiver to bear.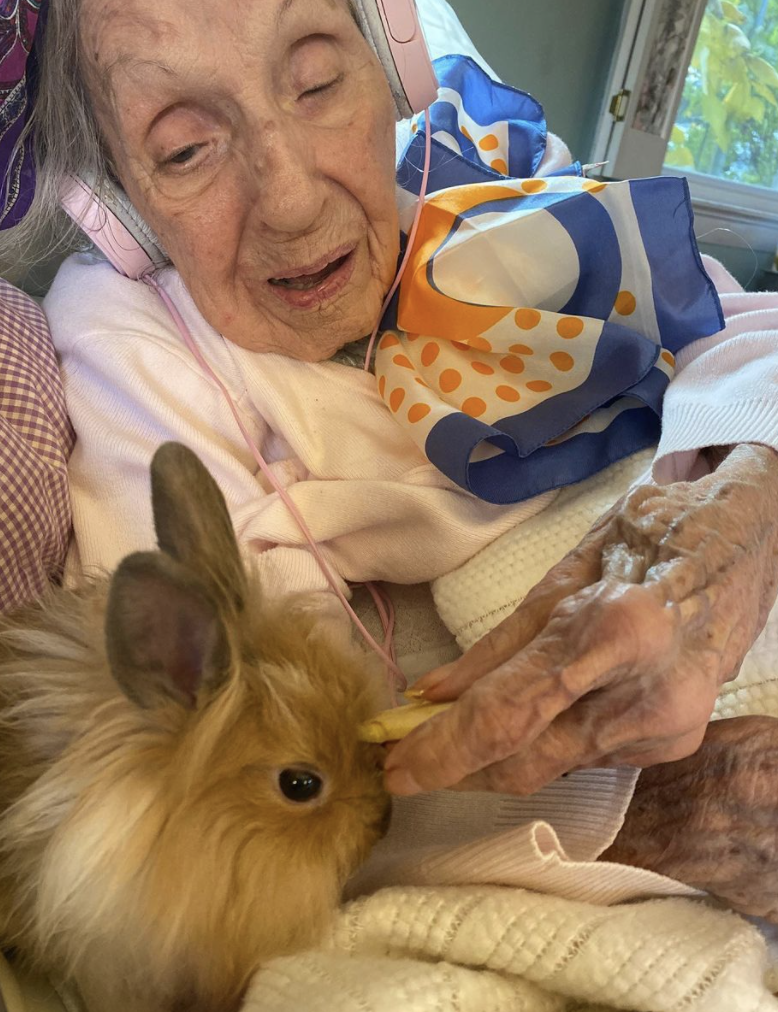 Millennial caregiver Eliza Brown saw firsthand how calming the presence of an animal was for her grandmother AJ, who had dementia.
Brown's sister had a pet rabbit she'd bring to visit AJ on a regular basis. As she recalls those visits, Brown shared how happy AJ would be when snuggling the soft bunny. Their interactions gave her grandmother a chance to be back in the role of nurturer. Another bonus? Brown had a few moments of caregiving downtime while AJ was joyfully preoccupied with her furry companion.
She also discovered that stuffed animals—a lavender-scented weighted lamb and a plush cat—were a great source of comfort and contentment to her grandmother, especially when she was agitated or upset. On nights when she'd stay with her, Brown would snuggle the stuffed cat close to AJ's face when she was visibly anxious in her sleep. "I'd see a wave of relief wash over her, just from the familiar texture," she said.
5 Ways to Engage in Pet Therapy Near You
Interacting with animals is rewarding, it's good for you and it's just plain fun. So whether you're retired, still working, grandparenting, empty nesting or caregiving, here are a few ways to get involved with a pet therapy program near you:
Contact a Shelter
Check in with local shelters and rescues to see what volunteer opportunities may be available.
Get Involved
Advocate with or donate to local, national or international organizations that support pet therapy programs, like HABRI (Human Animal Bond Research Institute) or PATH International (Professional Association of Therapeutic Horsemanship).
How to Find a Pet Therapy Program For a Loved One
If you're caring for someone who could benefit from pet therapy, here's how to find a program that's a fit:
Ask your doctor, local healthcare provider or area veterinary practices.
Contact a local pet store or animal rescue/shelter organizations.
Check in with your state or county's Department of Human Resources.
Reach out to local senior living communities, nursing homes or even schools to find out what organizations they partner with.
Browse this list of American Kennel Club (AKC) Therapy Dog Organizations to learn more about available programs in the area.
---
Have you or someone you know benefitted from pet therapy whether formal or informal? Do you have a therapy animal? Share your positive pet therapy experiences in the comments.