My friend Ilene used to drool over my dog Isabella but vowed she'd never get one of her own. She was partially right. The stunning Springer Spaniel was mine, but three years later, when I began rushing out of state to be with my sick mother and traveling for work, Isabella became ours. We created a successful dog sharing arrangement that lasted 12 years.
Increasingly, empty nesters, busy parents, and those who work full-time are considering similar pet arrangements. I'm not talking about companies that rent out a dog for a day or a weekend or swanky hotels with borrow-a-dog services. I'm talking about sharing your pup with the same person or family on a regular basis. Lately, I've been seeing a lot of this between working Millennials and their part-time or at-home Boomer parents.
For me, "joint custody" with my friend Ilene meant more freedom and peace of mind. I could travel or take time for myself, confident in the knowledge that my pooch was getting great care. It was nice to not have to do all the work. Because Isabella started out as just mine, I still paid the vet bills, but I no longer needed to spring for dog sitting or boarding. And, I had someone who was never tired of talking about our favorite subject.
If one of us hadn't seen Isabella that day, we'd check in. "How is she?" (I know. Why wouldn't she be fine? She's a dog!) "What are your plans for the weekend?" (That was code for, "I really want to know where the dog will be, not you!")
In truth, dog sharing enhanced my relationship with Ilene. If Isabella's long, feathery tail that wagged non-stop with both families is any indication, it enriched her life, too.
We didn't have a set schedule. Isabella might spend a week or a weekend, a day, or just a few hours with one family. We kept keys to each other's houses and had duplicates of everything we both bought: leashes, dog beds (monogrammed, naturally), dog food and countless toys.
Living just a five-minute drive apart helped make dog sharing seamless. It also helped make the day more exciting for Isabella. Ilene liked her companionship on jaunts to Costco. Ilene's husband loved to take her to the arboretum. During the week, she would sit by my side while I worked on my writing. And on weekends, my husband would take Isabella to the park to throw balls and chase birds. A certified pet therapy dog, she and I would visit nursing homes once a month.
My smart dog was also fond of high school. The school Ilene's son and my two children attended has an annual Take Your Dog to School Day. Isabella went three times, once with each child!
A Dog Sharing Set-Up
Betsy Bunn and Carey Ranta both had chocolate Labradors who would play together. Other than that, the neighbors, who lived two doors apart in Newton, Massachusetts, didn't know each other well.
One day ten years ago, after both dogs had passed away, Bunn's doorbell rang. It was Ranta with an idea to buy a dog together and share it. She had three sons, ages 3, 6, and 8, a part-time job, and a husband who traveled. Bunn, then 68, was at a different stage of life. She, too, didn't want to be a full-time owner. After getting the green light from both families, and discussing what each person was willing to do, they adopted Jimmi, a blond Puggle.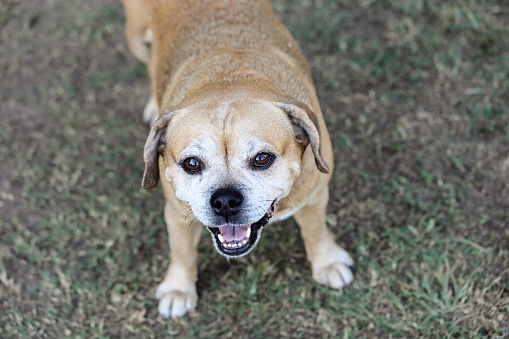 Bunn would pick up Jimmi every weekday morning at 8 and keep him until 3-4 p.m. Ranta was responsible for nights and weekends. The families would split costs unless Bunn was traveling during the week. Then, she'd pay for a dog sitter.
"Some people say you can't really share a dog, that it would be confusing to the dog, but [it] worked out beautifully," says Ranta. "[It] socialized him much more." An added bonus: "Betsy has become my best friend and she is 30 years older than me," says Ranta. Bunn agrees: "It's been wonderful. I never would have gotten to know this young family well and I love them." Ranta has told Bunn, "you can't ever move. I will see that you are cared for."
RELATED: Keeping Your Pets Safe While Driving
Dog Sharing Tips
There is no one way to set up a dog sharing arrangement. But there are steps you can take for a smoother process.
1. Take a "test drive." You could argue that it might be emotionally difficult for a pet to be passed around, but it beats sitting in a crate all day. To determine whether you're cut out for dog ownership, do a dry run. Try volunteering to foster an adoptable dog from a local animal rescue.
2. Vet potential "co-parents." Are your potential partners responsible? Do they live nearby? Do they seem to have similar values as you and your family? Are they couch potatoes or do you think they'll take the dog for walks? These are important questions to ask yourself—and ask them—before you commit to anything.
3. Have a concrete plan. Decide what each family will do—and what they can't or won't do. "The trick for us was that everybody thought about what they were willing to do and was clear with the others," says Bunn. Also, figure out how you're going to resolve differences of opinion (frequency of grooming, vet procedures, end-of-life or others issues).
Daryl P. Mensik, a veterinarian at Country Creek Animal Hospital in Allen, Texas, believes that "the best relationships are when one of the parties remains as the owner of record and makes all the final decisions on the pet's care." That person will need to authorize procedures and other treatment unless someone else is designated to decide on their behalf. Whatever agreement you come to can be put in writing—lawyers can draft the document—or decided less formally between the two families.
4. Set consistent rules. These are often about food and treats. For example, Isabella had never begged for, or tasted, human food before she met Ilene. I wasn't pleased and told her so. After our discussion, I think she still spoiled her by sneaking her food. But, Isabella knew begging wouldn't work with me, so it was hardly a deal breaker.
5. Consider the possible sticking points. What will happen if one family is going away and the other isn't available to take the dog? Will it be occasional or often? Then what? Who will pay for the "babysitter?" How does the other family feel about doggy day care, house sitters, and boarding? According to Mensik, "when pet sharing doesn't work, it's usually because the folks involved don't see eye-to-eye. The pets are usually just happy to be along for the ride!"
Recently, Ilene broached the subject of starting a new dog sharing arrangement. I don't think so—I travel a lot for work and have three children in three different parts of the country. One thing I do know: If we ever get a dog together again, she's barking up the wrong tree if she thinks I'm going to pay all the vet bills alone!
Cat lovers don' feel left out! Dogs aren't the only kind of pet that you can share. There are plenty of cat lovers who would revel in the chance to become a part-time kitty caretaker. But cats can be particularly territorial, so being shuttled between houses might be more stressful on them than on dogs.
What do you think?  Let us know in comments whether you would, or do share a dog with a friend or another family?