If you don't know what a third-party bill-pay service is, you're probably in good company. According to a recent survey conducted by The Hartford, 35% of respondents were unaware these services even existed. It's especially important to know when you're using a third-party bill-pay service because often there is a fee. This fee may be higher than the fee a company may charge when you pay them directly.
What's the difference between first-party and third-party bill-pay services?
First-party bill-pay services and third-party bill-pay services are different. Here's how:
You pay the company directly with first-party billing.
Third party bill companies pay your bills on your behalf. You still receive a bill from the company you are working with, but you are not paying them directly.
What is a third-party bill-pay service and how does it work?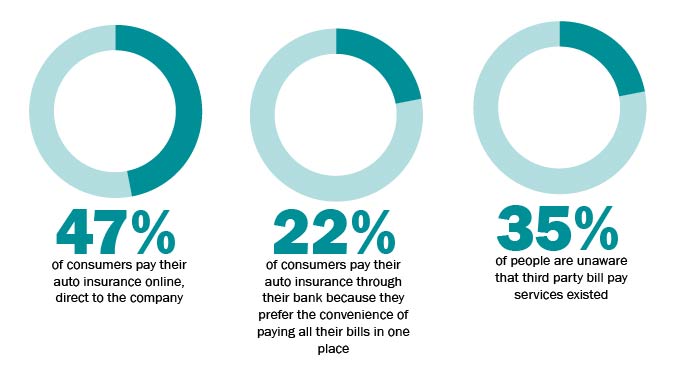 Third-party billing occurs where an independent party is paying a bill or multiple bills on your behalf, usually for a fee.
The idea behind these services is that they help simplify financial management and bill payment for consumers. Rather than paying each bill one by one, the bill payment service processes all of your bill payments for you.
What are some examples of third-party bill-pay services?
The next time you're paying a bill online, check to see if you are using a third party bill pay service. Some examples include:
DOXO
Mint Bills (acquired by Intuit)
Prism
BSG Clearing
Paytrust
MyCheckFree
How do I end up on a third-party bill-pay website?
Going directly online to a company's website to make a payment isn't always as straightforward as you might imagine. If you've ever hopped online to pay your bill and found yourself at a completely unfamiliar site instead, chances are you've landed on a third-party bill-pay website.
For example, you might do a Google search to find out where to pay your bill. However, you then accidentally click on the wrong website:
When a link includes language such as, "pay your bill online with [third-party bill-pay service name]," it means that you'll be sent to that service's website rather than to the website of the company you're seeking to pay. Also, descriptive text may appear along with the service's link that talks about providing a company's contact information. Instead, go straight to the source: the company's website.
Tip:
One way to avoid ending up on a third-party billing site by accident is to bookmark this link: Account Access. This will take you directly to The Hartford's billing page so you can easily pay your bill online and you don't have to worry about ending up on some third party's website.
Other Bill-Paying Options
A third-party billing service is just one of many ways to pay your bills. For example, at The Hartford, you can pay your bill by using one of these options:
Repetitive electronic funds transfer. Monthly automatic payments are withdrawn from your checking or savings account on the same day each month.
Repetitive credit card. Monthly automatic payments are charged to your credit card on the same day each month.
Online customer service center. Customers can pay online through a customer service center or page (like The Hartford's Customer Service Center), using their checking or savings account or a credit or debit card.
Express payment. Customers have the flexibility to submit a payment online without logging in to their Customer Service Center account by using Express Pay and providing either a policy number or billing account number.
IVR payment. Customers can use the automated phone system to process a payment using their bank account or credit card without having to speak with a representative.
On-demand payment. Customers can make a payment using a checking or savings account or credit card by speaking directly with a representative.
By mail. Customers can mail a check or money order.
By using an app. The apps allow customers to pay bills directly from their smartphone, tablet, or laptop.
Full pay. Make a single, annual payment and you may receive a policy discount and eliminate fees.
Today, more than ever, consumers have many options when it comes to making bill payments.
Whichever method you choose, remember to first research the payment options for all of your bills to determine which options are right for you.
How do you prefer to make your online bill payments? Let us know in the comments below.
All product names and trademarks are the property of their respective owners. All company, product and service names used in this website are for identification purposes only and does not imply endorsement.