The days of developing film rolls may be long gone, and Polaroids are so old school they've become cool again. But those yellowing photo albums and shoe boxes full of old photos shoved into the back of your closet? Those aren't going anywhere.
What's the solution? It would be a shame to let that history and those special moments remain hidden away and forgotten. Instead, take the opportunity to get nostalgic. Give your memories the attention they deserve so you can relive them and share your past with your loved ones—in an organized fashion, of course.
Here are some tips to help you declutter and preserve that mountain of old photos.
Go Digital
These days, you can easily and quickly digitize old photos and documents with a scanning app. This is a simple way to archive many types of media, including paper photographs, 35mm slides, Polaroids and more.
These apps allow you to scan old photos and slides and create high-quality digital images that you can store online for free (using Google Photos or Dropbox, for example) or on your computer's hard drive.
Picture Scan by Photomyne is one scanning app that offers a free trial, so you can check it out before purchasing a plan. Looking for free scanning apps? You can try out Microsoft Lens or Google PhotoScan. When scanning your photos, don't forget to pay attention to the lighting in your surroundings to avoid glare on the scanned images.
If you prefer not to use an app, one alternative is to purchase a dedicated document scanner, although this method could be more time consuming than scanning with an app. If you're not comfortable scanning documents yourself, you can also look for a shop near that you specializes in digitization (more on that below).
Digitizing your photos helps ensure your memories are stored safely. It also enables you to easily share photos with friends and family. Another advantage: You can easily edit digital photos to restore them to their original glamour or even colorize black-and-white photos.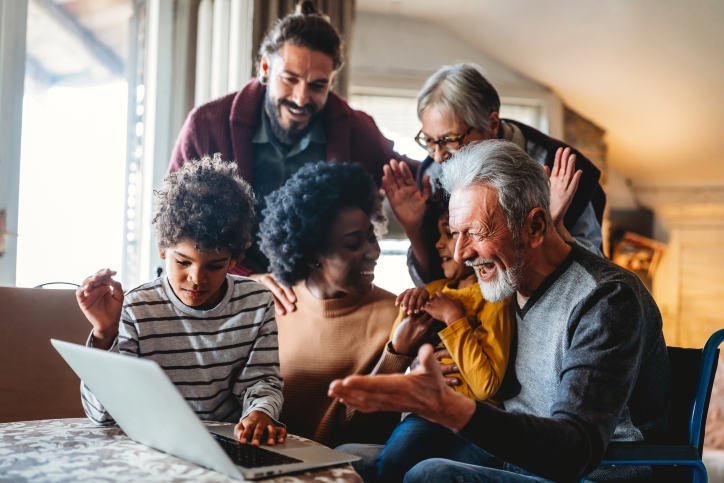 Consider Professional Services
If your photo clutter is overwhelming and you aren't sure where to begin sifting through piles of old photos, it's time to consider enlisting professional help.
The Photo Managers is an association of professionals who help clients manage photo clutter and digitize old photos. To find a pro near you, you can search their database of certified photo managers. If you don't see one in your area, many photo pros offer their services remotely, too.
Aside from saving you time and hassle, these pros are experts in digital photo organization. They have an arsenal of tried-and-true techniques and tools to help you sort, digitize and organize those piles of family photos.
Interested in taking a DIY approach with guidance from the pros? Read up on DIY tips for organizing your photos. Or, you could sign up for a virtual photo organizing course to learn the tools of the trade.
Ensure Safe Storage
Once you've digitized your photos, you may want to preserve the original photos in albums so you can flip through the pages whenever you like.
Start by thinking about how you want to organize your albums. You can create albums categorized by place, time period or by the person or people in the photos.
When shopping for photo albums, be sure to search for acid-free paper and albums that do not require glue or tape. Look for pages with mounting corners, which are gentler on old photos. Do not use albums with self-stick or magnetic pages.
Archival photo albums should have pages made from safe materials, including polyethylene, cellulose acetate, polyester or polypropylene. Avoid albums with harsh materials like low-density polyethylene and low-quality acidic paper, heat-sealed polypropylene and PVC plastic.
Project Your Memories
Once you've preserved your old photographs in digital form for posterity's sake, it's time to have some fun. Who doesn't love a good old-fashioned slideshow? Check out these portable digital projectors that are light enough to carry around so you can set up your slideshow anywhere you go — even outdoors!
Digital projectors have internal hard drives as well as USB ports. This allows you to either transfer digitized photos (or home movies) to the hard drive, or simply connect your smartphone, tablet or laptop via USB. Then, all you need is a white wall or a white bed sheet to project your slideshow if you don't have a projector screen.
Make It a Family Occasion
However you choose to organize and store your photos, don't miss out on the chance to turn your memories into a family event. Get your children and grandchildren involved. While they help you sort through photo piles or scan photos, you can explain the people and stories found in each picture. The process can become a moment to cherish forever, just like your old photos.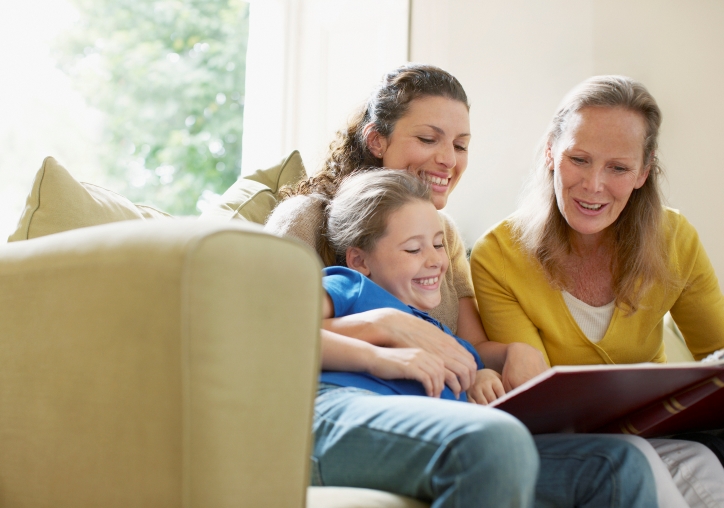 Deal With the Discard Pile
In the end, you probably don't have enough storage space at home to keep those dusty stacks of old photos forever. Letting go of photos doesn't mean letting go of memories, though. As long as you've got digital copies of the most meaningful photos, you'll be able to easily access those moments from the past from your device whenever you feel like it. And then, once you've organized your favorite and most important paper photographs into a couple of albums or had them framed, it's finally time to say goodbye to the rest.
It might seem a bit odd or uncomfortable to dispose of such personal items. However, one way to do this safely and respectfully is to burn them on a campfire or in a fireplace or firepit. You can even make an event or ceremony out of it with family and friends. If you have photos of historical significance that might be of interest to others outside of your family and friends, consider donating them to your local historical society, museum, library or an educational institution. Just remember that photos cannot be thrown into the recycling bin due to various chemicals present on photograph paper.
Have you organized and digitized your old photographs? Or perhaps you've taken the time to do some decluttering. Share your tips and experiences in the comments below.