When winter brings bitter cold and snowstorms or extreme summer heat keeps you indoors, it may seem like you have no choice but to eliminate your daily walk or outdoor fitness routine. But even when you can't exercise outside, you can still remain active.
It's important to keep moving no matter what the forecast holds. The benefits of exercise include better sleep, improved mood, more control over weight management, and lower risk for heart disease, diabetes and some other medical conditions. Staying on top of your health and fitness can also provide a sense of purpose and achievement.
Fortunately, extreme weather doesn't have to cramp your fitness routine. So, your grab your favorite fitness gear and warm up to these eight ways to stay active when you can't go outside.
1. Join a Gym
Signing up for a short-term fitness center membership with no contract is a great way to stay in shape when you can't get outside. A gym provides access to exercise machines and other equipment. Some gyms offer an indoor walking track where you can rack up plenty of steps.
Many fitness centers also offer group classes like yoga or strength training. The social aspect can also benefit your mental wellness, which is an important factor in healthy aging.
If you're 65 or older and have a Medicare Advantage or another health insurance plan, you may be able to work out for free as a SilverSneakers member at a participating fitness center.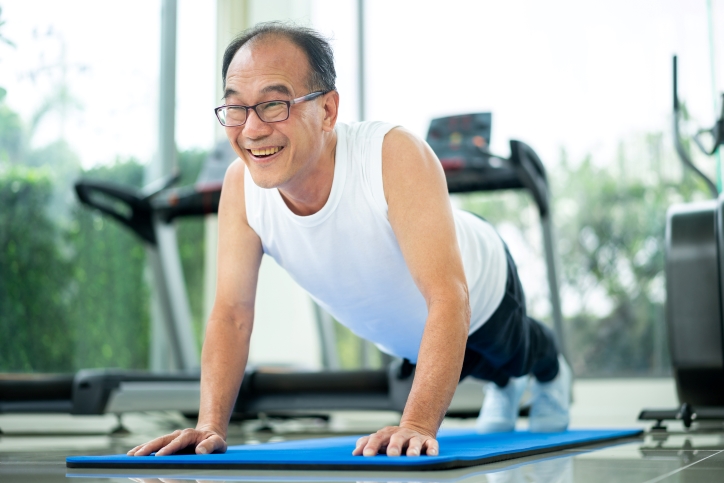 2. Invest in Exercise Equipment
When you can't exercise outside, work up a sweat on a treadmill or exercise bike. You can also use resistance bands, dumbbells, a kettle bell, or other kinds of fitness equipment for an extensive workout in your living room.
To get started, head to a sporting goods store or shop for used equipment on sites like Facebook Marketplace. You can also opt to rent a Peloton bike or another piece of high-powered exercise equipment by the month.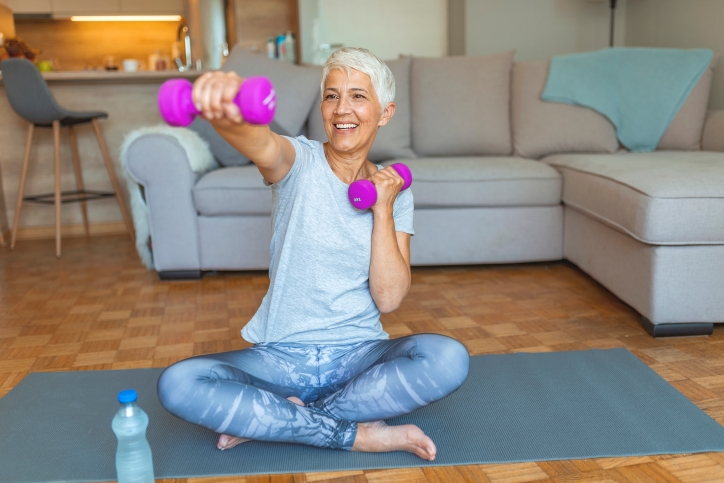 3. Stream Online Yoga and Exercise Classes
Rolling out a mat to practice yoga from home has never been easier or more accessible.
Today, many yoga studios offer classes where members can participate either in-person or online. Search online for yoga studios—remember, there's no geographical limitations, since they're online—and watch out for specials for new students.
You can also search YouTube for yoga and exercise classes. This video from Yoga with Adriene offers slow and gentle yoga, for example; this tutorial from the National Institute on Aging demonstrates on upper body strength training for older adults.
If you're a SilverSneakers member, you can also access hundreds of exercise and nutrition videos online with your membership.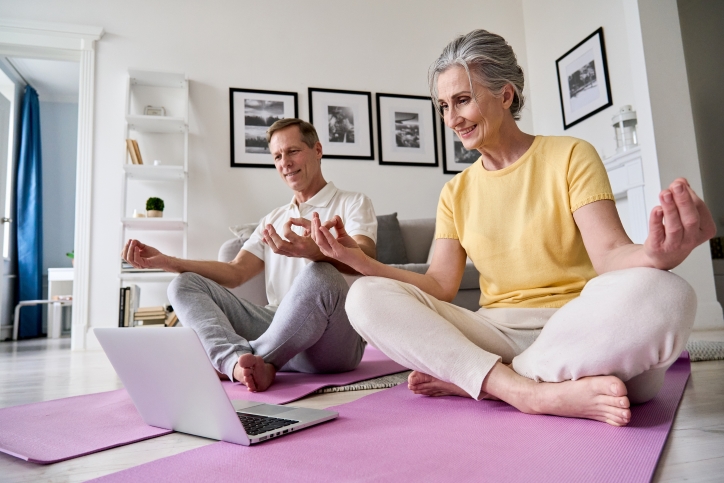 4. Dance
Looking for a moderate to high-intensity cardio workout? Research shows that participating in dance fitness classes such as Zumba can provide numerous health benefits, including reduced depression and anxiety; better interpersonal, cognitive and psycho-motor skills; and improved quality of life.
You may be able to stream Zumba or other dance classes on your smart TV or follow along with dance fitness classes online. Or simply put on your favorite upbeat tunes and dance to your own beat.
If you're new to dance or looking for a starting point, begin with a short session like this 20-minute dance workout from SilverSneakers.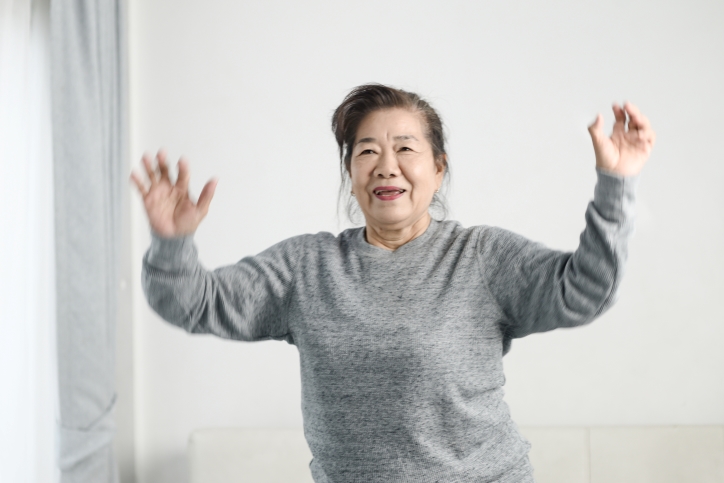 5. Try Chair-Based Exercise
If you have limited mobility, there are exercises you can perform while seated.
You'll still reap the benefits of movement even when seated. A study published in the International Journal of Environmental Research and Public Health found that chair-based exercises can improve balance, gait speed and muscle strength for older adults.
The study measured results from multiple chair-based exercises, including strength training with weights and resistance bands, seated aerobic and reaching exercises, chair yoga and seated tai chi.
To learn the many ways you can stay fit with chair-based exercises for older adults, follow along with this chair workout video from Dartmouth Health.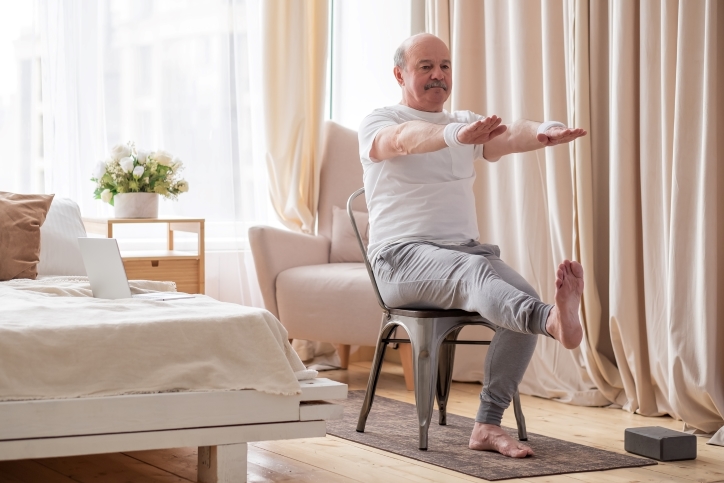 6. Climb the Stairs
Who needs a stair-climbing machine if you've got a stairway in your home? If you have good balance, handrails to steady yourself and no mobility challenges that could cause a fall, make daily stair climbing part of your home fitness routine. Sessions as brief as one minute to ten minutes can be effective.
Stair climbing—either done slowly and steadily or as a vigorous physical exercise—is associated with lower blood pressure, lower body weight, lower levels of low-density (LDL) cholesterol, lower risk for heart disease, diabetes and stroke, and higher aerobic fitness, according to a study published by BMC Public Health.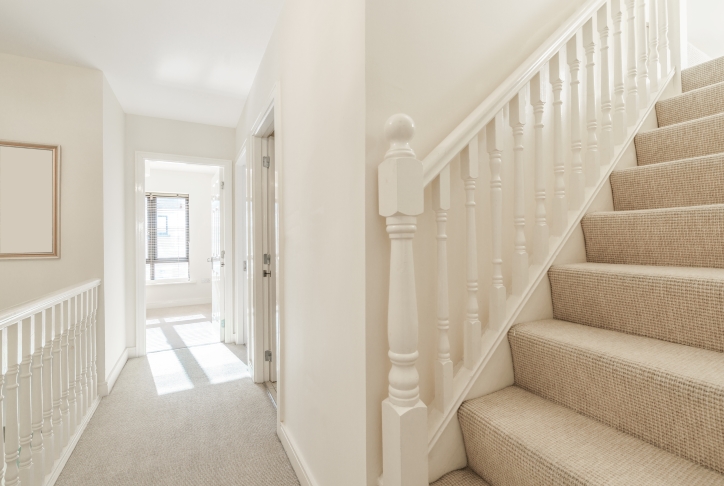 7. Clean the House
Cleaning your home offers more than the satisfaction of a sparkling abode. Depending on how long you clean and your cleaning methods, you can strengthen your core, work most major muscle groups and burn up to 250 calories an hour.
Activities for the best housecleaning workout include vacuuming, changing bed sheets, taking out the trash, washing windows, putting away dishes, sweeping and cleaning the bathroom.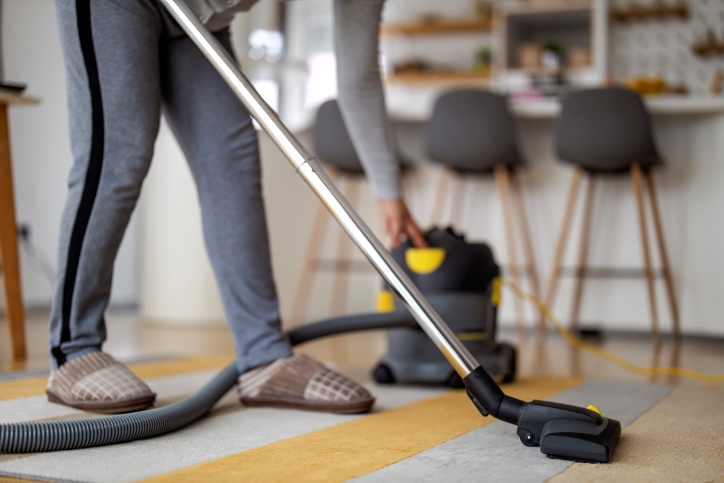 8. Stretch Daily
Stretching after exercise protects against muscle soreness and offers a welcome cooldown from your effort. Daily stretching is also essential for muscle flexibility and maintaining range of motion in your joints, according to Harvard Health.
Stretching in the morning and before bed can also help with getting a better night's sleep and alleviating sleep-related pain.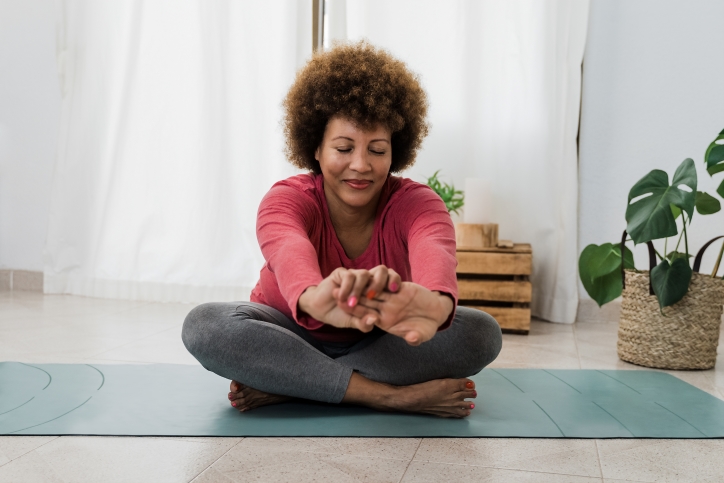 Don't Rule Out an Outdoor Workout
On winter days when temps are less extreme, you may still be able to get outside for a walk—the fresh air and some sunshine may help boost your mood and ward off the winter blues. But first, bundle up with a few layers of clothing, including an insulated coat, a hat, gloves and warm shoes.
During extreme heat, dress in light-colored, loose clothing. Wear sunscreen and a hat to protect against skin damage, and always carry water for hydration.
No matter what the temperature is outside, there are many ways to stay fit and active, even when you're stuck indoors. Decide which exercises work best for you and get started with a new routine.
Do you have a favorite exercise routine for staying active indoors? Share it in the comments!