Selling your car can be a hassle. And, let's be honest, you're probably worried that you'll lose money on the sale. But the process doesn't have to be stressful. There are a lot of options for selling a vehicle these days, from traditional dealerships to eBay, Craigslist and other online platforms. And by taking care of the basics, you can add thousands of dollars to your car's resale value.
Luckily, most of what you can do is fairly easy and inexpensive. But, that doesn't mean you should neglect this step. Remember, in the eyes of a buyer, a well-presented vehicle is a well-maintained vehicle, and a well-maintained vehicle is worth their money. A clean interior and a shiny exterior build confidence not only in the car, but in you as the seller. And it helps the car stand out among its competition. All of this often translates to a quicker sale and a better deal for you.
A lot of the pre-sale car care depends on the type of vehicle you have, its age and condition, as well as how you intend to sell it. But the key elements that you need to be aware of are:
Paperwork
Presentation
Mechanics
Salesmanship
Paperwork
Before you try selling your car, you'll need to have its title and registration. A bill of sale, odometer statement and release of liability (should damage occur between the sale and the change of registration) can also be useful during the title transfer process. Other legal requirements differ from state to state, so you will want to reach out to your local Department of Motor Vehicles (DMV) to clarify their current requirements.
Additional documents of importance include:
Maintenance records
Warranty records
Accident or damage reports
A list of modifications made to the car
Obtaining a recent mechanical inspection report is also a good idea. A responsible buyer will likely ask for one, and it's not expensive. Note that in some states, periodic safety inspections are a must. And even if you don't live in one of those states, your state may require an inspection prior to a sale or transfer of ownership.
Buyers may also ask for a vehicle history report from Carfax or AutoCheck. Although buyers can pull such a report themselves, it will make you appear more trustworthy if you do it for them. Other descriptive information should include the vehicle identification number and the phone numbers of previous owners.
Presentation
How rigorously you undertake this step depends greatly on how you intend to sell your car. For a simple trade-in, you can keep your pre-sale care to a minimum. Dealerships have their own processes for polishing used vehicles, so it really isn't worth your time and money because you won't be able to move the needle very far.
If, however, you are prepping for a private sale, extra effort can certainly convert to extra profit. Therefore, consider repairing any dents, dings or scratches to the body surface. At the very least, the car should be washed and vacuumed. Also make sure bumper stickers and non-essential decals are removed. It's a good idea to have the car detailed to ensure that it's spotless, particularly if you're selling a more expensive brand.
As you clean your car, be critical of wear and odors. Remember that although you might not notice familiar odors from food, pets or smoking, prospective buyers probably will. Clean everything in the car—including the trunk. This means wiping down hard surfaces, deodorizing upholstery and replacing the rugs, if necessary.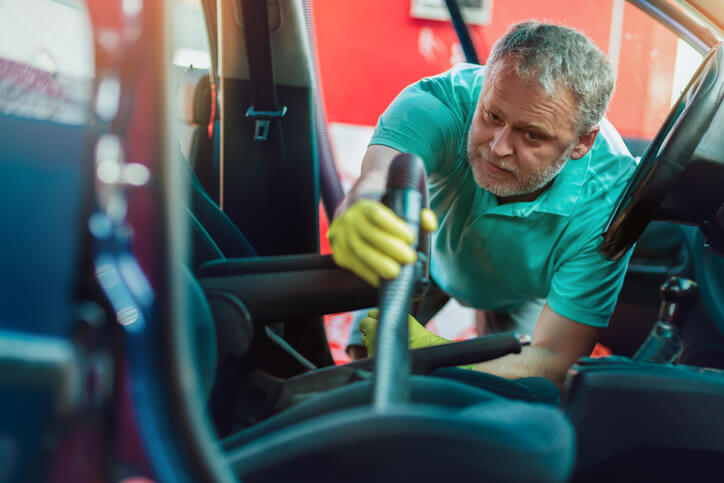 After you've thoroughly cleaned the car, spray a neutral scent in areas where stale or sour smells might persist, such as inside door pockets and under seats. Don't overdo it, though. Not only can a strong scent be a turn-off, but the buyer might think that you're trying to hide something.
When you're done, take a lot of good photographs—a dozen or more. Buyers want to see as many details as they can, from as many angles as possible. And regardless of how you sell your car, good photos will be a key component of the process.
Mechanics
Buyers don't just want a good-looking car—they want a car that actually runs. Making sure that everything functions correctly is extremely important, especially if you're prepping for a private sale.
These buyers are likely to be put off by small things that don't function properly, such as windshield wipers, headlights and blinkers. The buyer may also be weary of worn:
Chipped windshields may also be a red flag for buyers.
If your car needs significant repairs, you might have to pay for them yourself. Although damage due to an accident can be covered by your car insurance, you're responsible for damage due to wear-and-tear. Significant damage could make it more difficult to sell the vehicle and eat away at potential profit from the sale. If you find yourself in this situation, skipping the repair job and selling the car as is or for parts might make more sense.
Salesmanship
Selling a car demands a good story. You need to describe it in a way that people will want to buy it. What kind of a car is it? Has it been cared for? Is it easy to drive, good for a family or well-suited for long trips? Does it look sporty, have lots of space or command respect?
You don't need to be overly elaborate, but you do want to provide enough of a description to make your potential buyers say, "That's my car!" Here's where good photos really come in handy. They let you showcase your car in the very best light.
In addition to telling the right story, you need to set the right price. This can be tricky, but there are many resources that you can use to determine your car's value. TrueCar and Kelley Blue Book are good places to begin. You can input the details of your car to find a starting price.
Where Can I Sell My Used Vehicle?
The practice of placing an ad in the local newspaper to sell a used car, truck or SUV was nudged out years ago by a vast assortment of convenient online venues. These resale sites range from free, basic listings to a "featured" listing that typically requires a fee — $20 to $50, for example — for better exposure and positioning on the platform.
Another option is to contact a dealership, which may offer to buy the vehicle outright or as a trade-in on a new car purchase. Each method has it pros and cons, so here's a rundown of popular resale options to help make your choice.
Sell the Vehicle to a Dealer
If you care more about selling the vehicle fast than getting the best possible price, selling to a dealership will probably take the car off your hands sooner than selling it as a private seller. The dealer will also take care of any DMV paperwork. The downside of selling to a dealer is that they typically pay wholesale prices when buying used cars, according to Cars.com, an online auto industry marketplace. If you want to get the best price for your vehicle, you may want to list it online as a private seller.
Sell Directly to an Online Vendor
You can receive an online offer in minutes on your vehicle from Carvana, CarMax or Edmunds, sites that buy and sell used cars directly. Just answer some basic questions about your vehicle and accept or reject the cash offer. You can complete the entire transaction online with Carvana, which will even pick up the car. With CarMax and Edmunds, you'll complete the last steps of the transaction in-person. However, with these online venues, you may not receive as much for your vehicle as you might get as a private seller.
Post as a Private Seller on Craigslist, Ebay or Facebook
As a private seller, you can list your vehicle for free on Facebook Marketplace. Craigslist charges a $5 fee for posting cars, trucks, RVs and motorcycles for sale in the U.S. and Vancouver, British Columbia. Ebay also charges a fee, starting at $25 for a "basic" package if you're not considered a high-volume seller.
Millions of people visit each of these sites monthly, increasing your chances of selling. You may also snag a higher resale price than if you sold to a dealer. On the other hand, you'll potentially open yourself to scammers and experience more hassle than if you sold your car to a dealership. You'll have to schedule appointments, meet potential buyers in a public location for safety, haggle over price and maybe even pay delivery costs to another city. Plus, the average time to sell a vehicle as a private seller is 30+ days, according to Edmunds.
Buy an Ad on an Auto Marketplace
Listing your vehicle as a private seller with a paid ad on auto trading sites such as CarGurus, AutoTrader or similar platforms broadens the buyer base and comes with other perks as well. Depending on which ad package you purchase, services may include:
Vetting buyers
Priority positioning on search pages
A copy of your vehicle history report
Pricing guidance
These extras cost more but can add up to a faster sale.
Summing Up
A bit of legwork and a few finishing touches can go a long way. After all, an attractive car with all of its paperwork will be a lot easier to sell than a dusty clunker with no paper trail. And most of the things you can do to improve the appearance of your vehicle won't cost you much in terms of effort or money. They'll help potential buyers focus on how great your car looks, instead of scrutinizing every last detail of the deal.
For you, getting the pre-sale details right will boost confidence and provide peace of mind. What a great way to start selling!
Once you've sold your car, be sure to remove it from your car insurance policy. If you're a Hartford policyholder, you can go online to remove coverage on the vehicle.
What tips or tricks have you found helpful when selling your car? Share them in the comments.
Keep Reading: Electrics, Hybrids and Gas-Sippers: Understanding Your Green Driving Options