Getting into a car accident is a scary experience — and the moments after the accident are stressful. If your vehicle is damaged, you'll need to file an insurance claim, but then what?
You may assume you're in for further headaches as you choose a repair shop and work to get insurance reimbursement for the damages.
However, getting post-accident repairs made doesn't have to be difficult. Basically, you have two options: You can select an auto body shop from your insurance company's list of approved shops, such as The Hartford's Customer Repair Service Program (CRSP), or you can find your own body shop to handle the repairs.
Keep in mind that the same technological advances that make your car better to drive also contribute to making repairs more complicated – and potentially, more expensive. Here are some things to consider when making this decision.
Why Use an Insurance Company-Recommended Body Shop?
Using an insurance company-recommended body shop can have many benefits. While your insurance company is committed to fixing your vehicle after an accident, your particular situation will dictate which is the better option for you.
Saving You Time & Money
Opting to use an auto repair shop that's already approved by your insurance company can save you time and possibly money. That's because you don't have to search for the shop, get an estimate, or wait for an inspection; your insurance company has already agreed to work with the shop. Because you save some time on the front end, working with a recommended shop also may help you get your car back sooner.
Less Paperwork
In addition to saving time, working with an approved shop can save you the hassle of filling out paperwork required by your insurance company. And, in most cases, insurance companies require their approved shops to guarantee their workmanship if there is a problem with the work down the road, for as long as you own the vehicle. On the other hand, if you choose your own shop, you'll have to deal with any future issues on your own .
Potential Discounts
When you use an auto repair shop they recommend, some insurance carriers offer a reduction in your deductible — the price you pay out of pocket for repairs. For example, a customer of The Hartford with Advantage Plus coverage gets a $100 discount on their deductible when they use a shop that's included in The Hartford's CRSP. Such discounts can help when you're already dealing with the stress of an auto accident and repairs. In fact, the option of using an approved shop is intended to help you avoid additional worries during a stressful time.
The body shop should provide an initial estimate, whether it's an approved shop or not. However, if you select a shop that is recommended by your insurance company, the shop will be able to work directly with the insurance company to handle any additional costs that come up during the repairs. That way, you don't have to pay up front for other items that may arise and then wait for your insurer to reimburse you for those charges.
Rental Car Coverage
While your car is in the shop for repairs, you may need alternative transportation. Some insurance policies include rental car coverage for such situations. If you have chosen an approved repair shop and the repairs turn out to take longer than planned because of hidden damages, your insurance company often will work with you to extend your rental car agreement. Check your policy to find out exactly what it covers regarding rental cars during repair.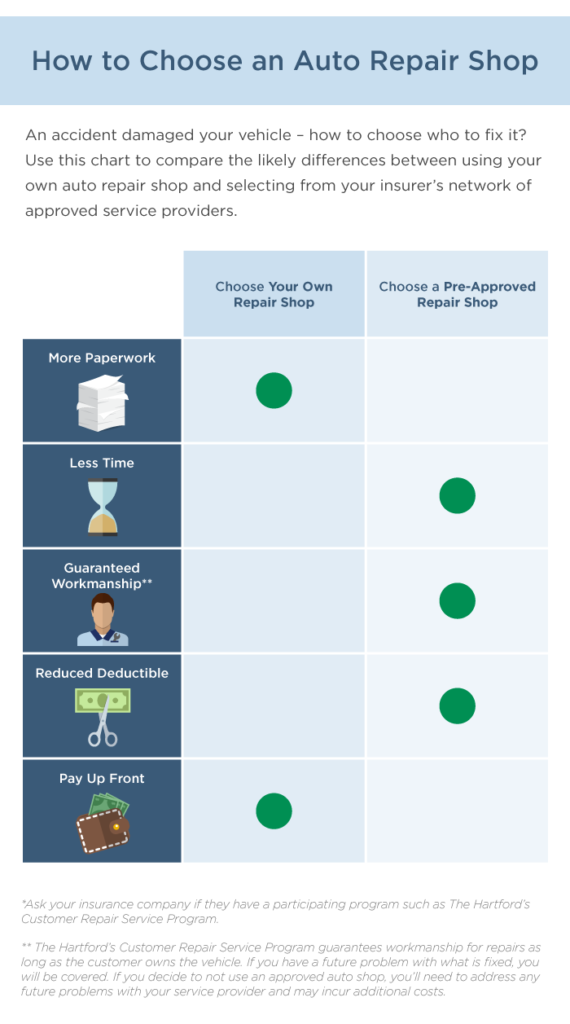 Why Shop Around for Another Body Shop?
Selecting an auto body shop that has been approved by your insurance company offers a number of benefits, but for some vehicle owners, there are valid reasons to shop around for repairs at other auto shops.
Prior Relationships
For instance, you may have an established relationship with an auto repair shop that you've worked with for years. In addition, if the repair technician at your regular auto shop is familiar with your vehicle and its history, he or she may be better able to determine the amount of damage your vehicle sustained in the accident.
Lack of Approved Shops Near You
If there's not an approved shop in your immediate area, that can be another good reason to seek your own shop. If you'd have to drive a long distance to get to an approved shop, then the benefits may not be worth the trouble. Or, if you locate a shop that can repair your vehicle for a better price than those on the insurance company's approved list, the savings may make it worth using your own shop.
If you decide to shop around and use a repair shop that has not been recommended by your insurance company, that doesn't mean you're on your own. Your insurance company still will work with you on handling and paying for the damages to your vehicle; you just don't get the benefit of having the insurance company work directly with the approved auto shop to handle all the paperwork for your claim.
Ask the Right Questions
Whether you use an auto shop approved by your insurance company or a self-selected shop, it's important to make the selection carefully. When assessing your options, you may choose to have an independent shop or mechanic provide an estimate for the work to be done, so you can use it in making your decision.
To ensure that your vehicle is repaired properly and efficiently, that your insurance company will cover the damages, and that you'll know what to expect throughout the process, you'll need to ask a number of questions of both your insurance company and the auto shop(s) you're considering.
When you talk to your insurance company representatives, here are some questions you may want to ask:
What information do I need to prepare to make a claim?
What is covered and how much is covered?
Is a rental car available with my policy and for how long?
What will the process look like from now until my car is made whole again?
What do I need to do next?
What shops in my area are approved by the insurance company?
When you evaluate an auto repair shop, consider asking the following questions:
Are your technicians certified?
Will you be using genuine manufacturer replacement parts?
Do you offer a warranty on repairs?
Your estimate is more/less expensive than another shop. Can you explain why? (Keep in mind that only one estimate is generally needed in order to determine damages, but if you choose to get more than one and they are quite different, this is a good question to ask.)
Check the Approved List
Even if you have an auto repair shop that you prefer to use, check your insurance company's approved list to see if that shop is included. If so, you'll be able to remain loyal to your favorite shop and still take advantage of the benefits of using an insurance company-recommended shop.
While your insurance company has approved the repair businesses on its list, that doesn't mean every one of them will be a good fit for you. Before using a shop on the approved list, ask questions to make sure you feel comfortable and knowledgeable about the shop and its repairs. You can conduct research about the shop online or call your insurance company to ask questions about a particular shop. Learn more about the benefits of Advantage Plus coverage.
If you're a customer of The Hartford, call 1-800-243-5860 to report an auto claim and ask about the Customer Repair Service Program. You can also locate an approved auto shop online.
What are the most common auto claims?

Here are nine of the most common auto insurance claims and tips on how you might avoid them.
*You can have your car repaired at any shop you choose. When you elect to use a Hartford-authorized shop for vehicle repair, we'll reduce your collision deductible by $100.
*Not available in all states.