Nothing feels better than that first big smile of recognition from a new grandchild. It kicks off a relationship that will fill your heart and your head with pride.
There are many ways to show your love for the next generation of family members. One of them is to be an important—and entertaining—part of their lives. It's a parent's job to put a child on the right path and keep them there. It's a grandparent's job to make sure there are picnics and other fun stuff along the way.
Another way to show your love is to help ensure that your grandchildren will be safe in your home whenever they are with you. At every age from infancy to adulthood, providing your grandchildren with a sense of safety and security is a gift they may not immediately understand but one day will truly appreciate.
Here are some ideas for navigating grandparenthood to help your grandchildren have fun and be safe.
Things to Do with Baby and Toddler Grandchildren
Playing with grandbabies is such a joyful experience. Here are six ideas that will only add to the pleasure: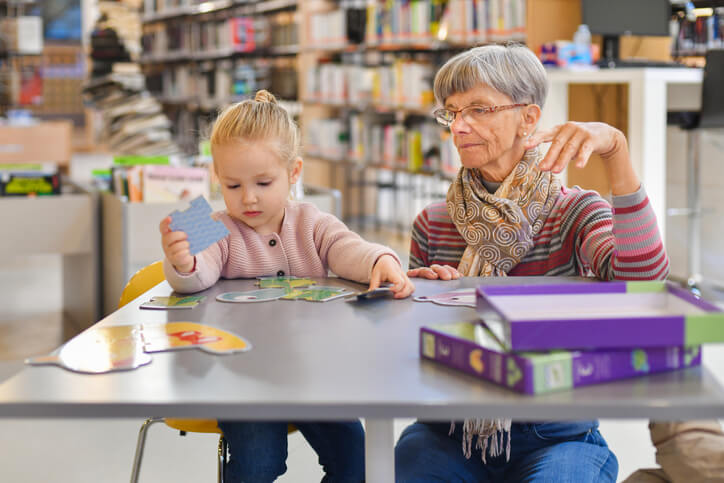 Love the library. Libraries are perfect places for grandparents and grandchildren—with story and craft hours, or just a comfy place—to enjoy the world of ideas. You don't have to have a library card, but if you can get one, you also can borrow some of the books and other media to enjoy later.
Be the crafty grandparent. Pull the kids away from their screens and help them appreciate their creativity by making something simple and fun. Tin can stilts are fun and easy – and good for several hours of exercise and entertainment.
Encourage the Cookie Monster. Baking with your grandchildren is pure fun. Buy or unearth some simple cookie cutters and choose some sprinkles to decorate with. Let the kids choose the colors and the flavors. Don't be surprised if they love playing with the whisk as much as they enjoy eating the cookies.
Make a tradition. Going to special holiday events—fireworks, Halloween parties, Thanksgiving walks, and Christmas and New Year's celebrations—are fun for everybody. But having grandparents along will only make things more memorable.
Take them to swim lessons. Taking a young child to swim lessons can be time-consuming, but it also can be a priceless gift. Organizations like the YMCA offer adult-child swim classes for children as young as six months. Both of you hop in the water, blow bubbles, and kick, kick, kick. You can bond while also acclimating the child to the water.
Rock the park. Regular trips to climbing structures and other play areas at the park strengthen muscles and make memories. The benefits of climbing, swinging, and sliding are more than physical. These structures also are good for the brain, experts say, as children explore, follow their curiosity, and socialize with peers.

Be Cautious With Your Grandchildren That Are Babies and Toddlers
Having a grandbaby is fun, but it also can be challenging. Take these baby steps to make your new relationship safe and exciting for both of you:
The Consumer Product Safety Commission (CPSC) outlines three particularly dangerous areas for babies and toddlers. If it's been a while since you've had small children around, make sure you brush up on modern safety concerns:
On average, one child dies every two weeks as a result of top-heavy furniture falling over.
Unstable chests of drawers are a major culprit, especially when there is a TV on the top. Hang your flat screen TV or, if that isn't possible, securely anchor it to the stand.
Pool and spa incidents cause an annual average of 5,600 visits to the emergency room by children.
If your grandchildren are going to be near the pool, lake, or any body of water, designate a "water watcher"—someone whose primary responsibility is to pay close attention to children who are anywhere near water.
Swallowing a high-powered magnet set can be fatal to anyone, but this can be particularly hazardous for small children.
The CPSC says children have required surgery and at least one died from swallowing magnetic building sets. Although high-powered magnets have legitimate industrial and entertainment uses, they can be dangerous if swallowed and should be kept away from children younger than 14. Even building and play sets with small magnets that are suitable for older children should be off limits to small children, who are inclined to put things in their mouths.
Keep them close. When you take young children somewhere, especially where there is a crowd, dress them in a distinctive piece of clothing—a bright hat or outfit—so they are easy to spot. Teach older children their name and address. If they aren't old enough for that, pin your name and mobile phone number someplace where it will be noticed.
Help me, officer. Teach them what a police officer looks like. Tell them to find a police officer when they are lost.
Activities to Do With Elementary-Aged Grandchildren
Soon, children reach a stage where they are young enough to still worship their grandparents while being old enough to engage in a variety of activities. You two can relate to each other on a new level: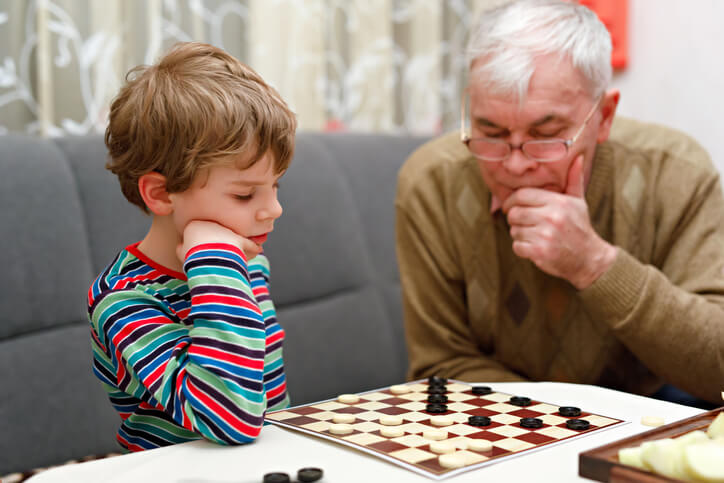 Be the fun one. Do some of the things with your grandchildren that their parents don't. Take time for a slow nature hike or a fast run. Introducing kids to nature and the outdoors can be a purely pleasurable experience. And it is great fun to teach them about your music and your style of dancing. Just make sure the parents are open to these new experiences. They're the boss now.
What's old is new again. Hopscotch is still fun and so are jumping rope and playing jacks or pick-up sticks. Card and board games are perfect for rainy days and overnight visits.
Be a fan. With their busy schedules, it can be hard for parents to be there for all of their kids' events, but grandparents sometimes have more flexibility in how they use their time and may be available to cheer on soccer players, ballerinas and other budding stars.
Point Your Grandchildren Toward the Safe Path
Children at this age don't always make good decisions, use the opportunity of time together to help them avoid trouble.
Let them know what's OK and what isn't: "Grandma's house; Grandma's rules." Kids this age have an abundance of energy. They want to run and climb. Teach them to be smart about things that are potentially dangerous. Jumping on the bed is one thing—jumping off the porch roof is quite another.
Get the right car equipment. Take the kids on errands or plan a special day trip. Just make sure that if they'll be in your car, you have the right equipment. The laws are different in every state, but, in general, children should use a car or booster seat. Keep your grandchildren in a car seat up to age four and a booster seat at least through age 12, always in the back seat.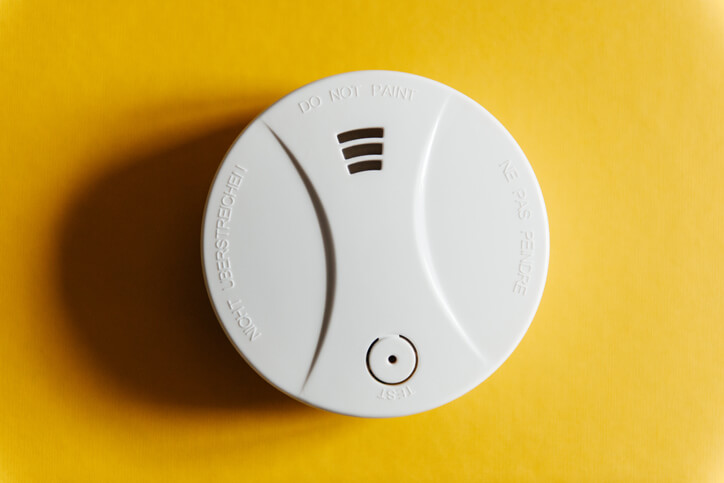 Monitor your home. Make sure there are smoke and carbon dioxide monitors near spare bedrooms where grandchildren might stay. Some of these devices only last a half-dozen years, so be sure yours aren't expired and test them once a month to check that they're working. It is also a good idea to have fire extinguishers, especially in the kitchen. They, too, need routine checks to help ensure they're still functioning. The Hartford's Junior Fire Marshal program is another fun way to teach your grandkids about fire safety.
Supervise the home gym. You may want to keep the door to your home gym locked unless you are right there with the kids. Doctors warn that these can be particularly dangerous for users who aren't paying attention.
Teen Grandchildren
This stage is a challenge for parents, but grandparents can have a special connection with this age group, because they know from experience that teens eventually grow up. Grandparents can offer love and understanding under trying circumstances. Here are five ways to connect with your teen grands: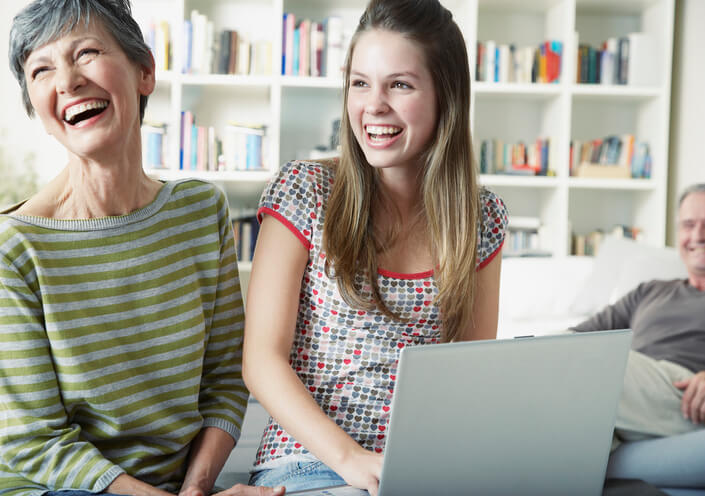 Teens love to eat. Cooking and eating together is a wonderful way to keep a teenager coming back for more. Supervising and teaching while the teen learns to make your family favorites is fun, and makes it more likely that your family food traditions will outlive you.
Be tech-savvy. Go beyond Facebook and texting. For many teens, the social media tools of choice are Instagram, Snapchat and TikTok. Although these are primarily used as mobile apps, you can use them on your desktop, too, to connect with teens on their level. If you live far away from your grandchildren, master the art of FaceTime and Zoom, so you can converse face-to-face for free wherever you are. Learning about technology can be a two-way street. While the kids may know more than you do, that's not necessarily the case. Sharing knowledge and experience can bring the generations closer together.
Listen to them. Having someone listen—really listen—to you is a gift at every age. But at this age it is especially gratifying. Besides making your teen grands happy, listening will give you special access. If they are doing something that you feel is unsafe, then you can be a voice of reason without preaching. If you can, make these conversations face to face. A big hug can say a lot more than words.
Pass down family history. If there are school assignments about events that you and older relatives have participated in, share that information and photos if you have them. Let them know that Great Grampy was in the war.
Go on vacation. A trip with grandparents can make memories for both of you. Amusement parks, state parks and big cities are always fun, but you might also consider being more adventurous—whitewater rafting down the Grand Canyon with Granddad can instill a love of nature that never fades.
Since you aren't a parent, there may be some legal restrictions relating to taking your grandchildren across state lines or out of the U.S. If a grandchild needs medical care, the doctor or hospital will likely require parental permission. Take time to understand the rules before you leave home.
Be a Good Role Model for Grandchildren
While being a good role model is important to portray with kids of all ages, at this age, teaching your grandchildren how to be safe takes on another dimension.
Always use your own seat belt and turn signals, and come to a full stop at signs and lights.
Don't Drive Distracted! In fact, after helping your grandchild understand the dangers associated with horrible habits such as texting and cellphone use while driving, take the pledge to drive distracted free. Print and have all driving family members, including your grandchild, sign it. Hang it on the fridge as a reminder of its importance.
Curb your drinking. Iced tea and soda are enjoyable for everybody.
SPECIAL NOTE: Before handing your car keys over to your teen grandkid, make sure to check with your insurer to make sure you understand the ins-and-outs of what is—and isn't—covered. During that call you'll probably need to explain to the insurer how often your grandchild will be using the car and whether they live with you.
Adult Grandchildren
It can require real commitment to extend your relationship with your grandchildren into their adult years as they fly far away from home—both physically and emotionally. Here are some things to think about: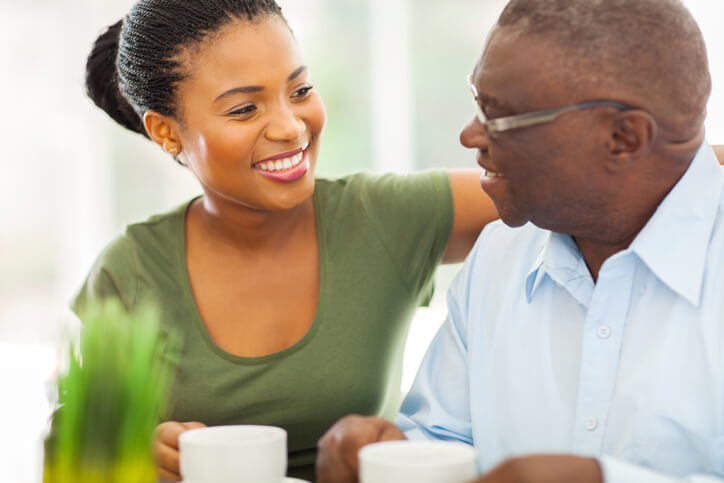 Share the memories. Go through old pictures of them and people they know and create a simple book as a keepsake. If you have old videos, make a memory movie.
Pass on important things now. Look at what you have around the house that you would like for them to have later and do it now while you can still pass along the reason you love it and why you want to share it. This can include art, jewelry and other keepsakes.
Take them with you. If you love the lake, invite them there for a fun weekend. If you delight in the Grand Canyon, show them your favorite parts. Make the trip just them and you, or encourage them to bring their significant other. If they have kids of their own, help them find a babysitter all of you can trust. Multi-generation vacations can be particularly fun.
Everybody needs a friend. This is especially true for young adults who are making decisions that will affect them for the rest of their lives. Giving your grandchildren a safe and nonjudgmental place to vent is a tremendous gift.
Remember important occasions. Call on their birthday. Send a Christmas gift. Congratulate them on their new jobs, big promotions, new apartments and new cars.
Love the ones who love them. Get to know the new boyfriend or girlfriend and appreciate why your grandchild thinks this person is special.
Provide support. This doesn't have to mean money. A good meal, a place to occasionally sleep and household goods you no longer need are all valuable to someone just starting out. You also can do them a big favor by helping them make their own home and cars safe.
Don't lend grandchildren money that must be paid back. Lend money cautiously to help ensure your own financial well-being. Compromising your own financial security is a bad idea.
"Grandchildren are the dots that connect the lines from generation to generation," wrote Lois Wyse, the author of Funny, You Don't Look Like a Grandmother. The joy of being a grandparent is great. And you can enjoy it at every stage with these tips. Take the time to be a smart and loving grandparent.
I still remember the fun competition with my grandmother on Saturday nights playing the board game, Parcheesi.
What is your favorite thing to do with your grandchildren? Let us know in comments.