Vegetable gardening offers home gardeners many benefits, even when you garden on a small scale. Tight budgets and small spaces shouldn't prevent you from gardening. In fact, starting small is a great way to give gardening a trial run. You'll learn a new skill, save money, and enjoy some fresh produce.
Here's what you need to know to get started.
Get Creative With Your Garden Space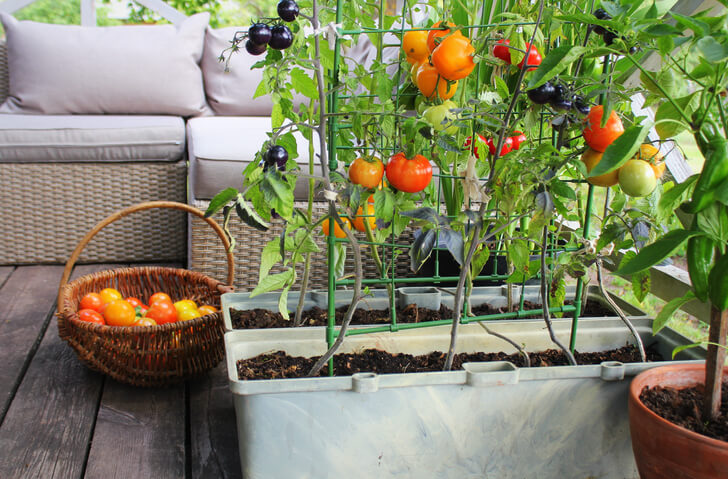 The square footage of your living space has little to do with your ability to grow a garden, as long as it has access to natural light (or even a grow light). You'll just need to get creative in maximizing your tight space.
Some ways to start gardening inexpensively in a small home include:
Pots of herbs or cherry tomatoes on a window sill
Hanging baskets of strawberries or tomatoes
Indoor or outdoor wall gardens
Indoor or outdoor vertical gardening shelves
Container garden on a patio, deck or balcony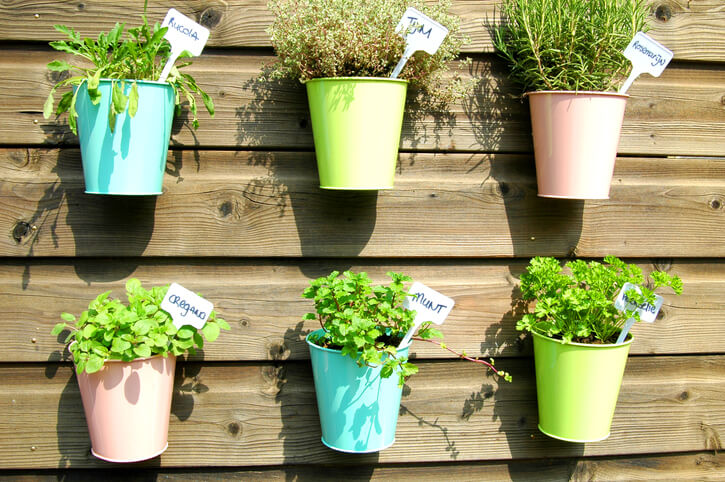 If you are in a small house, penthouse, or townhouse, you could even consider a rooftop garden. As The New York Times recently reported, using roof-space to plant greenery including flowers, ornamental shrubs, vegetables, and herbs, is on the rise worldwide.
How to Start a Vegetable Garden on a Budget
With all the online free information on gardening for beginners, it's never been easier to start growing your own food, herbs, or flowers. Yet it is also all-too-easy to overspend on seeds, soil, cute gardening containers, tools, and accessories that beginner gardeners just don't need. Use these tips to help you develop a green thumb without breaking your budget.
Use What You Already Have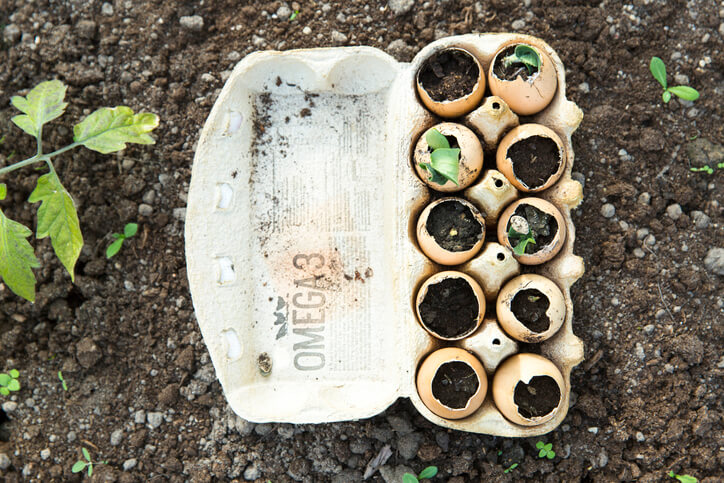 Keep your beginner garden costs down by avoiding spending money on gardening accessories. Instead, look around your house for items to use to start seed planting.
For example, toilet paper rolls, egg cartons, and flip-top clear plastic containers that held store-bought fresh berries or washed salad greens make great mini-greenhouses for seeds. You could also use plastic single-serve pudding cups or yogurt containers with holes in the bottom for proper drainage. Use the tip of sharp scissors to poke them out.
Buy Seed Packages Locally or Online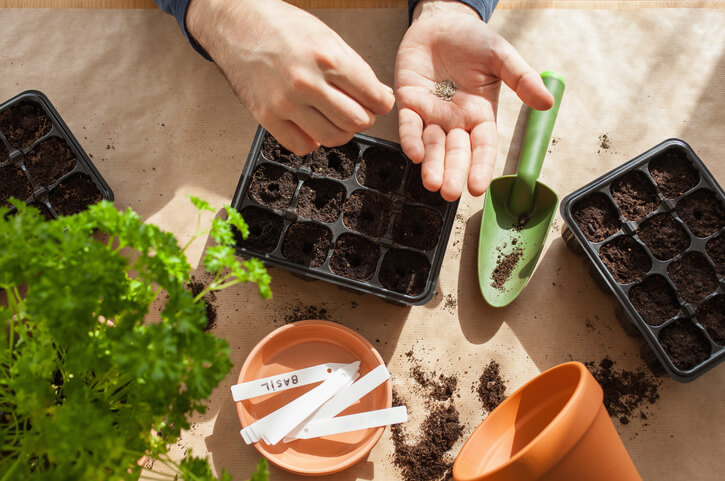 Buying seedlings (small plants) will give your garden a head start but costs more than buying seeds.
Set yourself up for success with gardening by buying three to four packets of seeds either online or from a local source such as your area nursery or big box store where the high seed turnover means you'll get access to fresh seeds. Choose easy-to-grow vegetables such as lettuce, onions, dry beans, or herbs.
Try Growing Your Vegetable Scraps
If you are on a really tight budget, skip buying seeds. Instead, try growing your food scraps. For example, green onions, garlic, and radish tops placed in a small dish of water grow into tasty green sprouts to add to your favorite omelet or salad recipe.
Or place a few dried kidney beans between two damp paper towels in a glass Mason jar and set in a warm sunny window to sprout and then plant it in a pot for your own beanstalk. You could also use this method to try growing seeds from your store-bought veggies such as peppers, tomatoes, cucumbers, or squash.
Potting Soil for Your Vegetable Garden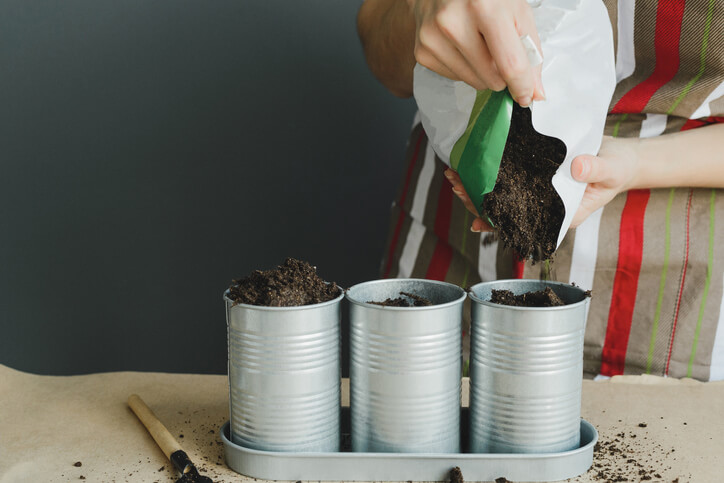 Quality potting soil can make or break a beginner's garden, even if you're using containers or pots indoors.
It's important that your soil has the correct proportions of nutrients for optimal seed growth. It should also be sterile, or free from bugs, disease, and pests that could kill your plants and shut down your gardening attempt before it even starts. A 16-quart bag from a local big box store is approximately $11.00.
If you do have access to soil from your backyard, you could save money by sterilizing your own soil to make your own potting mixture.
Add Compost to Your Soil
Adding compost to your soil is a budget-friendly way to boost the nutrients needed to get your seeds growing, whether you're starting a small garden bed or a container garden. Get started with indoor composting. Eggshells, coffee grounds, and vegetable peelings make a good beginning.
More Vegetable Gardening Tips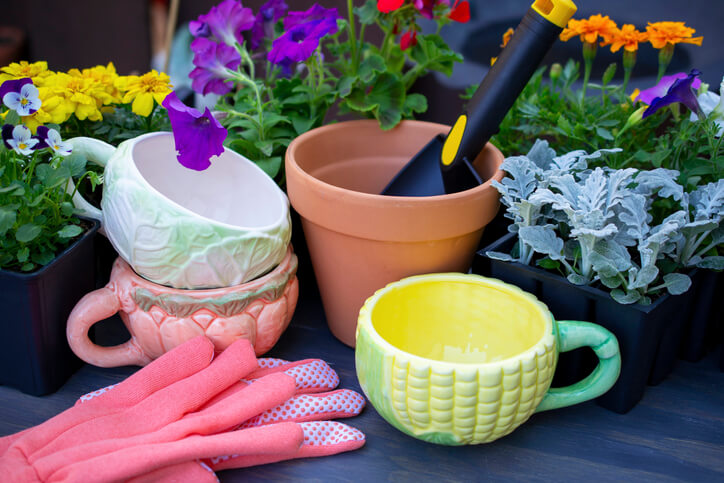 Seedling Maintenance
Your seeds and seedlings need regular care and maintenance. Follow expert indoor garden tips for a successful garden to make sure you're treating those little greens right!
Transplanting Your Seedlings
When it's time to transplant your seedlings to a larger pot, move them into to clean milk cartons or large plastic soda containers (cut off the tops), red Solo cups, plastic cups, or your old chipped coffee mugs or cups. Get creative!
Tip: Use old baskets or even cloth shopping bags to grow root vegetables such as potatoes or cooking onions.
Before you start digging to transplant your seedlings into an outdoor garden bed, review a list of landscaping do's and don'ts to avoid potential problems and maximize your chance of success.
Familiarize Yourself with Your Gardening Zone
It's also important to follow the right planting and watering routines for your gardening space and gardening zone, crops, and soil type. And if you're in a dry climate, you might need to look for water-saving gardening ideas.
Benefits of Vegetable Gardening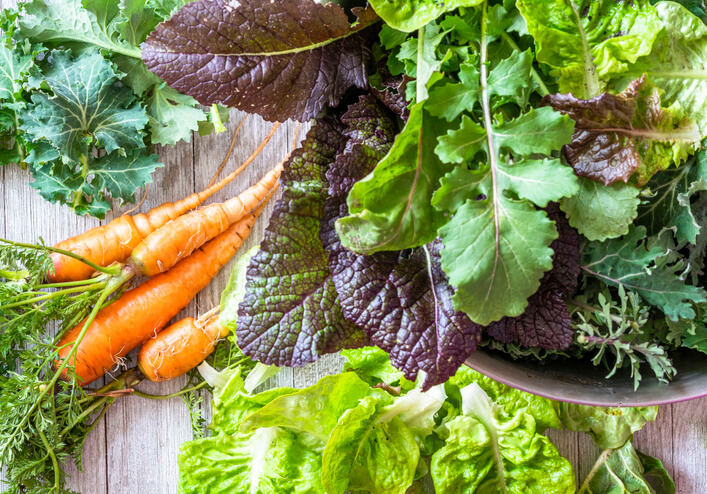 Fresh Veggies Daily
As a home gardener, you'll enjoy fresh-picked vegetables in the comfort of your own home. No need to head to the supermarket daily.
Stress Relief and Exercise
Various global studies have shown the mental and health benefits of gardening. Dutch researchers recently found that gardening lowers stress levels and improves moods. And an Australian study found that gardeners in their 60s were 36% less likely to develop dementia than their non-gardening peers.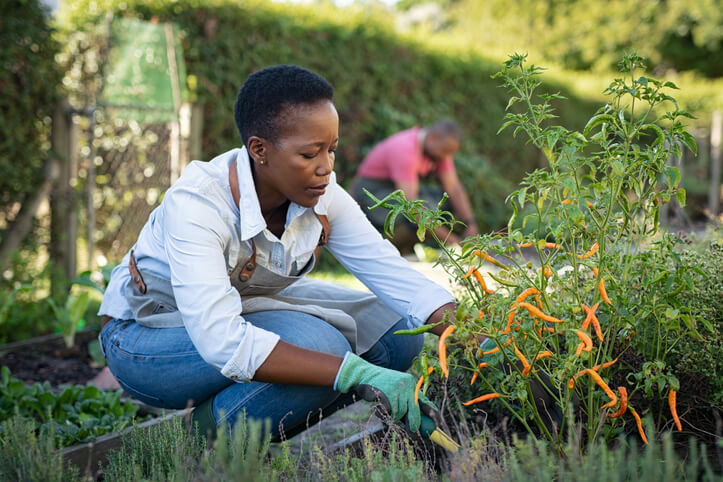 The Harvard Medical School reports that 30 minutes of gardening activity will burn 167 calories for a 155-pound person.
Fun Family Time
Planting a garden is a good hands-on activity that can help you spend quality time with your spouse or extended family members. According to the latest National Gardening Survey, the number of 18- to 34-year-olds gardening has reached an all-time high, so you might even get young adults in your family to join you.
Helps Cut Food Costs
Although you might need to spend a small amount of money to start gardening, in the long term your vegetable garden can help you save money on your food costs. Here's an example.
According to the U.S. Department of Agriculture, the average price of tomatoes is $2.56 per pound. And an average, staked tomato plant will yield about eight pounds of tomatoes. You can buy a package of 25 tomato seeds (expect 12 to 15 plants to grow) from a local big box store for approximately $5.00. So even if you only grow one tomato plant from the seeds, those eight pounds of tomatoes would have cost $20.48 at the store. After accounting for the cost of tomato seeds, you've already saved about $15.00.
Tip:If your home garden produces more fruits and veggies than you can use right now, plan to:
can
preserve
freeze
donate to local food bank
It's true — you don't need a lot of money or space to get started gardening. Sunlight, water, seeds or vegetable scraps, some soil and homemade compost, creativity, and a few containers are really all you need to begin your garden. Use your imagination and use what you have in your home to create your own unique garden. Don't let a small home or tight budget prevent you from enjoying the many benefits of gardening at home.
Are you gardening on a tight budget in a small space? Share your

best tips and tricks to help our other readers get started gardening

today!