If you've spent the summer enjoying fresh fruits and vegetables from your local farmer's market, Community Supported Agriculture (CSA) program or your own garden, the waning light of summer days doesn't have to signal the end of tasty garden produce.
Plenty of delicious vegetables you enjoyed all season can still be harvested in late summer. For instance, you can enjoy:
Tomatoes
Squash
Peppers
Green onions
Other vegetables can be planted in mid-summer for fall harvest. These include:
Lettuce
Cabbage
Cauliflower
Broccoli
Leafy greens like kale, Swiss chard or mustard
Root vegetables like beets or carrots
Are you a lifelong veggie lover or someone exploring a heart-healthy diet? Maybe you prefer to go meatless a few nights a week? Whatever the reason, you've come to the right place for simple vegetarian recipes filled with fall-harvest flavor.
You don't have to be an old hand in the kitchen to whip up these nutritious dishes, either. Even inexperienced cooks can prepare these late-summer simple vegetarian recipes.
Cheesy Lentil Tacos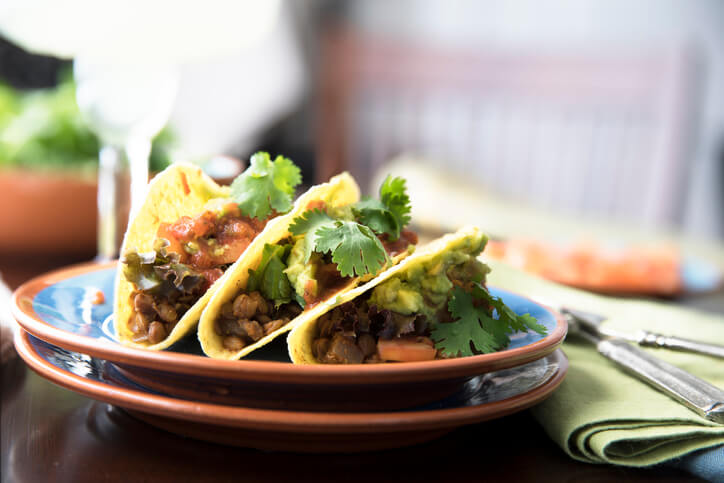 When Colleen Woods was a grad student earning her master's degree as a dietician, money was tight. Protein sources such as chicken, beef and seafood were expensive. So, Woods searched for cheaper protein alternatives, creating her gluten-free Cheesy Lentil Tacos recipe along the way.
Lentils are legumes and part of the bean family. Lentils serve as a healthy substitute for meat since they are high in protein and fiber while low in fat. In fact, one cup of lentils contains 15 grams of fiber, around half of the recommended daily amount for adults. The same serving also contains 18 grams of protein. They have "virtually no saturated fat or sodium," according to the Harvard T.H. Chan School of Public Health.
"Lentils are not a complete protein on their own, so to get all the essential amino acids, you have to pair them with a grain such as corn," says Woods, a Registered Dietician, nutritionist and owner of Zest Nutrition Service in Santa Cruz, California.
Woods based her vegetarian Cheesy Lentil Tacos recipe on a corn-tortilla version of traditional American Tacos, but you can also receive similar nutritional benefits using flour or whole wheat tortillas. Tomatoes and cabbage or lettuce, which can be harvested in late summer or early fall, top off these tasty lentil tacos.
Vegetarian Chili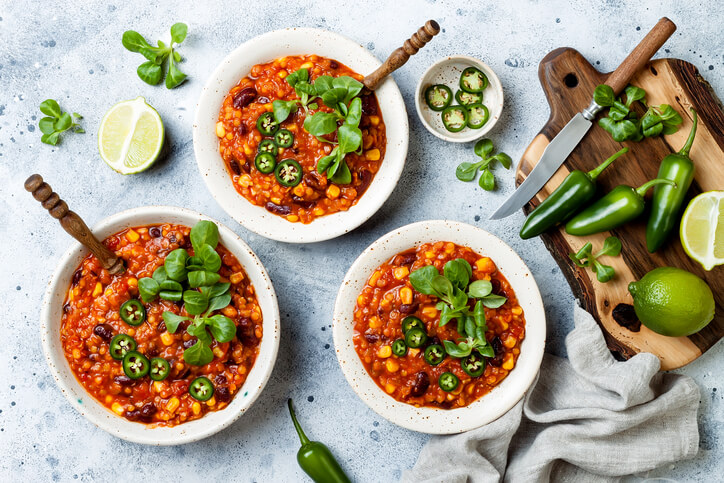 Who doesn't love a steaming bowl of chili on the first "chili weather" night of late summer or early fall? And as many vegetarians already know, a delicious chili doesn't always have to include ground beef or other meat.
This vegetarian chili recipe, created by Rouxbe, an online culinary school founded in Vancouver, British Columbia, is perfect for late-summer veggies such as:
Squash
Onion
Bell peppers
Tomatoes
Garlic
Carrots
And you don't have to be an aspiring chef to prepare this chili, either.
"On a skill level of one to ten, I'd put this chili at a two or a three," says Ken Rubin, chief culinary officer at Rouxbe. "You're really only applying two basic cooking techniques, sautéing and caramelization, along with knife skills.
"You can use canned tomatoes for this recipe, but fresh tomatoes can be even better when in season," says Rubin, who suggests staying away from slicing tomatoes, which can be seedy and more watery when cooked. "Roma or pomodoro tomatoes are going to give the best texture in a sauce."
Another tip from Rubin: With a carrot or zucchini, cut a thin piece off one side before slicing to prevent the vegetable from rolling while cutting or slicing. To make preparing this recipe even easier, follow along with Rouxbe's step-by-step video.
Vegan Eggplant Curry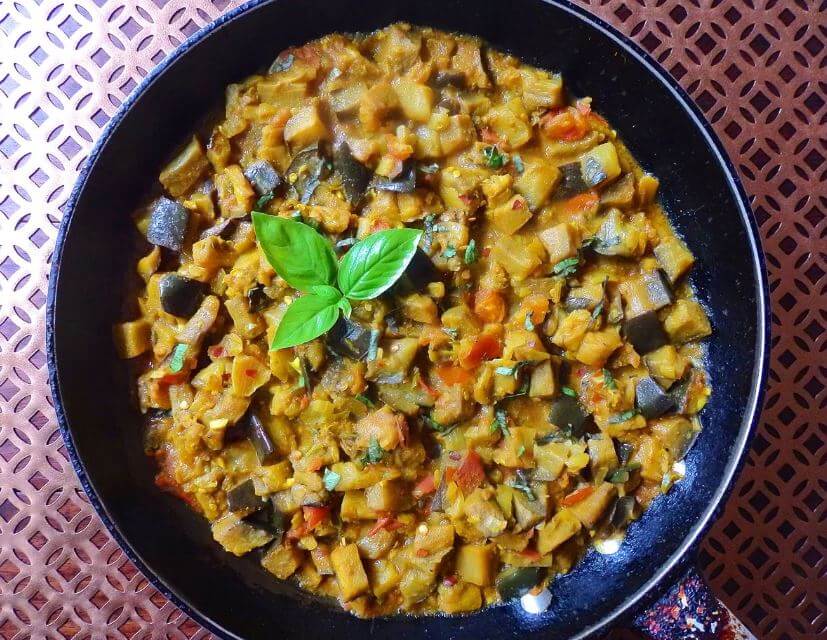 Lisa Richards, a nutritionist and author of "The Candida Diet," created this Vegan Eggplant Curry recipe because she loves curries and wanted to whip up a healthy dish for her family. Eggplant, tomatoes, onion and classic Indian spices such as turmeric, coriander, curry powder and ginger give this dish plentiful nutrients along with a "little kick of heat," says Richards.
This recipe comes from Richards' The Candida Diet website and follows the Candida diet's low-carb, low sugar and anti-inflammatory guidelines. Not surprisingly, Vegan Eggplant Curry is loaded with veggies offering plenty of health benefits.
For starters, eggplant's robust purple color comes from phytonutrients, plant-based compounds that give the vegetable significant antioxidant benefits. Eggplant also contains anthocyanins, flavonoid pigments that can reduce artery stiffness and prevent LDL cholesterol production, making this vegetable heart-healthy.
"The anti-inflammatory effects of ginger, turmeric, cumin, and coconut oil will benefit anyone that gives this recipe a shot," says Richards. "Those living with inflammatory conditions will reap the most benefits, since their bodies are inundated with four anti-inflammatory ingredients."
You can prepare Vegan Eggplant Curry using only one pan for cooking, and the recipe makes enough servings to provide more than one nutrient-dense meal for the week. "It can either be made and refrigerated for up to three days, or frozen and thawed overnight to be rewarmed the following day," says Richards.
Enjoy Fresh Veggies All Year Long
Now that you've got a few simple vegetarian recipes, why not find a local CSA program and sign up so you can always have seasonal vegetables in your kitchen?
Better yet, think about starting your own garden next spring. You may have to invest some money up front for:
Raised beds
Seeds
Plants
Fencing
Garden soil
But this small investment will pay off year after year with savings in the produce aisle.
Do you have any favorite simple vegetarian recipes you'd like to share? Tell other readers about them in the comments.