There are many factors to consider when deciding whether to do a project yourself (DIY) or outsource home maintenance tasks. They include:
Cost
Safety
Your skill level
How much extra time you have
If you're like most homeowners, you'll probably choose to do some tasks yourself while hiring a qualified professional for others. With that in mind, here's our guide to common home maintenance tasks, including when it makes sense to do the task yourself and when it might be best to call in an expert.
Home Maintenance Tasks: DIY or Hire a Pro?
Below is a punch list of routine home maintenance chores. We've broken them down by different categories and explain conditions when it might make sense to hire an expert.
Home Heating & Cooling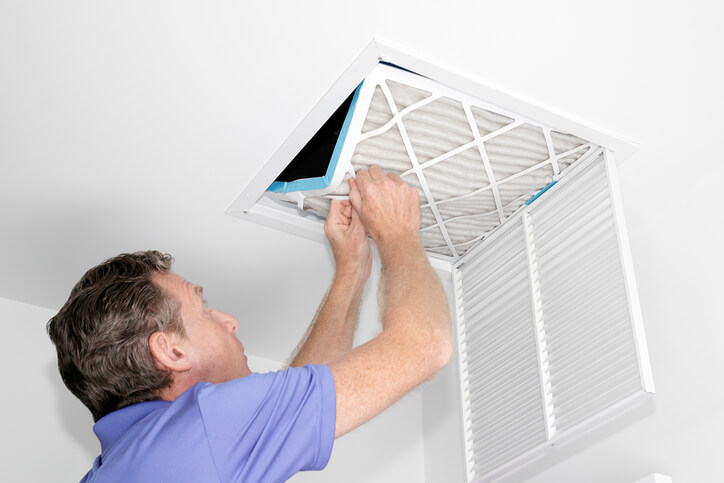 Basic Home Upkeep & Repairs
Fixing toilets: This can be a simple home maintenance DIY job, depending on the problem. Many toilet issues can be solved by replacing a handle or installing a new fill valve or flapper. These parts sit inside the tank and can be purchased at any hardware store. These simple toilet repairs typically don't require specialized tools, though you may need a hacksaw in some cases. They will involve shutting off the toilet water supply and emptying the tank before you work. A leak around the base of the toilet is a little more complicated. You may want to hire a pro for that issue unless you're handy or experienced with plumbing.
Testing carbon dioxide monitors and smoke detectors: Home carbon monoxide and smoke detectors should be tested regularly to make sure they're in good working order. This is an easy DIY job if you can reach the device, or you're okay with climbing a ladder. It's important to test smoke detectors once a month by pressing the test button and listening for a loud sound. If the tone sounds weak or your smoke detector begins "chirping," change the batteries. You can test a carbon monoxide monitor in the same way, but it's also a good idea to test it once a year with a special carbon monoxide tester spray.
Swapping chandeliers and ceiling fans: Most homeowners will want to replace a light fixture or ceiling fan at some point. You'll need basic electrical know-how and the ability to climb a ladder in order to DIY. After you turn off the breaker that controls the light or fan, use a voltage detector to make sure you won't get shocked. If you don't know your way around a breaker box or feel uncomfortable handling electrical wires, you'll probably want to hire a pro electrician.
Housecleaning: One of the easiest jobs to DIY is cleaning your house. This can be expensive to outsource and is easy to do on your own if you don't have any major mobility issues or health problems. Make sure you have the right tools to make the job safer. For example, you might want to purchase a safety step ladder with slip-resistant treads or an extension pole for tasks like dusting high surfaces.
Vacuuming dryer vent lint: Cleaning the lint from your dryer exhaust vent at least once a year can help to prevent house fires. It can be an easy DIY job that requires a dryer brush and a shop vacuum. To vacuum a dryer vent, you'll need to turn off the gas, unplug the dryer and pull it away from the wall. Some homeowners who don't want to tackle this slightly messy task may choose to hire a pro.
Home Exterior & Yard Work
Roof cleaning and inspection: It's important to keep your roof free of branches, leaves and ice dams that can damage the structure. If you're lucky, you have a simple peaked roof that doesn't accumulate debris. If not, you might be able to DIY leaf or snow removal by using a roof leaf rake or a roof snow rake. But if your roof is too high to reach with one of these tools, hire a pro to clear and inspect your roof as necessary. If you've had a storm, you might need to hire a pro to repair shingles.
Painting: There's nothing like a fresh coat of paint to keep your home looking new. Depending on the type of siding, you may need exterior paint to protect your home from the elements. If you have time and basic painting skills, and you feel safe climbing a ladder, interior painting can be a DIY job. But you might want to hire a pro for exterior painting. This is the case especially if your house is more than one story or is irregularly shaped with complex architectural features. A professional painter will have the equipment and know-how to reach these spots. They will properly prep and paint the exterior to protect your home.
Washing home exterior: Cleaning your home exterior at least once a year will keep it looking sharp. The annual cleaning is also a good time to inspect for any areas that may need repair. Most types of siding can be cleaned with warm soapy water and a soft-bristle brush. This can be a home maintenance DIY job. However, as with painting, you might want to hire a pro if your home is tall or has hard-to-reach nooks.
Window washing: Cleaning dirty windows can make your home feel new again. Cleaning interior windows can be a DIY task if you can reach the tops of all of your windows or feel safe using a stepladder. Similar to painting, exterior window washing can be easy to do on your own if your home is one story with a simple shape. Consider hiring a pro window washing company for homes with two or more stories or those with hard-to-reach windows.
Yard work: Mowing the lawn and trimming trees and shrubs can keep the exterior of your home looking nice. It may even deter burglars. As long as you're physically able and have time, lawn mowing is usually a home maintenance DIY chore. And it's not difficult to learn how to trim different types of shrubs. However, you may want to hire a pro arborist or tree service for tree trimming and other tasks. An arborist can remove dead or diseased limbs. They'll also clear those that are rubbing against the roof or are interfering with electrical wires. Such limbs may pose a danger to you or your home. A tree professional can treat tree diseases and pests. They can also give advice on when a tree needs to be removed.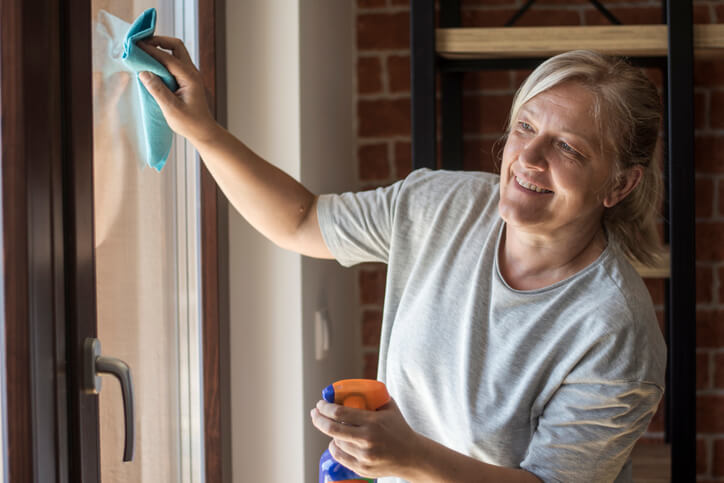 How To Hire Home Maintenance Pros
The whole point of hiring someone to help with home maintenance is to make your life easier, so make sure to do your homework to avoid home repair headaches down the road. Hiring the wrong contractor can cost you money, result in damage to your home and even expose you to fraud.
Always vet a contractor thoroughly to make sure they're legitimate and do quality work. You can find contractors with a good reputation by:
If applicable, make sure the contractor is licensed, bonded and insured. It might cost a little more upfront, but it will offer peace of mind. It could even end up saving you money since shoddy repairs can be expensive to fix.
Get familiar with common contractor scams to decrease your chances of becoming a victim. The AARP offers these five tips for foiling home improvement scammers:
Avoid contractors who approach you first.
Be wary of lowball bids.
Don't pay cash.
Never put down a big deposit.
Steer clear of contractors who offer financing.
And if you look to a relative or neighbor to help with your home maintenance, double-check your homeowners insurance coverage. It pays to be prepared just in case your handy friend falls off a ladder or cuts a finger.
Following these tips can help you keep your home looking great and avoid home repair disasters that can be costly and difficult to fix.
What home maintenance tasks do you prefer to do yourself? What would you rather outsource to others? Tell us in the comments below!