Would you rather spend the next 20 years living in your own home, or opt for a different home setting like an active adult community or assisted living?
Seventy-seven percent of Americans over 50 want to stay in their homes for the long haul, according to a recent AARP report. But aging in place usually requires making a few changes and upgrades to your home to suit your needs as the years go by.
Whether you're concerned about your own long-term living situation or making plans for a loved one, it's important to start preparing sooner rather than later.
Here are a few things to consider.
Decide if Aging in Place is Right for You
"Aging in place" refers to living independently in your home as you get older, rather than downsizing or moving to a senior community.
Some people prefer staying in their own homes. After all, your home may hold precious memories of happy times. Maybe it's near your friends and family, your health services, and the clubs and activities you love participating in.
For some people, aging in place is also the right financial choice. This could be the case if the costs of maintaining your home and lifestyle (plus the potential costs of renovations and at-home care) are less than the cost to sell your home and move.
How to Start Planning to Stay in Your Home
Although most Americans say they don't want to move homes as they get older, recent research suggests they're not prepared to age in place.
According to findings from the 2022 National Poll on Healthy Aging, 88% of respondents between ages 50 and 80 said it was important to them to remain in their homes. Yet 47% said they'd given little to no thought as to how to adapt their homes to their needs for aging in place.
It's important to start thinking now about any adjustments or changes that could be required to safely and comfortably stay in your home. This includes looking over the home's indoor and outdoor spaces to identify what needs to be removed, added or modified to provide a safe, comfortable and functional space that meets your changing needs over time.
Also, consider your physical health and abilities. While most of us remain healthy and active as we age, we may still experience changes in strength, flexibility, balance and reach. Existing or emerging health issues, such as heart disease, diabetes or mobility issues, could one day require at-home medical care. In addition, budget for renovations and updates to create a supportive and easy-to-use environment.
Home Upgrades for Aging in Place
Some home updates for aging in place might require hiring a contractor for repairs and renovations. Other upgrades are simple purchases or DIY projects.
Consider incorporating universal design, an approach to making living environments more comfortable, functional and easy to use for people of any age, size or ability.
Here's a list of common home improvements and renovations for aging in place.
Bathroom Safety
Adding grab bars in bathrooms near toilets, showers, and tubs
Installing step-in bathtubs and showers
Adding benches in bathtubs and showers
Replacing low toilets with higher "comfort height" toilets
Adding non-skid rugs to slippery tiled areas, such as the entrance, kitchen and bathrooms
Adding non-slip strips to bathtubs and stairs
Having a main floor bathroom and bedroom in your home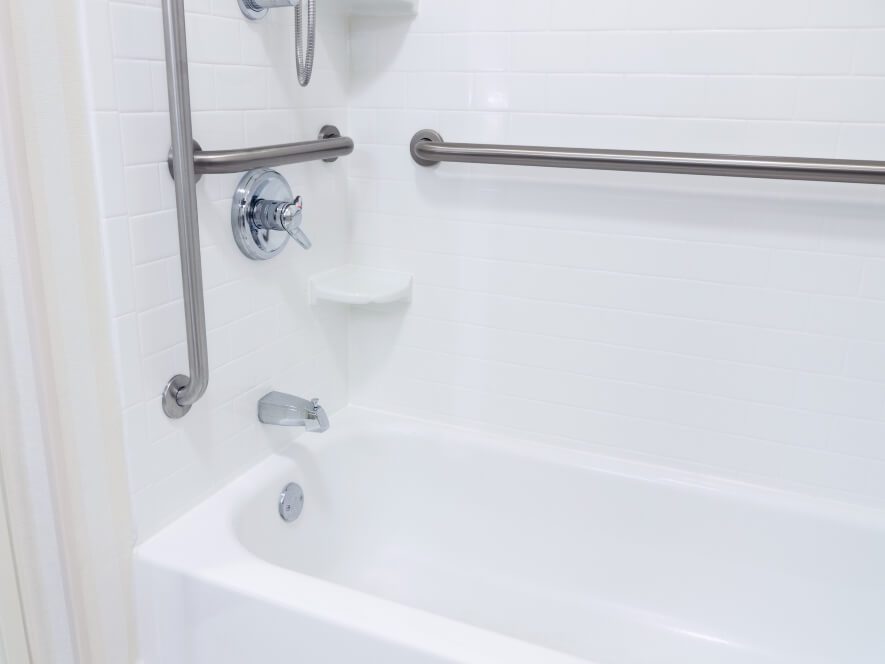 Front Hall Fixes
Adding a bench and a brighter light to your foyer so you can see what you're doing when you sit to put your shoes on
Introducing smart home devices like voice-activated heating and cooling controls and doorbell cameras with accompanying phone apps for home security
Widening doorways to accommodate walkers or wheelchairs
Adding no-step entries and/or ramps to the exterior entrances of your home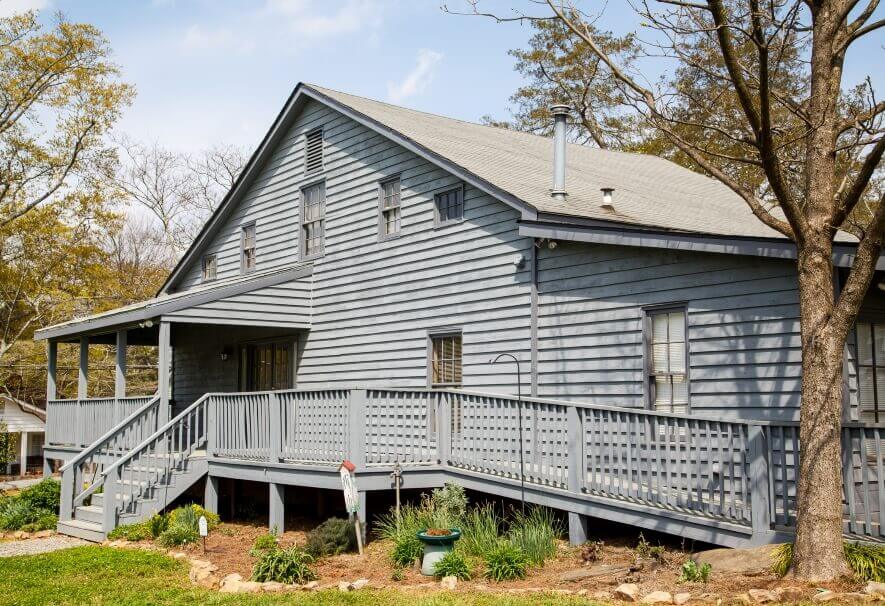 Home Interior
Increase lighting throughout the house, particularly where safety hazards exist, such as overhead in the bathtub and shower and stairways
Replacing round door knobs with easy-to-grasp lever-handled door knobs
Installing motion-activated night lights in bedrooms, hallways and bathrooms
Turn fixed shelving into pull-outs
Eliminate room-to-room thresholds so there is no tripping hazard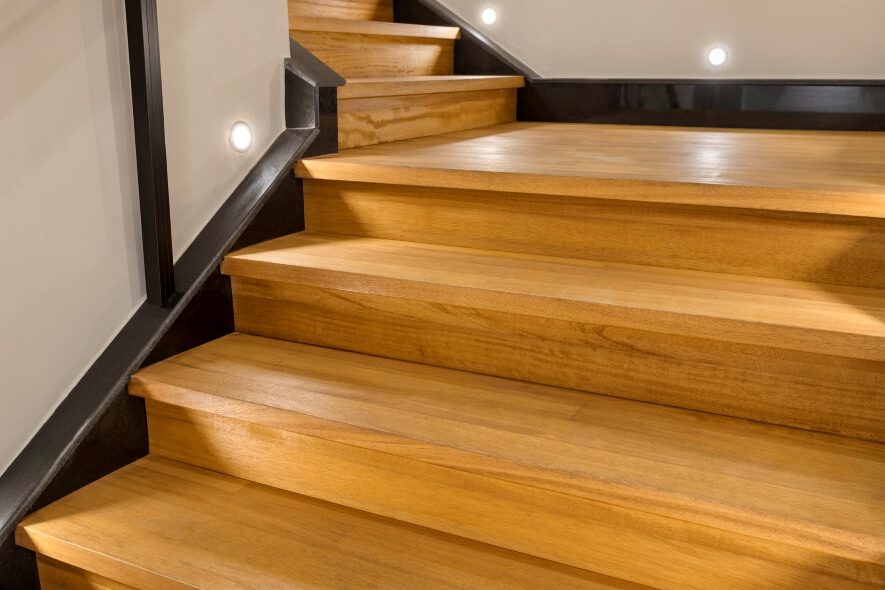 It's also important to consider lifestyle options and modifications that could help you stay comfortable and connected as you age, like installing high-speed internet.
What about personal care, housework and yardwork? As you age, you might need at-home senior care for assistance with daily tasks such as personal care, cleaning, mowing the lawn and shoveling snow.
It's also a good idea to learn which stores in your area offer home delivery. You might eventually prefer to get groceries and medications delivered rather than driving to the supermarket or pharmacy. Or perhaps you'd like to try a meal prep service and forego making meals from scratch.
Whatever your preference, start your research now before you need these services.
Where to Find More Information
Does your home require more extensive renovations to prepare for aging in place? Look into grants and resources to help you renovate and upgrade your home.
The U.S. Department of Housing and Urban Development's Older Adult Home Modification Program funds non-profit organizations nationwide. These organizations help adult homeowners aged 62 and above retrofit their homes to remain in place as they age.
You can also visit USAging.org or AgeinPlace.org for other aging in place services available in your area.
Visit The Hartford's Center for Mature Market Excellence for resources on how to make your house a home for a lifetime. AARP has a couple of useful tools as well. The AARP Homefit Guide is a free resource to help make homes more comfortable for older adults. And AARP Here to Stay is a Resource from the AARP Foundation and The Hartford that features home maintenance and safety solutions, including an interactive home assessment tool and a directory of local resources for finding help with needs ranging from repairs to reducing utility bills and other home costs.
In today's world, aging in place is a viable option for those who want to remain independent. The right home upgrades and assistance can make staying in your home safe and comfortable. But it's important to research and plan ahead of time to ensure you have access to the resources and services you may need as you age.
By taking steps to upgrade your home and finding the right support for everyday tasks, you'll be better prepared to remain in your own home for years to come.
What's the number one change or improvement you would need to make in order to stay in your home for the long run? Tell us in the comments.