One of the most glorious aspects of preparing for retirement is the flexibility to choose where you'll live based on your preferences, interests, and hobbies. There's no longer a need to settle in a location in order to have access to the best careers or schools. For perhaps the first time in your life, you can ask: Where do I want to live? The Hartford makes it easy with our list of the 50 best cities to retire in.
You've worked hard and now it's time to have some fun. Finding the perfect town to retire to isn't just about finding a place known for your favorite pastime. It's about finding a place where you're free to be you. Choose to spend your retirement years in a location that has what matters most to you—whatever that may be, wherever it may be.
Here are some of the best retirement cities, that might help give you some inspiration for finding a unique place to live.
The Best Cities to Retire in the USA
1. If You Want to Continue Your Education in Retirement: Fayetteville, Arkansas
Fayetteville is Arkansas's third-largest city with a great college town vibe. Residents of Arkansas, who are age 60 years or older are offered the opportunity to enroll, tuition-free, in credit courses at the University of Arkansas if certain prerequisites have been met. Going back to school provides retirees an opportunity to challenge themselves to learn something new and the stimulating coursework has health benefits, like improving memory.
Fayetteville is also known as a highly walkable and bikeable community. It invests in transportation and offers a trail system for bikers as well as a public transit system. The city is investing in a connected system of roads, bikeways, and walking opportunities to support active transportation, making it one of the best cities to retire to in the USA.
2. If You Enjoy the Resort Lifestyle: Scottsdale, Arizona
The community receives high rankings for "Quality of Life" and "Health Care." The city is financially friendly to retirees as it doesn't tax Social Security checks and there are numerous retirement communities in the area.
Scottsdale is home to a variety of activities to participate in. The city has nearly six dozen golf courses for you to enjoy. And if you need to relax, Scottsdale has the most spas per capita than any other place in the U.S.
If you're interested in art, you have many art galleries to visit, including the Scottsdale Museum of Contemporary Art or look at Scottsdale Public Art. The area senior centers, such as the Granite Reef and Via Linda Senior Centers, also offer an opportunity to participate in art classes and workshops.
3. You Love the City: Tucson, Arizona
With a population of over 500,000 and a median home price of about $208,000, Tucson is one of the best cities to retire for those who love the city life but not the price tag that accompanies an urban retirement back East. In addition to 300 sunny days a year, Tucson has numerous outlets to explore:
Western history
A symphony
A ballet company
An opera company
A professional theater
A thriving art community with 35 galleries for retirees looking for cultural amenities
4. You're a Sun Seeker: Yuma, Arizona
If you love to bask in the warmth of the sun and you're 60 or older, consider putting down roots in the city that holds the Guinness World Record as the Sunniest City on Earth.
Yuma, Arizona is sunny roughly 91 percent of the year, and even dead-of-winter highs average in the upper 60s. Of course, you'll have to put up with high temperatures in the summer, which can exceed 100 degrees. Yuma offers not only a lot of sunshine, but lots of ways to get out and soak it in:
34 public parks
Four public swimming pools
Riverfront walking and biking path
As a bonus, Arizona doesn't tax Social Security benefits, and saving on retiree taxes can really pad your pockets. One last ray of sunshine? Arizona also doesn't impose an estate or inheritance tax.
5. You Like the Sun and Having Options: San Luis Obispo, California
Situated on California's Central Coast between the mountains and the ocean, this small lively city has something for everyone.
College town (the college is California Polytechnic State University)
Living history museum (the 1772 Mission San Luis Obispo do Tolosa, out of which the city grew, is still a functioning parish church)
Cultural hub (there are numerous theaters and museums)
Stay close to home to enjoy the second-largest farmers market in the western United States. Get away on Amtrak's scenic Coast Starlight train to L.A., San Francisco, Portland, Seattle, and the rest of the western coastal United States. Miles of trails and other outdoor activities abound here.
If you're counting on retirement to free you from decades of shoveling snow, you'll be glad to know it's sunny about 300 days of the year in San Luis Obispo; it's not uncommon for temperatures to reach 80 degrees in February.
6. You're a History Buff: San Francisco, California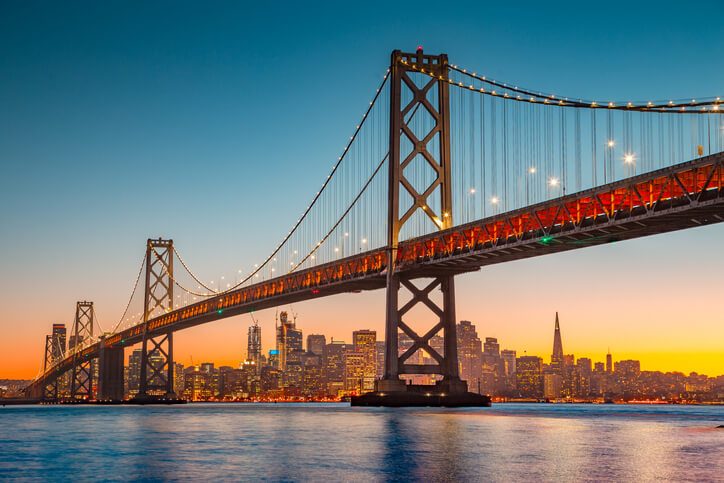 San Francisco ranks in Travel and Leisure's top 20 list of "America's Best Cities for History Buffs" and in similar lists from U.S. News & World Report and USA Today. Although cities like Boston and Philadelphia also made the lists, San Francisco is unique in its year-round comfortable climate, stunning vistas, small-town charm, and cultural diversity. In addition, it boasts some of the best hospitals, health care facilities and healthiest living in the country—and no state tax on your Social Security benefits, all of which make it one of the best cities to retire in the USA.
Opportunities to feed your inner history buff are nearly endless in The Golden City:
Fort Point, the national historic site at the foot of the Golden Gate Bridge. Constructed during the Gold Rush, it is the only structure west of the Mississippi River built in the military's Third System style, and has been called "one of the most perfect models of masonry in America."
Alcatraz Island.
Cable Car Museum.
Mission Dolores. Completed in 1776, it is the oldest standing building in San Francisco and features the only cemetery remaining within the city's limits, where several notable Californians rest.
Become a regular at Old Ship Saloon, debatably the oldest bar in the city, built on the site where The Arkansas ran aground during the Gold Rush. The wreck was dragged ashore and converted into a bar, but later buried. The saloon sits atop the buried wreckage.
7. You're a Hiker: Colorado Springs, Colorado
Nestled at the foot of Pikes Peak, Colorado Springs is an avid hiker's dream. Various trail systems in the area offer easy to difficult hikes, all of which feature spectacular views. Enjoy exploring 105 miles of urban trails and 160 miles of park trails.
You can spend time on the 15 miles of scenic trails at Garden of the Gods, where you can volunteer as a nature walk guide or help with trail maintenance.
For the experienced hiker, Manitou Incline may become a regular favorite. Don't let the short, one-mile length fool you. The trail features a 2,000-foot altitude gain! For a less intense and very scenic hike, tackle the two trails at Seven Falls, so breathtaking it claims a spot on National Geographic's list of top international waterfalls. Another option is Red Rock Canyon, where the six trails range from one to three miles.
8. You Love Culture: New Haven, Connecticut
You want a home where you can experience diverse cultures in the form of food, art, music, theater, or simply meeting people from all backgrounds and walks of life. FiveThirtyEight calculated that New Haven is the U.S. metropolitan area that comes closest to representing the country as a whole in demographic measures, such as "age, educational attainment, and race and ethnicity." Now that's a diverse quality of life!
But you don't need to know the stats to recognize that New Haven has a diverse and cultured population. The city's tourism guide boasts that local restaurants offer cuisines from "Ethiopia, Asia, Austria, France, Greece, Mexico, Japan, Cuba," and more.
Every summer, New Haven hosts the International Festival of Art and Ideas, where fans of the performing arts or topical panel discussions can find food for thought. And the local government strives, through efforts such as the Cultural Affairs Commission, to support and expand awareness of the arts and cultural expressions across the city.
As a bonus, the Elm City is just a few hours drive or ride away from New York, Boston, and other cities and towns where creative and curious people gather.
9. If You'd Like to Enjoy the Coastline in Retirement: Niantic, Connecticut
An array of beaches, boardwalks, restaurants, shops, and art venues are among the benefits of living in this coastal New England village and make it one of the best cities to retire in. From Niantic, it's easy to visit New York, New Haven, Providence, or Boston by train, but there are plenty of reasons to stay home, given the casual coastal atmosphere and the range of activities available here. Fans of sailboats, sunbathing, and seafood who are age 65 or older will love this little town.
If you're looking to invest in property, you'll appreciate the fact that real estate here is relatively affordable compared to much of the Connecticut coast.
10. For the Beach Lovers: Fernandina Beach, Florida
A short distance from the center of Jacksonville, Fernandina Beach is a small city on Florida's scenic Amelia Island. A tranquil escape with a tumultuous past. It's known as the "Isle of 8 Flags" for its numerous changes in government. From Fernandina Beach's vintage postcard-like downtown, to the area's luxury resorts and spas and stunning state parks, locals and visitors can find something to do—or a beautiful setting to do nothing.
All the reasons retirees flock to Florida (lower taxes & retiree taxes, multiple golf courses, warm weather, etc.) also apply to Fernandina Beach, but this town is hardly a retirement community. Its events and attractions, from the book and music festivals to the sailing and fishing charters, will appeal to people of all ages and activity levels.
11. You Love the Beach: Fort Myers, Florida
Are you a fan of beaches but not the crowds, Fort Myers, Florida, on the southwest coast of Florida offers access to some of the most beautiful beaches in the state. Whether you like sunbathing, swimming, snorkeling, walking along the beach, or collecting shells, you'll enjoy the beaches in the Fort Myers area, many of which are on the nearby barrier islands of Captiva, Cayo Costa, Estero, Gasparilla, and Sanibel—known for their gorgeous shells.
The modest population size (just over 77,000 residents) contributes to a small-town atmosphere, and like other Florida residents, Fort Myers retirees don't pay state income tax, making it one of the best retirement cities.
12. If You Love to Fish: Martin County, Florida
True to the state name, Martin County experiences year-long sunshine. The county is made up of four communities: Stuart, Jupiter Island, Ocean Breeze, and Sewall's Point, each making Martin county on of the best cities to retire in. With an average temperature of 74 degrees Fahrenheit, residents can enjoy warm temperatures.
Martin County is known as the "Sailfish Capital of the World." In fact, there's an 18-foot statue of a sailfish in the downtown area. And the St. Lucie Inlet is the most bio-diverse estuary in North America because of the hundreds of fish species that live in the area.
Martin County has more than just fishing for you to enjoy. Residents can also take in the scenery, with numerous beaches and beautiful landscapes to enjoy. The surrounding rivers and bodies of water also make Martin County a great place to go boating. Stuart's quaint downtown area also features numerous restaurants, boutiques, and a historic theater.
13. You Love the Heat: Miami, Florida
If you want to live in a place that embraces that endless summer lifestyle, Miami is one of the best retirement cities in the USA. In Miami, winter lows maybe dip into the 60s. Miamians celebrate their tropical climate on beaches that range from boisterous to child-friendly to unspoiled. You can also breathe in the warm air while eating at numerous outdoor and waterfront dining spots, or golfing and sailing. Miamians seem to do whatever they can to move everything from art exhibits to yoga classes outside into the sun.
This city is a great choice if you're looking for the excitement of New York or Boston without the snow. Miami is vast (its metro region is the seventh-largest in the U.S.) and multicultural (Cubans, Haitians, Jews, African-Americans, and other groups have helped shaped the city with their rich heritages).
14. You Want Your Kids and Grandkids to Visit: Orlando, Florida
Retiring to the Orlando, Florida area is an enticing option if you're hoping for lots of visits from your kids and grandkids. This is the home of some of the country's top theme parks and water parks, including Walt Disney World. This world-famous resort encompasses four theme parks offering attractions and activities for families with a variety of budgets and tastes:
Hollywood Studios
Epcot
Animal Kingdom
Magic Kingdom
If you're hoping for a car-free retirement, check out the downtown South Eola neighborhood where you can walk to what you need.
Do you prefer peace and quiet? Consider retiring to Orlando's Lake Eola Heights area.
Is having access to medical services and health care facilities important to you? Look for a home in the South Orange Neighborhood.
15. You're an Aesthete: Savannah, Georgia
Do you love being surrounded by beauty, whether it's found in nature, architecture, or design? Are you looking for a location where every stroll around the block takes you past lovely historic homes with delicately-wrought balconies? Where every drive down the street is a journey under a canopy of trees? Then you'll think Savannah is one of the best cities to retire. The so-called "Hostess City" welcomes residents and visitors alike with its pastel-hued buildings, cobblestone streets, and tranquil parks- the entire city is like an art gallery.
There's a lot of beauty to explore here, from the old warehouses along the Savannah River, now repurposed as shops, inns, restaurants, and bars, to the famed squares where fountains bubble and trees dripping with Spanish moss. Whether you prefer to admire the graceful architecture of old homes in historic neighborhoods or to escape to the sand dunes of Tybee Island, Savannah will not disappoint.
16. You're a Foodie: Indianapolis, Indiana
Although food hot spots like New York City and Los Angeles may come to mind when you think of good eats, Indianapolis ranks right up there with them, without the exorbitant cost of living, with just as great a quality of life (30% less expensive than New York City and 24% less expensive than Los Angeles). The city's unique eateries include:
One of celebrity chef Michael Symon's B Spot Burgers, voted best burger in America for three consecutive years
St.Elmo Steak House and Shapiro's Delicatessen, both of which appeared on Food Network's "The Best Thing I Ever Ate"
A plethora of food trucks and other stellar cheap eats, as featured on the Cooking Channel's "Eat St." and "Cheap Eats"
There's also the Devour Indy Event, which happens once in the winter and once in the summer and features roughly 200 restaurants. To take advantage, you need only visit a participating establishment during the two-week celebration and ask for the Devour menu, which will include a value-priced, three-course meal.
17. For Those Who Appreciate Architecture and Community Events: Madison, Indiana
This slow-paced Midwestern town speeds up every summer when hydroplane boats take to the Ohio River for the Madison Regatta. Other types of events draw visitors to Madison throughout the year, as does its architecture: Madison's downtown business district has been lovingly preserved, creating one of the largest National Historic Landmark Districts in America.
Madison is a nice base for exploring the parks, scenic byways, trails, and wineries nearby. It has plenty of attractions right in town, too, including a walkable downtown, a riverfront park, restaurants, house museums, and antique stores. For those that are seeking the benefits of volunteering in retirement, Madison also has a special volunteer program geared towards matching retirees with local nonprofits.
18. If You Like Politics: Des Moines, Iowa
Iowa is traditionally the home of the first presidential caucus. Every four years, candidates for the U.S. presidency come to Des Moines, the capital city, making it one of the ideal places to live to participate in the political world. It's a good place for you to be active or even volunteer in the world of politics.
In addition to the political activities, Des Moines also hosts festivals throughout the year for the community to partake in. The Des Moines Art Festival features more than 200 artists and a film festival. For the beer and wine lovers, there's Des Moines Beer Week and Winefest Des Moines.
Des Moines also has affordable housing. The median home price is $147,300, which is significantly lower than the $274,500 median home price in the U.S. The cost of living in Des Moines is also lower, which means you can enjoy city living at an affordable cost.
19. You Love Antiquing: Hazel, Kentucky
Despite a population of less than 500, this old railroad town is home to hundreds of antique dealers located at 12 independent antique shops, covering 40,000 square feet, most along one main strip for easy walkability. Following the remodeling and reopening of the Hazel Antique Mall in 2014, the town has seen a resurgence in antique tourism. The mall hosts 50 vendors hailing from four different states.
In addition to year-round antiquing, every year the small town celebrates its history with Hazel Day, featuring live music, a pancake breakfast, and a classic car show. There's also a scavenger hunt through the various shops in town, almost all of which offer special sales for the day.
In addition to Hazel Day, the town hosts many other antique-centered events, including the Rusty Relic Sidewalk Sale and the Christmas Open House. In fact, with six events scheduled throughout the year, there are always new—well, old—antiques to discover in Hazel. The annual 400-Mile Sale includes Hazel, as well as nearby localities, on its route. If you're looking for something old in somewhere new, Hazel might be a good fit for you.
20. If You Love to Boat: Baton Rouge, Louisiana
With the Mississippi River right next to the community, boating in Baton Rouge is a popular activity. Whether it's a fishing boat, kayak, canoe, or sailboat, the area caters to lots of different boating enthusiasts. If you don't own a boat, local businesses and institutions, like Louisiana State University, offer rentals for residents. In addition to the Mississippi River, the community also has lakes that residents use for their boating activities.
Residents living in Baton Rouge experience mild temperatures throughout the year. The average temperature in Baton Rouge is 68.35 degrees Fahrenheit. The sunshine and warm weather are a perfect combination for retirees to enjoy a boat ride along the Mississippi River.
The city is home to numerous museums and historical artifacts, such as the Old Governor's Mansion, Capitol Park Museum, and the Southern Museum of Art. The median home price in Baton Rouge is $219,998 and the cost of living is cheaper than the national average, great for those age 60 or older looking for affordability.
21. You Love the Outdoors: Portland, Maine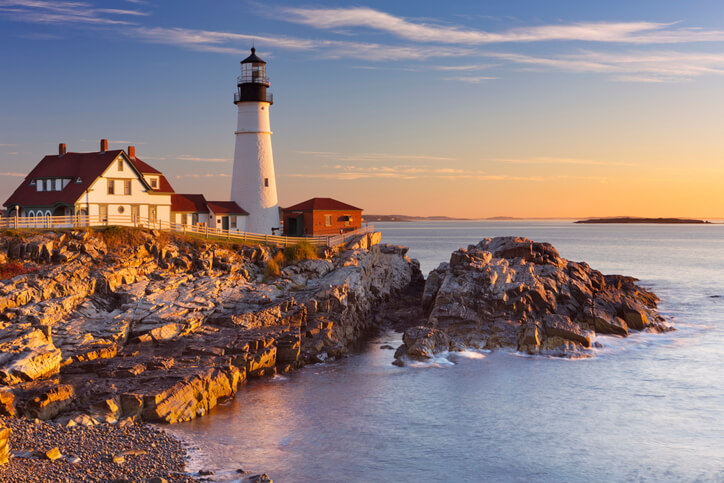 You love outdoor activities, from hiking, skiing, and swimming to fishing and camping, but you don't want to live too far from the comforts of civilization. Portland, Maine, has all the benefits that come with living in a state's largest city—like charming neighborhoods, a thriving restaurant scene, and an array of seasonal festivals—as well as numerous state parks, cruises, and other opportunities to get out into the wild.
Cyclists can choose between scenic trails along the coast or in the woods near the city or an urban environment—Portland has been called one of the most bikeable cities. If golf, fishing, or paddle-boarding is more your style, there's plenty of access to these activities, too. And when you've seen enough local moose and whales, you can travel to the more extreme wilderness areas in the state's sparsely-populated north.
22. You Want Access to Excellent Medical and Health Care Facilities: Cambridge, Massachusetts
If you're looking for access to the best medical care in your retirement location, consider Cambridge, Massachusetts—home of Harvard University and MIT. There are over 30 hospitals and health care facilities within a 10-mile radius of the city, including those in nearby Boston. Even better, it's easy to get around Cambridge if you don't have a car or prefer to walk or take public transportation.
Has Your Interest Been Sparked by Any of the Best Cities to Retire Listed Here?
Whether you dream of a town next to the great outdoors, a city full of cultural experiences, or a place that never gets cold, your hunt for the best retirement cities is here. Keep reading to explore more of the best retirement cities that you may end up calling "home."
23. You're a Beer Drinker: Grand Rapids, Michigan
Home to HopCat, America's best brewpub and the world's third-best beer, Grand Rapids ranks fourth on AARP's list of Top U.S. Cities for Beer Drinkers. The town is known for its beer tourism and many hotels in the area offer special beer packages—perfect for all the friends and family who will come visit you.
Use the Brewsader Passport to familiarize yourself with your local breweries. There are more than 40 beer brewers around town, and 32 participate in the Brewsader program. Visit eight of them to earn a T-shirt. Visit all 32 to become a card-holding Ultimate Brewsader, a title that earns you a discount card good at several local breweries and entitles you to special offers at many area breweries.
After you've experienced all 32 breweries with the Brewsader Passport, embark on the Beer City Ale Trail, a self-guided tour of over 40 local breweries, many of which offer production tours.
24. You Don't Want Your Own Car: Minneapolis/St. Paul, Minnesota
If you are planning to give up your car once you retire, it's important to have access to alternative forms of transportation. The twin cities of Minneapolis and St. Paul in Minnesota are good options for going car-free.
It's easy to get where you need to go by walking, biking, or taking one of the three light rail lines in the city. If you do need a car occasionally, there's a variety of services to choose from, including Lyft or Uber, which operate like taxis. If you would prefer to drive yourself around the Twin Cities, you can rent a Zipcar for a few hours or a few days.
25. You Love the Cold: Rochester, Minnesota
With the coldest day of the year averaging 9 degrees Fahrenheit, Rochester, Minnesota, could be just the place for you cold-loving retirees. You'll have plenty of opportunities to enjoy the activities that cold weather offers, such as snowshoeing, skiing, skating, curling, and ice fishing.
Rochester also has a variety of well-respected health service providers and health care facilities that may be of particular interest to retirees. These include the Mayo Clinic and the Duluth Clinic in Duluth, Minnesota, which is part of the University of Wisconsin's School of Medicine's Wisconsin Alzheimer's Institute. And buying a retirement place in Rochester won't break the bank. According to real estate site Zillow, Rochester's current median home price is around $269,900, about $4,600 below the national median home price of $274,500. One of the best cities to retire to if affordable housing is a priority.
26. For a Midwestern Appeal: St. Charles, Missouri
Just 25 minutes from the vibrant, culture-packed neighborhoods of St. Louis and a short road trip away from Missouri's serene wine country, St. Charles mixes classic Midwestern appeal with its own French- and Spanish-influenced flavor. This small Missouri River city, with its brick streets and eye-catching architecture, manages to feel calm yet bustling at the same time.
Visitors and residents alike enjoy checking out Main Street's restaurants and stores, learning about the area's rich history, and biking or hiking America's longest rails-to-trails project, the Katy Trail.
27. For Southern Hospitality: Natchez, Mississippi
It might have a population of over 15,000, but Natchez feels like a much smaller community. Perhaps it's the leisurely pace of this Southern city, or the ease of walking around its picturesque streets. Natchez is suffused with history, from the antebellum homes that attract visitors to the ghost that is said to frighten diners in a popular local restaurant.
Anyone seeking to avoid the cold and embrace the romance of the Mississippi River will enjoy Natchez. And since 1997, Mississippi has rated Natchez as a Certified Retirement City, meaning it possesses many of the qualities most retired people look for in a community, like low taxes, quality health services, and a significant number of older adults living in the area.
28. You're a Frequent Flyer: St. Louis, Missouri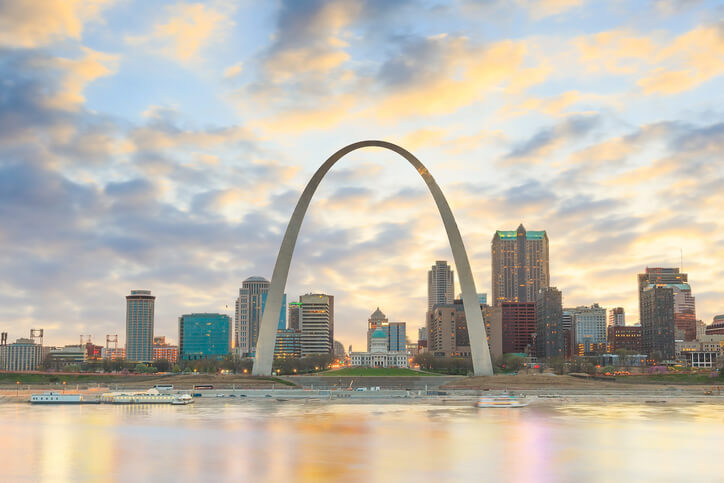 You want to be close to the airport, but you don't want to live in a sprawling suburb or bleak industrial zone. The solution: Make your home in a relatively small but vibrant city that's just a short drive or light-rail trip from the terminal. In addition to airport proximity, St. Louis residents have access to world-class parks and museums.
To name just a few:
Forest Park is the nation's seventh-largest and home to institutions like the Zoo and the stunning Jewel Box floral conservatory.
The award-winning City Museum, located downtown, is a one-of-a-kind repurposed industrial playground for all ages.
St. Louis' 79 neighborhoods and varied cultural attractions reflect the city's past and current diversity:
Irish Dogtown
Italian The Hill
French-flavored Soulard
And you can't speak to anyone who lives here for long without noticing their abundant pride in the local sports teams and cuisine.
But when you want to get out of town, you're as little as 20-30 minutes away from hopping on a flight. And Lambert International Airport isn't just close, it's small and user-friendly, so you'll never have to drag your bag down unending corridors or run for miles to catch a flight.
29. For the Outdoor Enthusiasts: Helena, Montana
If you plan on devoting your retirement to an active life in the great outdoors, this small town (well, it feels like one, though it's actually the capital city of Montana) is a perfectly picturesque starting point for mountain adventures. From its beginnings as a gold rush-era mining camp, Helena has grown into a fully developed showcase of the region's art architecture, entertainment, and cuisine.
Situated just east of the Continental Divide, it's surrounded by some of the most dramatic vistas in the country, laced with numerous biking and hiking trails, national parks, and ski areas for nature lovers and active residents to explore. Helena was founded by four miners who happened to strike gold in a spot they named "Last Chance Gulch," and if you see retirement as a chance to take a risk and reinvent yourself, it's hard to beat this sparsely populated state.
30. You're a Bargain Hunter: Omaha, Nebraska
You want to live in a place that's affordable, but not one that's so cheap it lacks amenities or charm. If you think the Cornhusker State is entirely rural, check out the city of Omaha. Here, home prices are low despite a growing economy and the draw of attractions such as the beautifully restored Old Market entertainment district, extensive parks and trail systems, and lively neighborhoods to explore.
As you're debating which craft brewery to check out in the Blackstone District, whether to grab a Latin or Lithuanian pastry in South Omaha, or whether to watch a blockbuster at the theater in Askarben Village or an indie film at the cinema in North Downtown, you won't feel like you're missing out on anything a pricier city could provide.
31. You Like a Small-Town Feel: Portsmouth, New Hampshire
Though it's technically a city, Portsmouth's New England charm blends the best of small-town life with the vibrancy of a cultural center. To put it another way, this historic seaport has all the charm of Boston, without the traffic and sky-high rents. It's hard not to love Portsmouth's bookstores, independent shops, museums, and proximity to beaches and other regional attractions. You'll also be grateful for New Hampshire's low cost of living, relative to other New England states, and the absence of sales tax.
32. You're a Wine Drinker: Greenport, New York
You want to spend your weekends sipping quality wines at beautiful vineyards and generally enjoying the scenery typical of a wine-producing region. But you don't want to live in a rural area, or spend hours traveling to visit just a few wineries. Consider the village of Greenport, located in the town of Southold on Long Island's East End. Greenport's maritime history and walkable streets make it popular with tourists, but even in the off-season, this small village has a more bustling feel than some of the area's quieter spots.
In addition to enjoying the amenities of Greenport itself, with its range of independent restaurants and shops, as well as gorgeous beaches and quirky museums, local residents are just minutes away from dozens of the acclaimed wineries of the North Fork, which has been called one of America's best wine regions.
33. If You Love Sports: Charlotte, North Carolina
If you're a sport fanatic, Charlotte, North Carolina, is home to various sports teams. For NBA fans, they can catch a Charlotte Hornets game. For those that follow the NFL, Charlotte is home to the Carolina Panthers. And for those NASCAR fans, it's also where the Charlotte Motor Speedway is located.
But there's more to do in one of the best cities to retire in than just attending sports games. Charlotte and the surrounding area are known to offer city amenities, but with a small-town feel. If you appreciate art, there are numerous museums, historic plantations, and cultural centers in Charlotte. The Arts & Science Council of Charlotte-Mecklenburg also invests in public art, so you may stumble upon a public display.
Charlotte is also home to the U.S. Whitewater Center, which is where potential Olympians train for canoe and kayaking events. Visitors can also participate in hiking, biking, zip lines, ropes course, and paddleboarding.
34. You Love the Sea Air: Manteo, North Carolina
The small town of Manteo sits on an island off the untamed Outer Banks of North Carolina and is home to Cape Hatteras National Seashore, a popular tourist spot. Manteo features many waterfront dining and shopping options, as well as plentiful opportunities for fishing, boating, and other water sports.
Fishermen and–women will enjoy competing in the many fishing competitions held every year, including:
Two billfish tournaments, one that's ladies only, in support of the Outer Banks Cancer Support Group, and one that's open to all.
A photo catch and release kayak fishing tournament for flounder, red drum, and speckled trout.
The Capital City Four Wheelers Surf Fishing Tournament, a charitable competition that helps support Cape Hatteras non-profits like Meals on Wheels and the local food bank.
Even if you don't catch any fish yourself, you can still enjoy fresh-caught, local seafood year-round at places like Darrell's, Avenue Waterfront Grille, or 1587. In addition to the everyday seafood dining options, Manteo and the surrounding area are home to several seafood festivals, including Day at the Docks, which features a chowder contest and boat parade, and the Outer Banks Seafood Festival.
Tour the lighthouse or visit the Roanoke Island Maritime Museum, where you can also volunteer by setting up displays and exhibits, restoring watercraft, and helping to build boats. And don't forget the annual Wooden Boat Show, where you can show off your own watercraft or just appreciate those of others.
35. If You're Looking for an Encore Career: Bismarck, North Dakota
For retirees looking to take on a part-time job as an encore career, look to Bismarck. The capital of North Dakota has a 3.2% unemployment rate, which is lower than the national unemployment rate. The city is in the middle of economic growth and was named a Forbes "Best Small City for Job Growth." Some of Bismarck's largest employers are in the energy and agriculture industries.
Bismarck's average temperature is 42.8 degrees Fahrenheit. Despite the 200 day average of sunlight, Bismarck also sees over 17 inches of rainfall and 50 inches of snowfall a year.
Despite the extreme weather, Bismarck has a lower crime rate per 100,000 inhabitants (338.5) than the national rate (386.9). The community also hosts a number of local events throughout the year, including the University of Mary Jazz Festival in January, the Morton County Ag Day in March, the Mandan Rodeo Days Celebration in June, and the Big One Art Fair in November.
36. You're a Day Trip Aficionado: Cincinnati, Ohio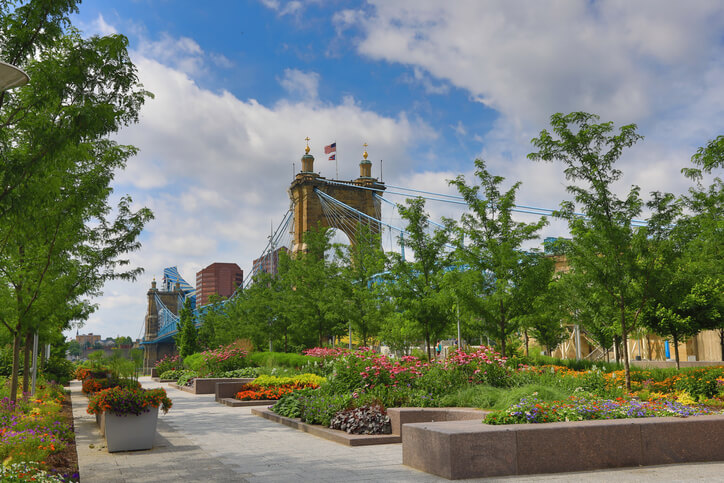 You want to live in a dynamic city, but you also want to take frequent day trips and weekend getaways to nearby places. Cincinnati is just over an hour away by plane from tourist favorites like Chicago and Nashville. Not interested in flying? All-American road-trip routes like the Ohio River Scenic Byway and U.S. 50 (a.k.a. The Loneliest Road) wind right through the city.
Plus, the Queen City has dozens of neighborhoods to explore, each with a unique history and character. Like Italianate architecture and the performing arts? Head to Over-the-Rhine, first settled by German immigrants and now home to the city's oldest public market. Prefer sporting events, museums, and fine dining? Try Downtown. In this city, you can feel like you're on vacation without having to leave town.
37. You Like the Coastline and Access to Public Transit: Astoria, Oregon
This little city on the Columbia River was the first permanent American settlement on the west coast. Today, it's known to tourists for its downtown shops, quaint riverfront trolley, and the intricately painted and difficult-to-climb Astoria Column.
When the cruise ships that frequent the Port of Astoria leave, the city's authentically quirky Pacific Northwest atmosphere is revealed. It's a pleasure to wander around Astoria and the surrounding coastal region—even in the rain. For those who plan to live here when their driving days are over, extensive bus service and a local commitment to ride-sharing and helping people access public transit means it's easy for those age 60 or older to get around the area—and beyond—without a car.
38. You Love Nature: Salem, Oregon
With a whopping 26 state parks within a short commute, Salem, Oregon, is perfect for those who love the great outdoors and all it has to offer. As the capital of Oregon, Salem offers city amenities, yet is centrally located between beaches to the west and the stunning Cascade Mountains to the east.
If you enjoy cycling or hiking, you have many Salem area trails to choose from, including the Spring Valley Park, Skyline Trail, and Croisan Creek, plus the newly completed trail at nearby Silver Falls State Park. And Salem's moderate temperatures (an average annual high of 63.6 degrees Fahrenheit and an average annual low of 42.4 degrees Fahrenheit) allow for comfortable year-round outdoor activities for people of all ages.
39. You Like Open Space and Diversity: Lancaster, Pennsylvania
This small yet diverse city is surrounded by some of the most fertile farmland in America, making it the best of both worlds for anyone who likes having dining and entertainment options as well as a sense of calm and open space.
Walkable and historic, Lancaster offers art galleries, coffee shops, and a sense of community. A well-known gem is the Lancaster Central Market, the oldest continuously operated farmers' market in the country, where shoppers can buy everything from flowers to baked goods to specialty foods, as well as meat and produce supplied by local Amish farmers.
If you currently live in a major East Coast city, Lancaster is far enough to feel like a big change, but close enough that trips back to your former home are short and easy, making this one of the best retirement cities.
40. You Love a Slower Pace: Jamestown, Rhode Island
You've spent years in a fast-paced and stressful environment, and now you just want to relax. Jamestown, located on Conanicut Island between Newport and mainland Rhode Island, leaves you with no choice but to chill out. This picturesque town is ideal for anyone who loves beaches (there's a town beach, Mackarel Cove, as well as two coastal state parks), boats (whether you like racing yachts or simply sitting by the docks and watching the sails go by), and water views (you couldn't avoid them if you tried).
It also has farms and farmers' markets; a smattering of local shops and eateries, all best enjoyed at a leisurely pace; and Beavertail and Fort Wetherill State Parks, with hiking trails and scenic views. Many other coastal towns have pretty views and access to the water, but this one is special both for its island location and the way it's managed to preserve the best aspects of its past while taking advantage of its proximity to larger cities.
Here, on a mile-wide oblong of land in the middle of Narragansett Bay, you can look up at the striking Newport Bridge and suddenly realize you're not very far from the bustle of civilization—it only feels like you are.
41. You Want Access to Programs Serving Older Adults: Providence, Rhode Island
Do you want to retire to a community that caters to older adults? If so, Providence, Rhode Island, might be a good option. It offers a wide variety of programs serving older adults, and with 11 seniors centers for the city's 200,000 residents, you'll have lots of daily, weekly, or monthly social activities to choose from.
The East Providence Senior Center, for example, for residents 55 years or older has a library, a fitness center, and regular educational presentations on various topics of interest. It also takes part in community partnerships, which provide outreach programs and volunteer opportunities for older adults. Providence also has four adult day care centers, seven assisted-living facilities, and seventeen nursing homes.
42. If You Like Live Music: Nashville, Tennessee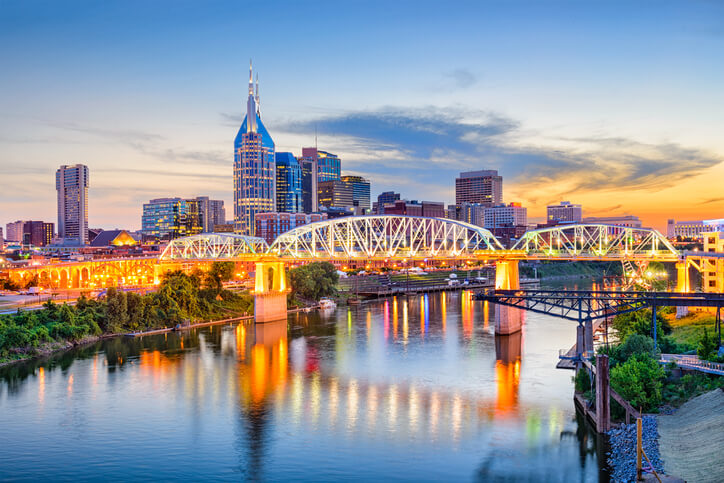 Nashville, Tennessee, is known for its music; it is known as the Music City, after all. Take a walk through the city and you're bound to find live music.
The city hosts a number of music festivals throughout the year. The city's free July 4th concert includes a full day of activities to enjoy, as well as a fireworks show at the end of the night. The July 4th music festival can include big-name musicians, including Lady Antebellum, Chris Janson, and the Nashville Symphony. The city's New Year's Eve music festival is also free and includes fireworks and a celebration after the ball drops for partygoers.
It's not just large holidays that Nashville celebrates with live music. Wherever you go in the city, you can usually find live music featuring different genres playing in various parts of the city. Whether you're looking for country music, blues, or rock 'n' roll, Nashville's night scene can cater to your taste. The best part? It's free to attend and listen to.
43. If You Like a Large Community: Austin, Texas
Austin, Texas, is one of the fastest-growing communities in the U.S. From 2007 to 2017, the population in Austin grew by 34.1%, compared to the 8% growth rate in the U.S. The city's population in 2016 was 947,890, and when combined with nearby cities, Round Rock and San Marcos, the total area population is about 2.1 million.
The number of adults retiring in Austin is also booming. In the past 10 years, the number of adults between the ages of 55 and 64 living in Austin increased by 110 percent. It's obviously one of the best cities to retire to.
Austin is surrounded by gorgeous landscapes and nature. With an average annual temperature of 79.8 degrees Fahrenheit and plenty to do outside, Austin attracts many people for its outdoor activities. The city's Hike and Bike Trail has a network of paths for all types of runners looking to run up to 10 miles. Austin also has a watering hole, where kayakers, paddle boarders, and rowers can use for aquatic activities.
The city's Parks and Recreation Department also offers programs and activities specifically for people over 50.
For music lovers, the annual SXSW (South by Southwest) conference brings thousands to Austin every March to participate in various festivals and exhibits. The SXSW music festival hosts musicians from various genres and features thousands of acts. At the 2018 SXSW music festival, over 2,000 performers from 65 countries performed.
44. You're a Golfer: St. George, Utah
Though Orlando, Florida, sits at the top of every golfer's list, if you want to golf year-round in your own backyard, then the area sometimes known as "Utah's Florida" might be a better alternative. In comparison to Orlando, St. George is safer, less crowded, and has lower healthcare costs, as well as some of the best golf courses in the country. The beautiful red rock vistas don't hurt, either.
The city's Red Rock Golf Trail includes its 10 local golf courses, all conveniently situated within a ten-mile radius. Several golf tournaments take place in the city throughout the year. Compete with other golf enthusiasts in the St. George Amateur at the St. George Golf Club.
Tip:
If you join the St. George City Golf Loyal Rewards Program, you'll receive reduced fees on tee times, a discount at all St. George golf shops, and a free round of golf after you've played 20 rounds. For the avid golfer, St. George is truly a hole-in-one.
45. If You Like Winter Sports: Salt Lake City, Utah
If you want to ski down mountains in the retired life, Salt Lake City could be the place to live. With an average temperature of 54.8 degrees Fahrenheit, Salt Lake City can see snow up in the mountains and sun at lower altitudes.
There are also things to do in Salt Lake City during the warmer months. The community features farmers' markets, the Wasatch Mountains and nearby canyons. Salt Lake City's bustling downtown also features a variety of restaurants, bars, and shops.
Salt Lake City was the home of the 2002 Winter Olympics. To prepare for that event, the city built upon its public transportation system. Since then, the city has continued to expand the system and can bring people to various locations throughout the state.
46. You Prefer a Small City: Burlington, Vermont
Big-city excitement isn't for everyone. If you want the convenience of one of the best cities to retire in, but the community feel of a small town, consider retiring to Burlington, Vermont. This small city has a thriving arts and culture community (including the Discover Jazz Festival each June) and offers a wide variety of indoor and outdoor sports you may enjoy.
47. You're a Dog Lover: Richmond, Virginia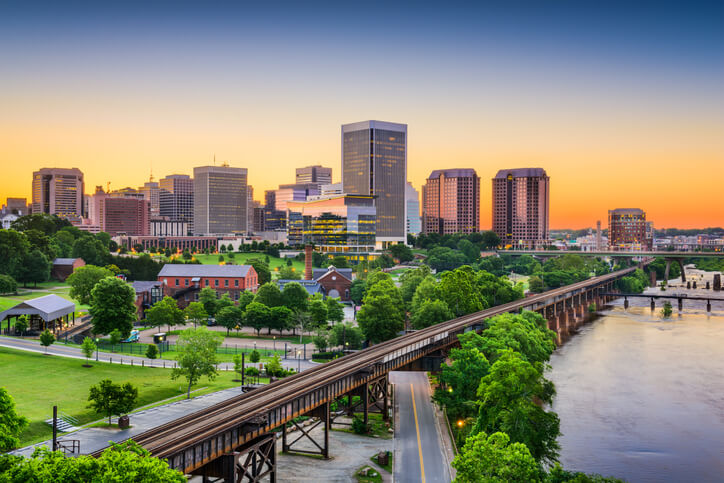 If Virginia is for lovers, its capital city is for dog lovers. The city hosts several dog-friendly events, including:
Bark in the Park, a weekly dog-friendly minor league game held during baseball season at The Diamond
Woofstock, an annual celebration of the dog put on by the Richmond Animal League, featuring a one-mile dog walk, vendors, music, and games
The Dominion Riverrock, a festival that features a canine dock jumping competition and a dog-friendly 5K run
The Richmond SPCA's 5K Run and one-mile Dog Jog
Your pup can tag along to many of the dog-friendly farmers' markets in the area, such as South of the James, which features several vendors geared exclusively to dogs. Don't leave your dog behind when you head to the mall, either. Most stores at Stony Point Fashion Park welcome them inside. If boutique shopping is more your style, take your pooch to the one-of-a-kind local shops and eateries of Carytown. Many businesses here allow dogs inside and almost all shops place water bowls outside their doors.
Finally, take advantage of Richmond SPCA's impressive indoor training facility. It offers a large variety of classes covering basic training to agility. If you find yourself a little too busy to take classes with your dog, enroll Fido in the SPCA's School for Dogs. The benefit of this school is that you can drop your dog off twice a week for a full day of socialization and training. It's a great quality of life for you and your pooch!
48. You're an Entrepreneur: Winchester, Virginia
You're thinking of starting a business, but you want to have a life outside of work. Winchester combines the best of both worlds. On the work side, Virginia is one of the five best states to start a small business. If you're looking to hire employees, the Old Dominion State is ranked second in labor supply. On the left side, Winchester—located in Northern Virginia's Shenandoah Valley, about 75 miles from Washington, D.C.—combines the charm of a historic small town with the bustle of an up-and-coming city.
Highlights:
Old Town: dining and entertainment, charming pedestrian mall lined with historic buildings and businesses.
Green Circle Trail: feel engaged with life by biking or walking to the cities many points of interest.
49. You're a Ski Bum: Centennial, Wyoming
If you love invigorating mountain air and spending your days on the slopes, consider Wyoming. It's less expensive and less crowded than other mountain states, such as Colorado and Utah. Wyoming is also considered one of the two tax-friendliest mountain states; there are no taxes on income, pension, or Social Security, meaning those retiree taxes will be savings in your pocket.
The tiny town of Centennial, Wyoming, about one hour outside of Cheyenne, sits nestled in the Snowy range, not far from the Snowy Range Ski Area. Meet new friends by joining the Snow Range Ski Club and celebrate the snow and your favorite winter sports at the family-friendly Snow Festival.
Other events throughout the year include:
An age 60 or older Ski Clinic
Ski Every Run Day
Warm Sock Appreciation Day
Bacon day
Snowy Range Ski Area even hosts an Old Ticket Day near the end of the season, and they honor the leftover lift tickets you might have in your bag or wallet.
When you need a break from your skiing, take a camping trip to nearby Medicine Bow-Routt National Forest. This national forest features hiking trails, fishing, hunting, picnic areas, boat ramps and, yes, skiing.
50. You Want to Save on Taxes: Jackson, Wyoming
Retiree taxes can take a chunk out of your income, especially during retirement. If you want lower taxes, and experience a great outdoor lifestyle, Jackson, Wyoming, could be the perfect location.
Wyoming doesn't collect state-level personal income taxes or retirement income taxes—even on retirement income earned in other states. Wyoming is a "fractional assessment state." What does that mean? For many people, Wyoming's property tax is based on just 9.5 percent of the home's market value.
The Veteran's Property Tax Exemption and the Property Tax Deferral Program offer additional property tax relief to qualified veterans and low-income retirees. Finally, Wyoming has no inheritance tax and limited estate tax. These breaks combined with no state income tax means great quality of life in one of the best cities to retire in the USA.
Will One of These Best Retirement Cities Be Your New Home?
Finding the best city to retire to isn't just about finding a place known for your favorite pastime. It's about finding a place where you're free to be you. Now that you have more flexibility to live where you want, take full advantage of it and enjoy your retirement years.
Of course, you may find that none of these towns match your ideal. But the perfect place for you is out there somewhere. Who knows? You might end up living in and loving some place you haven't even heard of yet. Just keep an open mind as you do your research. You'll be sure to find your dream location.
If you could live anywhere you wanted, where would you live? Does your vision of the ideal retirement location align with that of your significant other?  What are the challenges you face as you decide where to live in retirement?
Share in the comments below.
Please share with us and other readers in the comments below: