You may call it a "phone," but that smart device in your pocket is actually a tiny computer. And that means it's subject to the same security threats as your desktop or laptop. Any device that connects to the internet is open to hackers, viruses and data breaches.
When your smartphone is hacked, your finances, private information, photographs and even your personal safety can be at risk. For instance, some attackers may download financial information from your phone's history, such as your use of online banking or mobile pay apps. Others may tap into your phone's GPS to keep track of where you are. And if you're working from home and use your personal phone to access company data, your employer information could also be at risk.
Make sure your phone is secure by following these steps to cyberproof your smartphone.
1. Use Passwords, a Passcode or Facial/Fingerprint Recognition Features
If your phone is lost or stolen, you'll want to make sure that no unauthorized person can access its information. Use a passcode to activate and access your phone, and set different passwords for all of your important applications, like email, banking and mobile wallet. Entering passwords all the time may seem laborious, but it will be worth the effort if your phone gets into the wrong hands.
Alternatively, use facial recognition, or fingerprint recognition features. Then if your smartphone falls into the wrong hands, the "bad guys" will only see "gibberish" or nonsense on the screen since they don't have access to your face or fingers to decrypt your data.
2. Back Up Your Data
The documents, photographs and contacts stored on your phone are likely important to you—and if your phone becomes compromised or lost, you could lose them. Just as you would back up the data on your computer, you should perform backups to the data on your phone. You could back up your phone to a computer or external hard drive, or back up your data in the cloud.
3. Install Only Trusted Apps
When you download apps from a mobile app store, you are allowing the app provider access to your device. And although most are trustworthy, some apps carry viruses or malware that could attack your phone. Before you download an app, read reviews about it, make sure you're using a legitimate app store for your phone and make sure the app's logo in the app store matches that on the app developer's website.
4. Be Careful With Public Wi-Fi
If you're signed into a public Wi-Fi network, like the one at the airport or even your corner coffee shop, don't conduct business as if you're in private. On a public network, your phone can be an easy target for cyber crime.
If you do use your smartphone on public wifi for banking, making online purchases or other transactions, cyberproof your device through a virtual private network (VPN). A VPN helps protect your device and personal information by creating a secure private network or data tunnel with encrypted connections from the local network to the sites you visit. This hides your browsing history and location as well as your server's IP address because it uses the VPN server address instead.
While you'll find both free and paid VPN services (currently ranging from about $9.99 to $12.99 per month), free VPN services often come with data limits and/or time limits on the free trial.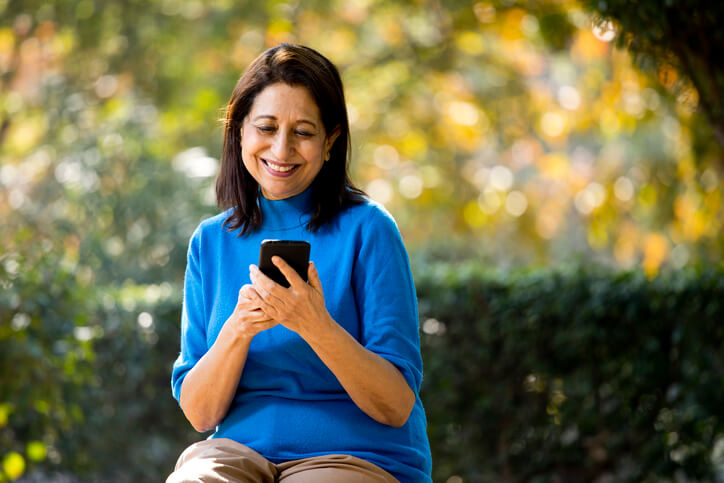 5. Run the Updates
Nobody enjoys getting used to a new way of operating their devices, but those nagging updates are not just about a new look or new features. They are actually important for keeping your phone secure because each new update addresses security loopholes that the old system left open.
When your system prompts you to update, take the time to do it. Or better yet, set your phone to accept updates automatically. This way you'll always be running the latest and most secure version of your phone's operating system.
7 Steps to Update Your iPhone
It's easy to keep your iPhone updated and protect your personal data from cybercriminals using these simple steps:
Set or change your passcode. On iPhone X and newer models, go to Settings, FaceID and Passcode. On older models go to Settings, Touch ID and Passcode. Then tap "turn Passcode On."
Next, select a six digit passcode, enter it a second time to confirm and activate it. (If you forget your iOS passcode, follow the steps outlined at Apple Support.)
Connect your phone charger.
Use "Wi-Fi" to get online.
Choose Settings > General.
Tap Software Update.
Tap Download and Install. (Note: you can install now, or choose "Install Tonight" or "Remind Me Later.")
Alternatively, update your iPhone software wirelessly by tapping "Install Now" on the software update message that appears on your iPhone screen. The installation should occur automatically.
For more details on updating your iPhone, visit Apple Support.
5 Steps to Update Your Android Phone
Google's Android operating system runs smartphones from a variety of brands.
Update your Android phone by following these five steps:
Connect your phone to Wi-Fi.
Choose Settings.
Select "About Phone."
Click "Check for Updates."
Click "Install."
For more details on updating your Android Phone to help cyberproof it, visit Google Support.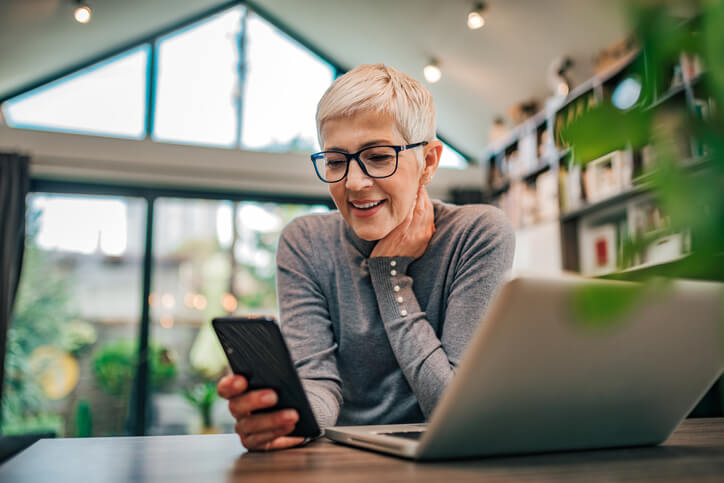 6. Consider Installing Security Software
As cyber security threats increase, it may become necessary to install security software or security apps on your mobile device, just as you would install antivirus software on your desktop or laptop computer.
If you regularly use a mobile payment system such as Apple Pay or Google Wallet on anything other than an iPhone, you could consider mobile device-specific security software to deter cyber criminals and keep your phone and your data safe.
iPhone users take note: many anti-virus apps won't work on iPhones because the operating system doesn't let phone apps "talk" to each other. This feature actually helps protect your personal information from falling into the wrong hands. Instead, install updates as soon as you receive the notification.
7. Wipe Your Data Before Discarding Your Phone
Time for a new phone? Make sure you clear all the information off your old one before you donate, sell or otherwise get rid of it. The steps to follow for wiping all data off your phone will depend on what type of phone and model you have, but you'll find easy-to-follow directions in your user guide or online. Completely erase your data off the phone and make sure it is reset to its original factory settings.
Updating Smartphone Security With Alternative Operating Systems
Not all smartphone users want or have iPhones or Androids but instead own phones with alternative operating systems. If you own a Windows phone or Blackberry, you can find the steps to update your security using the Federal Communications Commission (FCC) Smartphone Security Checker.
If, however, you're using another operating system, make sure to backup your data regularly to your laptop or desktop. Also install security updates as soon as you see them. And if possible, sign up for your operating system's email newsletter to make sure you don't miss important security notifications.
---
Smartphones have provided great flexibility and convenience, allowing users to perform all kinds of tasks from any location. But that flexibility and convenience also means that cyber criminals can tap into your phone and steal your information from any location as well. If you take the time to ensure that you cyberproof your smartphone, your peace of mind will be worth the extra effort.
What steps do you take to keep your information safe and cyberproof your smartphone?
READ MORE: What You Need to Know About Identity Theft and Fraud