Do you have a set of wheels you're no longer using? The good news is, you can turn your old car into money in your pocket, a steep discount on a new car or a boon to your favorite charity. We'll help you figure out the best way to get rid of a car you no longer need.
Maybe you've started working from home, stopped driving due to age, decided to move to a place where you don't need a vehicle or have plans to upgrade your car. No matter why you no longer need your old ride, it's a good idea to explore your options for getting it off your hands.
Of course, it's a tough time to buy a new car. Car prices are high, with almost nine in 10 car shoppers paying more than the sticker price at the beginning of 2022, thanks to supply chain issues caused by the pandemic.
The silver lining is that it's a great time to sell a car you don't need anymore, especially if you're not planning to buy a new car. And if you do need a new vehicle, higher sales prices and trade-in values for used cars may offset the higher cost.
You could also sell your old car on your own, sell it through a car-buying service, or even donate it to charity. With so many options, it's a good idea to explore the pros and cons, consider the timeline for each option and make plans to talk to your car insurance company about your auto policy.
How to Get Rid of a Car You No Longer Need
There are several ways to put your old car to good use. The best one for you will depend on a variety of factors, such as:
How quickly you want to get rid of your vehicle
How much effort you want to put into the process
How important it is to get top dollar for your car
Sell Your Vehicle on Your Own
Selling your car on your own can help you get as much money as possible for your car and put you in the driver's seat during the selling process. But there are downsides too. For example, selling your car can take longer than other options for getting rid of an old car.
Here's how to sell your car on your own:
Decide where to advertise your car for sale: There are a variety of options, from a paid classified ad on a car selling site to free ads on forums such as Craigslist and Facebook Marketplace. Listing your car in several places can get more eyes on your ad.
Come up with a selling price: Gather your records on your car and check the Kelley Blue Book value. You'll want to look at the private party value, which is what you can expect to get when you sell your car on your own. Try to leave room for negotiation by pricing the car $1,000 or $2,000 higher than your target price.
Get your car ready for sale: Wash, detail and vacuum your car so it looks — and smells — shiny and fresh. Take off any old bumper stickers that may be a turnoff to potential buyers, and make sure you remove remnants like dog hair, fallen French fries and window smudges. These simple steps can help you increase the resale value of your car.
Get a check from your mechanic: Swing by your mechanic to make sure nothing is wrong with your car. Get your old maintenance records, if you don't have copies, to show potential buyers that you've taken good care of your vehicle. (But remember to black out any personal information.)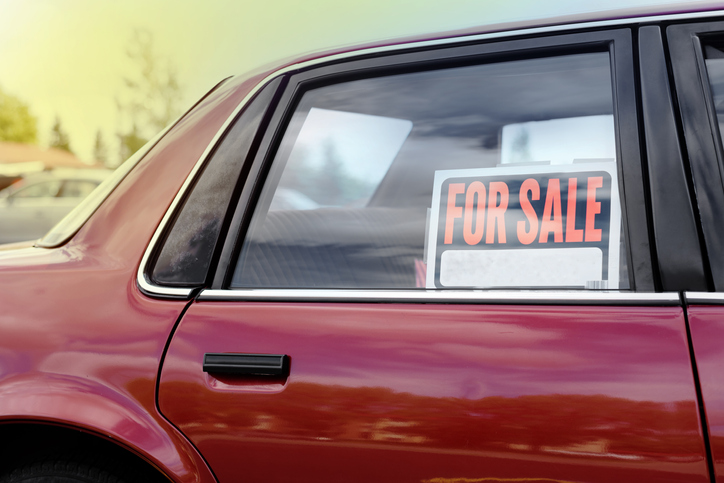 Here's a tip for selling your car — keep safety top of mind when dealing with potential car buyers. Beware of scams, meet in a public place and check out these car selling safety tips from Kelley Blue Book.
Sell Your Car to a Company
Selling your car to a company that buys used cars may be much faster and easier than selling your car on your own. The downside is that there's no room for negotiation; you can either accept the bid or decline to sell your car to that company if you don't like the price they offer.
Here's how to sell your car to a company:
Gather as much information as possible about your car: The more information you have on hand, the more quickly and easily you can provide the requested facts to the car company to get your bid. You'll need details like the make and model, year, features, mileage and condition.
Get bids from different services: When it comes to companies that buy used cars, you have more options than ever. Companies that buy used cars include CarMax, Carvana, Edmunds, Kelley Blue Book and Vroom. Due to the current demand for cars, many companies may want to compete to get your car.
Check out other car sellers' experiences: Read reviews to see what kind of experiences other sellers have had with a company. Complaints of changing bids or delayed payments should be a red flag. Also, find out how and when the company pays. Some offer the option to get a check or online transfer right when they pick up the car, while others may make you wait days.
Schedule the car pickup day and time: You may need to provide your chosen company with certain information, such as your driver's license and an image of the title. Then you can schedule a day and time to have your car picked up and get your cash.
Here's a tip for selling your car to a company — if you're not happy with the price you're offered, keep shopping. When I went to sell my car a few months ago, the lowest bid I got was $10,000, and the highest was $16,300. Deciding not to take a lowball bid put an extra $6,300 in my pocket.
Trade in Your Old Car for a New One
Trading in your old car to a car dealer can be the most no-hassle option when you're planning to buy a new car. You can get rid of your old car and get a new one in one simple transaction. The downside is that you probably will get less money for your car than you would with other options.
Here's how to trade in your old car to a dealer:
Know the value of your car: Take a few minutes to find out how much your car is worth on Kelley Blue Book. In this case, pay attention to the car's trade-in value, which is lower than the amount you may get for selling your car on your own. This gives you a baseline from which to negotiate with a car dealer.
Contact several car dealers: You may know what kind of new car you want and have your eye on a dealership. But shopping around can give you more leverage to get the best possible deal. Contact the internet department of a few dealers in your area, provide basic information about your car and try to get an online trade-in quote. You may have to make an appointment to swing by with your car to get a firm quote, but this can be worth your time.
Negotiate if necessary: If you didn't get the offer you hoped to get from the dealership where you plan to buy your new car, show them the higher quotes other dealers offered. If the Kelley Blue Book trade-in value is higher than their offer, mention that as well. Tell the dealer you want to buy a car from them but will need to come to an agreement on your trade-in first.
Seal the deal: On the day you plan to trade in your old car and drive off the lot in your new ride, you'll need to make sure you have all of the necessary items to complete the transaction. Gather your auto loan information, driver's license, title and all the keys and key fobs you have for the car.
Here's a tip for trading in your car — if you have an auto loan and owe more than the car is worth, try to pay that amount outright rather than financing the difference as part of your new car loan.
Donate Your Old Vehicle to Charity
Donating your old car can be a hassle-free way to help out a worthy cause by giving wheels to your favorite charity. The downside is obvious — you don't get paid for your old car.
Here's how to donate a car to charity:
Make a list of charities: Look for charities in your area that accept used cars and do work you support. There may even be a charity you already know and donate to, such as a local animal rescue, food bank, or shelter, that would welcome a car donation.
Do your homework: Take the time to vet the charity to make sure it's legitimate before handing over your keys. Believe it or not, there are some charity car donation scams and questionable organizations that have put out ads requesting donated cars. Follow this guide on how to vet a charity from the U.S. Federal Trade Commission.
Make the donation: Most charities that accept donated vehicles will have a process you go through to donate, including forms you must fill out and a process for dropping off the vehicle or having a representative of the group pick it up from you. Make sure you get a receipt for your car donation.
Here's a tip for donating your car — talk to your accountant before deciding to donate your car to learn the tax implications. To get a tax deduction, you'll need to donate to a qualifying nonprofit organization and get the right documentation of your donation.
Get Rid of a Car by Selling, Trading In or Donating
There are a few steps you ought to take before, during and after the process of getting rid of your old car. Here's how to get your car ready for sale, trade-in or donation:
Remove personal items: Do a thorough clean-out to make sure you've taken all personal items before you get rid of car. Check the glove box, crevices and under the seats. For example, I found a lost credit card that had fallen on the floor before I sold my car.
Delete your data from the system: This is another important step you should take to protect your privacy before you get rid of a car. Delete personal information in your car system, including contacts, destination addresses, mobile apps and garage door codes. Check your car's user manual if you need instructions.
Talk to your car insurance company: Tell your insurance company you're getting rid of your car and discuss how to handle your car insurance policy. You'll want to avoid car insurance lapses that can cause your rates to go up in the future. You may be able to reduce or suspend car insurance coverage in some cases. If you're a customer of The Hartford and have a question, call 800-423-6789 and a customer service representative will be happy to help you.
Follow car transfer rules: Check and follow your state department of motor vehicles' rules for transferring possession of a car. You may need to remove the license plates before the car leaves your possession, and you may need to file a form with the state to inform them you no longer own the car.
It can be complicated and stressful to get rid of a car you no longer need but knowing your options and planning ahead can help to ensure a smooth ride through the process.
What has been your best experience when it's time to get rid of a car? Did you sell or trade in? If you donated your car, where did you donate it and how was the process?