Most of us associate memories of certain foods with love, especially when it comes to a mother, grandmother, or another maternal figure. In fact, favorite family recipes frequently live on, even after those we love are no longer with us to carry their trademark pie, soup, or hearty dish through the front door at holiday dinners.
Do you have fond memories of waking from childhood naps to aromas of garlic, Italian sausage, and tomatoes wafting from Mom's lasagna baking in the oven? Maybe every time you bite into a BLT, the sandwich summons an image of your grandma frying bacon for her own crispy creation.
If so, you've got plenty of company in the crowded kitchen of favorite family recipes.
"I Wanted to Keep Her Legacy Alive"
Kaylin Staten spent many afternoons as a girl in her great-grandmother Wanda's kitchen in Huntington, West Virginia, listening as the woman everyone in the family called "Granny" told stories about her life while preparing her famous vegetable soup.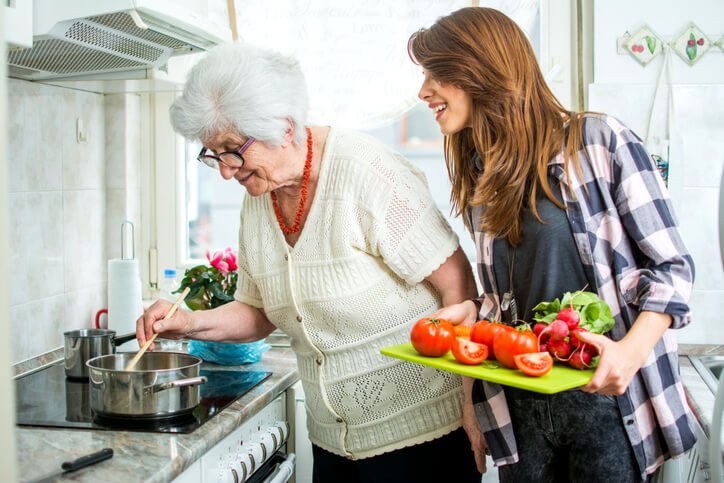 During their time together, Granny chopped potatoes and shredded cabbage while describing her life during the Great Depression. Sometimes, Granny reminisced about how she struggled to raise four children alone after her husband died from cancer when she was 37 years old.
Kaylin loved watching Granny empty cans of peas, corn, and tomato juice into a big, aluminum pot, always stepping to the stove right on time to stir, mingling soup flavors and aromas with anecdotes from the past.
"She told me story after story, and often, those stories erupted into laughter," says Kaylin. "She'd share family secrets as she opened the cans. I can still hear her voice as she let me in on tales of bygone days."
Granny's vegetable soup evolved over time, from ingredients picked from the family garden to canned goods and bags of produce from the grocery store. Their relationship also evolved as Kaylin grew up but remained close to her granny. After all, they'd shared a lot over that cutting board and all those pots of soup.
"She would call just to chat, especially when she made certain foods," says Kaylin. "She knew I loved her soup, so she'd bring me some every time she made a batch." In fact, Granny kept her so well-stocked on vegetable soup that Kaylin didn't cook her first batch until two years after Wanda passed away in 2015 at the age of 88.
"The first time I made vegetable soup, I cried," says Kaylin. "The smell of the soup reminded me so much of her." After Granny passed away, Kaylin's mother and grandmother gathered handwritten recipes from Granny's kitchen, and Kaylin published a cookbook, "From Granny's Kitchen," a compilation of favorite family recipes.
"I wanted to keep her legacy alive through one of her favorite pastimes and ways to connect with her family," says Kaylin. "I'm the fourth generation to use this vegetable soup recipe in my own kitchen, and I plan to teach my children how to prepare it, too."
Granny's Vegetable Soup
Ingredients
1 64-ounce can of tomato juice
3 medium potatoes, peeled and sliced
3-4 carrots, peeled and sliced
1 medium onion, peeled and sliced
1 can of peas, undrained
1 can of corn, undrained
1 small head of cabbage, shredded (can use half or all)
1 tablespoon sugar
1 pound ground beef (optional)
salt and pepper to taste
Instructions
Step 1
Place potatoes, carrots, onions, and cabbage in a large pot. Cover vegetables with water and place lid on the pot. Boil vegetables until tender.
Step 2
If using ground beef, cook in a separate pan at this time, then drain grease.
Step 3
After the vegetables are tender, drain approximately 1/2 of the water left in the pot. Add peas, corn, ground beef (if used), salt, pepper, tomato juice, and sugar to the vegetables.
Step 4
Bring soup to a boil. Cook and simmer for at least 1 hour.
Grandpa Kish's Stuffed Cabbage Rolls
Lynell Ross of Auburn, California, is the official cook of the family now, but she learned the ways of the kitchen at a young age from her mother and grandmother. One of Lynell's favorite family recipes for stuffed cabbage rolls came all the way from Hungary when her great grandfather, "Grandpa Kish," immigrated to America in the mid-1800s.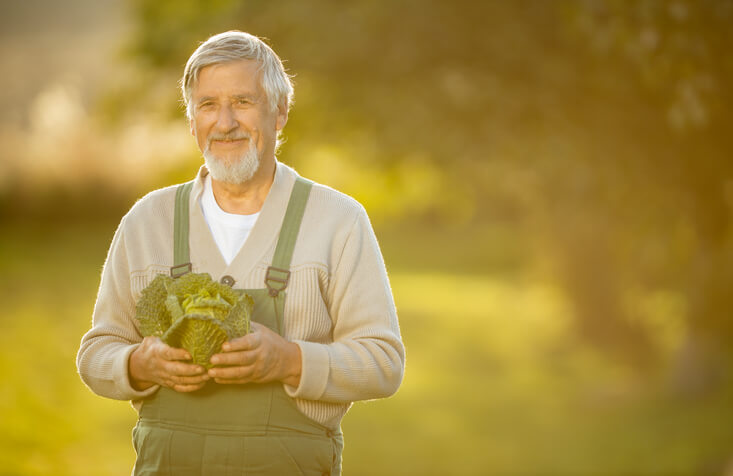 After Grandpa Kish's wife died years later, he moved to Oklahoma to live with his son's family, teaching his daughter-in-law, Claudia, to make stuffed cabbage rolls in their farmhouse kitchen. "Even though Grandpa Kish spoke little English, he taught my grandmother Claudia how to make stuffed cabbage rolls," says Lynell. Later, Claudia taught the recipe to Lynell's mother, Barbara.
"When my mom taught the recipe to me, she told me all about Grandpa Kish and how she was close to him, even though he didn't speak much English," says Lynell. "She told me that my grandparents and great-grandparents used cabbage in a lot of recipes because it was plentiful, inexpensive, and nutritious."
Long ago, Lynell's grandparents dug potatoes and gathered cabbage, onions, and tomatoes from the garden. Then they cooked the dish in a cast-iron Dutch oven atop a wood stove. However, just as times have changed over the years, so has the heirloom recipe — only a little bit, though.
Lynell still cooks Grandpa Kish's cabbage roll dish in the same cast-iron pot used by her grandparents, implementing a couple of tweaks, one for convenience and the other for better heart health.
"It's a basic recipe using whole foods, but I will use canned tomatoes," says Lynell, a certified health and wellness coach and author of Health Coach Wisdom: You Have the Power to Be Healthy, a heart-healthy guide to nutritious meals. "I also make them with ground turkey instead of ground beef because turkey is leaner and more heart-healthy. Sometimes, I buy super-lean, grass-fed ground beef."
No matter how Lynell prepares the tasty dish, Grandpa Kish's memory is always near, as is the essence of Lynell's mother, who died from heart disease at 62 years old. As a tribute to both, Lynell printed heart-healthy versions of many of her family's favorite recipes 15 years ago and distributed copies to family members.
"When I'm making stuffed cabbage rolls, it really does connect me to Grandpa Kish," says Lynell, who makes the dish often as keeper of the family recipe. "I always think about him while I cook that dish."
Stuffed Cabbage Rolls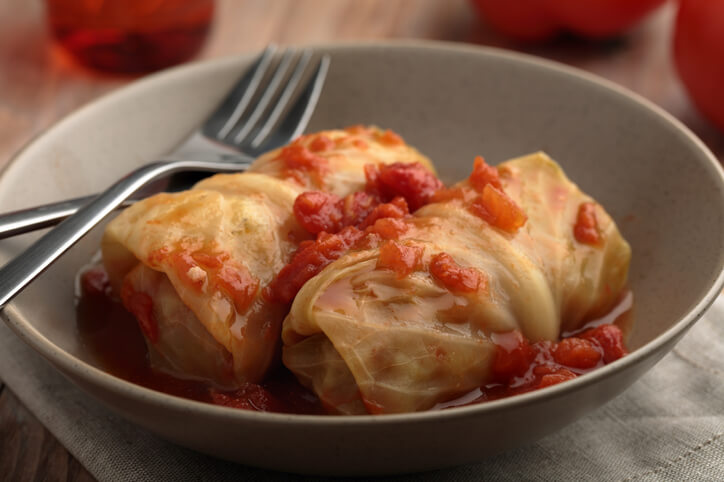 Ingredients
1 head of cabbage
1 pound ground beef
1/2 cup chopped onion
1 egg, beaten
1/2 cup raw rice
1 teaspoon salt, pinch of black pepper
2 tablespoons butter
2 tablespoons brown sugar
2 teaspoons vinegar
1 cup milk
4 tomatoes or 1 large can diced tomatoes
Instructions
Step 1
Boil water in a large kettle. Cut cabbage leaves to make individual leaves and cook leaves in boiling water just until tender enough to be able to bend them (3-5 minutes). Drain cabbage leaves and lay on a tray to dry until stuffing is made. Combine ground beef, salt, pepper, egg, rice, milk, and onion in a bowl.
Step 2
Place 2 Tbsp. of the meat mixture into the center of each cabbage leaf and roll up until the mixture is enveloped. Melt butter in the bottom of the Dutch oven, placing the stuffed cabbage in rows on the butter, then adding a second or third layer. Cover with 1/2 cup of water and chopped tomatoes. Sprinkle with sugar, additional salt and pepper if desired.
Step 3
Cover tightly with lid and simmer for 1 1/2 hours. Check cabbage rolls often to make sure liquid hasn't burned off. Baste and add more water or tomato sauce if needed (if there isn't enough liquid, the rice won't get done). When done, take the cabbage rolls out with a slotted spoon and place on a platter. Add vinegar to remaining juice, stir, and baste the gravy over stuffed cabbage rolls.
---
When the table is set for family tradition, it doesn't really matter whether your favorite recipe is for Mom's lemon pie, Grandma's fried chicken, or Dad's tangy barbecue sauce. Every dish tastes better when the main ingredient is love.
Want more recipes? Check out these articles:
What's your favorite family recipe? Let other readers know in the comments!