When longer days and sprouting buds put a bounce in your step, it's time to head to your local farmer's market, grocery store or even your own garden to stock up on fresh produce to craft some spring recipes.
You can buy vegetables all year long, but spring brings a new batch of seasonal veggies that are ideal for healthy, nutrient-packed recipes.
Vegetables planted in late winter (typically February or March, depending on the climate) and harvested from early to late spring include:
Broccoli
Lettuce
Asparagus
Peas
Mushrooms
Radishes
Spinach
Arugula
Scallions
Collards and other greens
Ready to start enjoying flavorful, healthy spring vegetables? Take your pick of these spring veggie recipes that you and your family will love.
Spring Salad with Mustard Tarragon Dressing
This spring salad recipe comes from Lisa Richards, a nutritionist and blogger at The Candida Diet. A candida diet is low in carbohydrates and sugar and emphasizes anti-inflammatory foods.
Spring Salad with Mustard Tarragon Dressing combines asparagus, spring greens, radishes and shallots, and it's loaded with healthy nutrients. Asparagus is a good source of vitamin A, vitamin C, calcium, iron and potassium.
"This spring salad is packed with nutrient-dense ingredients with a mild flavor," Richards says. Naturally low in carbs, this salad can be eaten with veggie ingredients alone, or you can add a protein like chicken or salmon.
"The bed of greens topped with asparagus and radishes make it an innovative way to get in your vegetables without spending hours in preparation," Richards says. "The tarragon dressing can be made in bulk and easily added to other dishes. It makes an excellent replacement for store-bought dressings that are often high in fat and sugar."
Baked Asparagus Cannelloni with Béchamel Sauce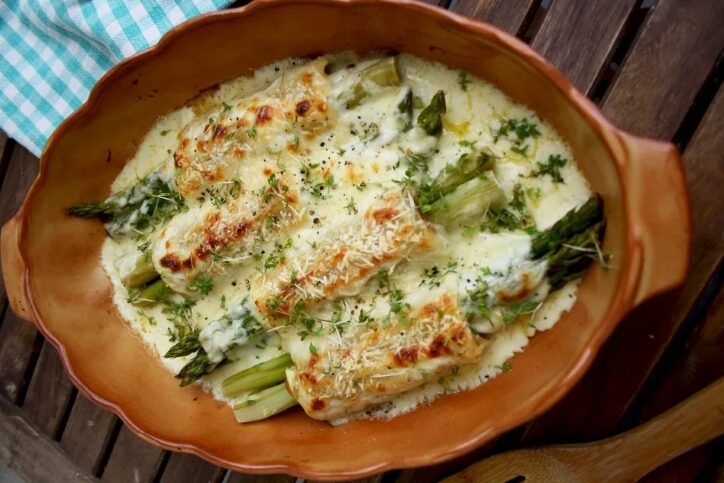 This pasta entree was created by Elena Szeliga, a vegetarian and vegan food blogger at HappyKitchen.Rocks. The nutrient-rich dish contains only 335 calories per serving and packs vitamin A, vitamin C, potassium, calcium and iron.
"These roll-ups are not only an impressive meal to serve for the whole family; they also make asparagus shine without being boring and bland," Szeliga says.
Asparagus is the primary ingredient, with garden cress for garnish and a tasty sauce that's easy to prepare. Umami-rich parmesan cheese and creamy béchamel sauce give the meatless dish a savory flavor that complements asparagus perfectly.
"These baked asparagus cannelloni are surprisingly easy to make, yet they look splendid and never fail to impress," Szeliga says. "Serve this dish with a simple salad and/or crusty bread for a complete springtime meal."
Seared Scallops Over Spinach Pesto and Pasta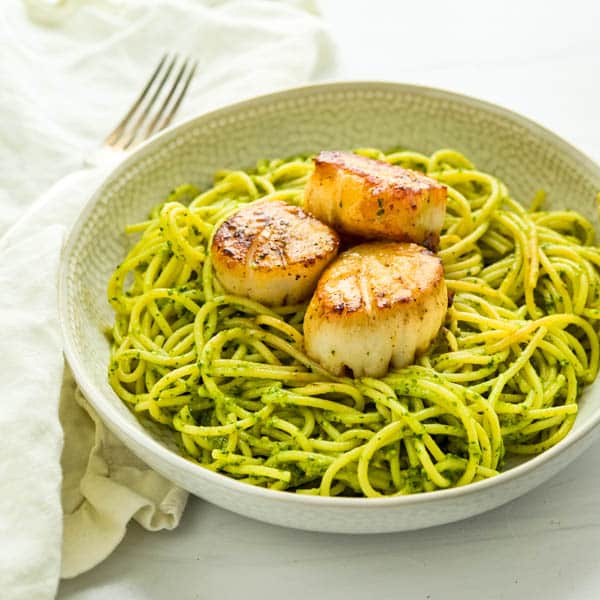 This springtime recipe takes a total of only 20 minutes to prepare. It comes from Lisa Lotts, creator of Garlic & Zest blog.
"You'll love this seared scallop recipe because it's delicious, quick and easy," Lotts says. The dish comes in at 590 calories per serving and it's packed with protein, potassium, vitamin A, vitamin C, calcium and iron.
"The fresh spinach basil pesto with toasted almonds tossed over al dente pasta adds fresh flavors that complement the buttery seafood," Lotts says. "It's a perfect dish for spring and summer and date night."
Beef and Broccoli Stir Fry for Two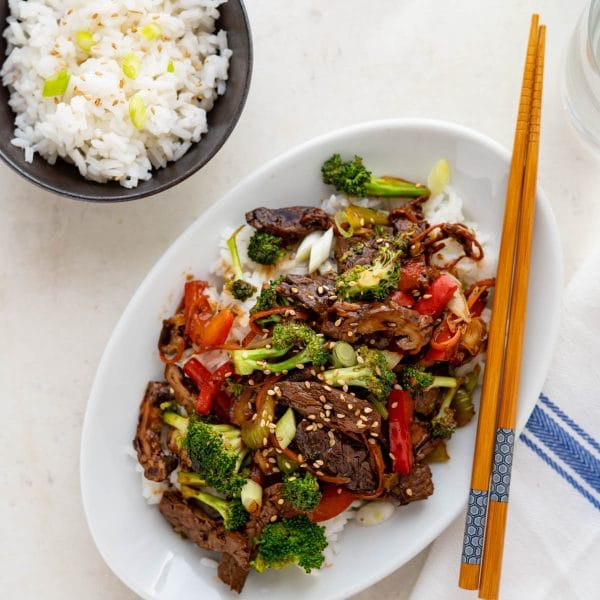 This Asian-themed recipe also comes from Lotts at the Garlic & Zest blog, and you can make it in less than 30 minutes. The meat-and-veggie dish is loaded with spring vegetables, including broccoli, garlic, celery, carrots, mushrooms and green onions. It also contains protein for red meat lovers.
Not a fan of red meat? Replace beef for chicken, pork or bite-sized shrimp. Veggies that also work well with this recipe include thinly sliced asparagus, green beans, mushrooms, bean sprouts, sugar snap peas, bamboo shoots, sliced cabbage or carrots.
"This easy beef and broccoli stir fry recipe is loaded with tender-crisp vegetables and lean strips of beef flank steak in a savory, Cantonese style sauce," Lotts says. "It's perfect served with steamed rice as a date night dinner for two."
Check out this video tutorial for step-by-step preparation instructions.
Make the Most of Spring Harvest
Spring and early summer are the perfect seasons for cooking and preparing spring vegetables for healthy meals. And if you harvest homegrown veggies from your own garden, they may taste even better.
Do you have a personal favorite spring vegetable recipe? Share with other readers in the comments! Then try out one of these recipes that make the most of the spring harvest.