With skyrocketing inflation, shopping for holiday decorations can be expensive. But that doesn't have to keep you from enjoying festive holiday home décor to brighten the winter months.
There are plenty of inexpensive ways to decorate your home for the holidays for a fraction of what you would spend for decorations online or at a big-box store.
We've gathered seven DIY holiday home décor ideas that are easy and fun for the whole family to create.
So, put on your ugly sweater and grab a cup of eggnog. Then get started on these holiday home décor ideas that you can put together faster than a reindeer flying from chimney to chimney on Christmas Eve.
1. Spruce up holiday home décor with evergreen elements.
"I like to cut branches off our evergreen tree or trimmings from our Christmas tree to decorate throughout our home," says Lindsey Mahoney, founder of the DIY blog Building Bluebird. For example, you can place smaller trimmings of evergreen around a glass urn that holds a candle on a small table.
"I create seasonal arrangements on our front porch using larger evergreen branches, red twigs and dried hydrangea clippings," Mahoney says. "I also tuck evergreen branches into the garland wrapping our staircase to fill it out and add dimension."
No evergreen trees or bushes in your yard? Check with local holiday tree sellers or home improvement stores that sell live trees for evergreen trimming cast-offs.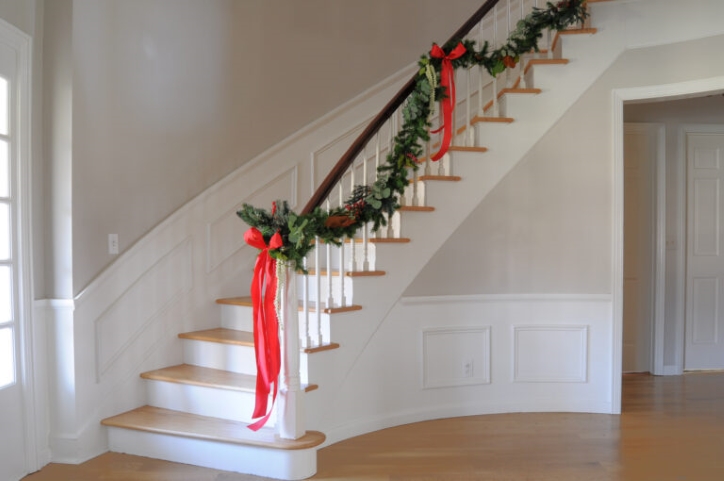 2. Roll out white chunky yarn for a winter wreath.
Make a simple yet elegant holiday wreath with yarn.
Interior designer and author Joanne Palmisano explains all you need is a piece of wreath cardboard or another wreath frame, some chunky white yarn and some white décor and feathers.
Then follow these steps:
1. Wrap the chunky yarn around the wreath frame, securing the end with glue or by tucking.
2. Place your choice of white décor and feathers in the yarn.
Not into the all-white look? Customize your wreath with yarn in red, green or another holiday color. You can also add red berries or green elements to white yarn for a splash of color.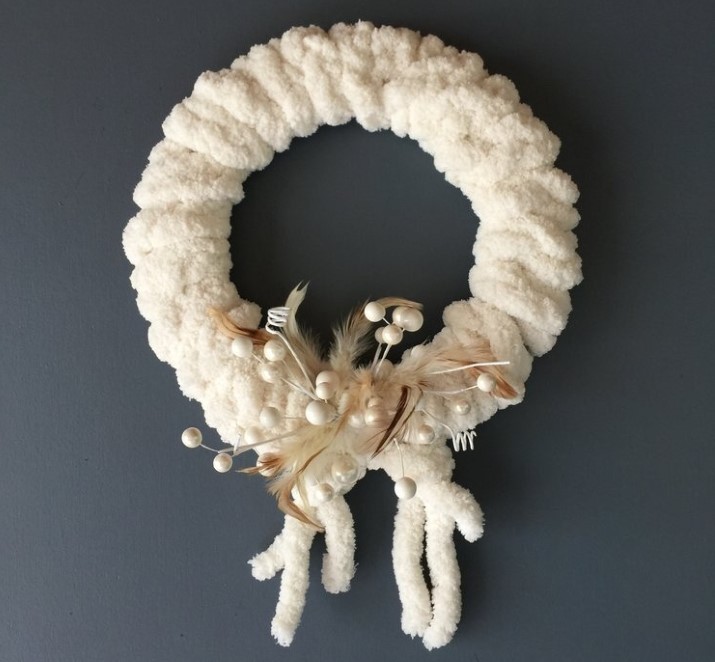 3. Fashion a holiday centerpiece.
Adding ambience with a DIY centerpiece for your dining table, mantle or coffee table is a holiday décor favorite of Jen Stark, founder of gardening and home improvement blog Happy DIY Home.
"They're so easy. You can incorporate as much or as little as you want," Stark says. "Generally, I use evergreen boughs, lights, candles, pine cones and maybe a festive ribbon."
Stark likes to first place items in the space she's decorating to get a feel for how they look. You can try using a curving design, with bowls of pine cones in curves next to boughs to tie everything together.
"The candles, if I choose to use them, are right in the middle of the design on an elevated surface, so there is no fire risk," Stark says. "I finish by tying a few small bows and attaching them at various points along the boughs."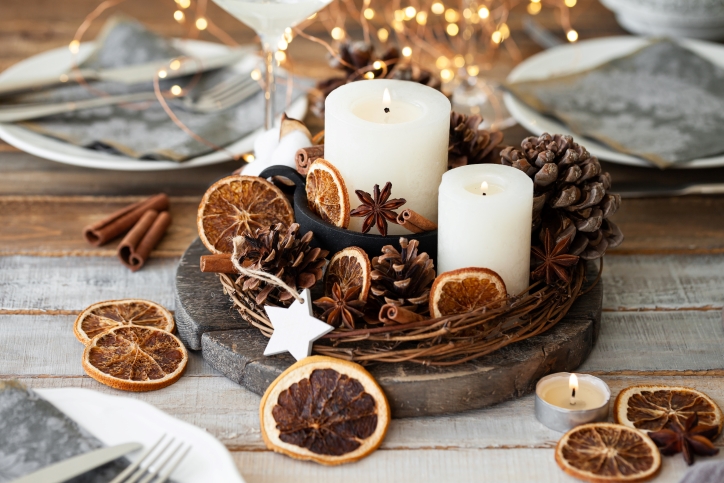 4. Make your own "bleached" pine cones.
These bleached pine cones from A Piece of Rainbow don't require bleach and take only a few minutes to make.
You can add the white pine cones to wreaths or centerpieces, or set them on the mantle and around the house to bring a wintry flair into your home all winter long.
What you'll need:
Pine cones. You may find these from evergreen trees at local parks (unless the park is protected, as in a nature preserve); in your yard if you have evergreens; or during a neighborhood walk.
Non-toxic acrylic or craft paint. Instead of using a pure white paint, A Touch of Rainbow recommends using an off-white shade.
Container for mixing paint and dipping pine cones.
Protective rubber or latex gloves.
Once you've collected your pine cones, you're ready to get started:
1. Clean dirt and debris from the pine cones with a toothbrush. If you prefer, you could wash the cones instead. But keep in mind that pine cones may close up temporarily when wet and will take time to dry.
2. Mix one part water to one or two parts paint to create a whitewash.
3. Wearing gloves, dip each cone in the paint mixture, rotating the cone so that all the nooks and crevices are covered. Let the paint drip off for ten to twenty seconds when you lift out the cone.
4. Set painted cones on a sheet of plastic to dry.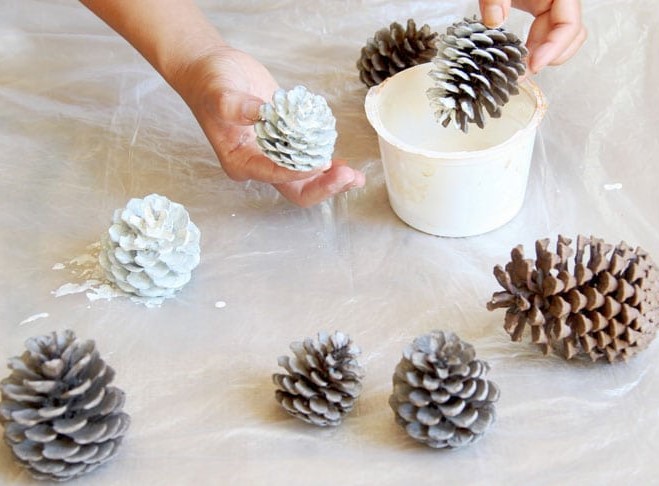 5. Create pine cone trees with the kids.
There's no need to stop at whitewashed pine cones. Start a fun project with the kids or grandkids by making mini holiday trees from your pine cone stockpile.
A Piece of Rainbow recommends a simple process:
1. Dip the cones in green paint (after brushing off debris).
2. Once they dry, add glitter or glue colorful pom poms in the crevices to make miniature holiday trees with "lights."
3. Mix plaster of Paris with water to make a snow-topped stand, then stick the "tree" in when the plaster is almost dry.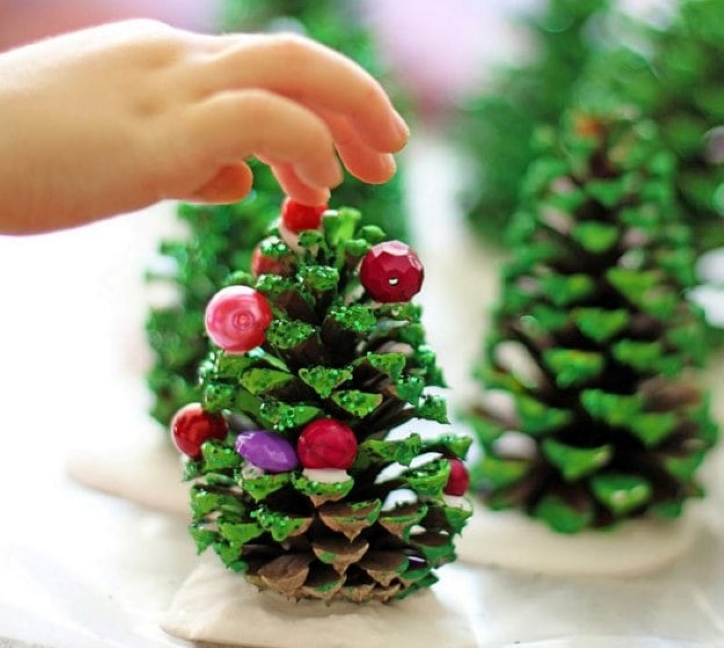 6. Decorate with a display of mini holiday trees.
These mini holiday trees from The Design Twins home décor blog will add a seasonal touch to your tabletop or mantle display.
Supplies you'll need:
Various sizes of papier-mâché or Styrofoam cones
Yarn (preferably Mambo, faux fur or 25mm "big stitch" 25mm yarn)
Hot glue gun
Scissors
Here's how to get started:
1. Secure the yarn end to the top of the cone with hot glue, pressing and holding the yarn until it's cooled and securely attached.
2. Carefully wind the yarn down and around the tree, making sure you leave no gaps. If using faux fur, which slips easily, you may need to add additional hot glue.
3. When you get to the bottom of the cone, place a bead of hot glue around the rim to keep the yarn in place and another bead at the very end.
4. Trim yarn as needed.
Set one or two trees in vignettes around the house, or make a mini-forest display with multiple trees of various sizes, textures and colors. For the mini-forest display, use a box, tray or another container to define the space. Then create a forest floor with faux snow, fur, moss, peppermint pieces or evergreen trimmings—either real or artificial.
7. Mess-free holiday home décor ideas.
If collecting evergreens and rolling out balls of yarn and hot glue isn't your style, you can still add DIY elements to your holiday home décor with a few inexpensive purchases.
1. Decorate with evergreen and other scented candles. Try scents like cinnamon and citrus, or essential oils inspired by nature like sandalwood, lavender or frankincense.
2. Lighten the mood with string lights. Place lights on window frames, along the ceiling and wall and hang battery operated string lights on lamps and other small objects. There's no need to put your lights away after New Year's Eve, either. Keep them up until spring to brighten winter days.
3. Add colorful pillows and throws. Cozy up the home with holiday colors and themes on comfy couch and chair pillows for the sofa. For variety, use pillows with different textures such as faux fur, bulky corduroy, fleece or flannel.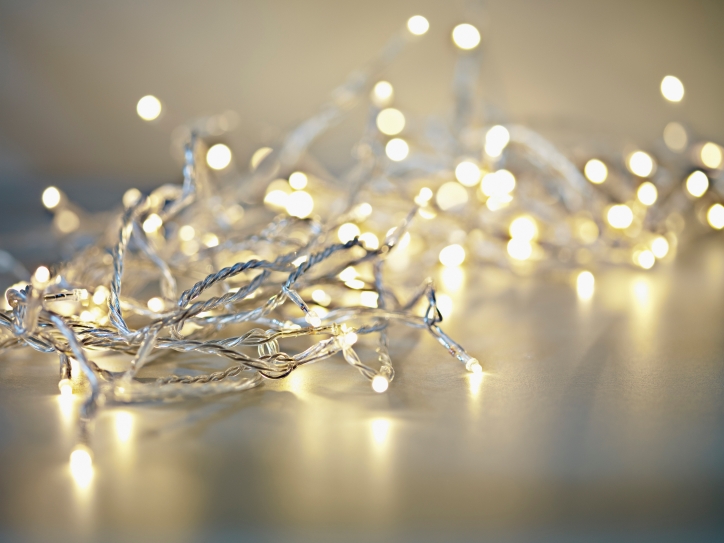 Now that you have a few ideas for DIY holiday décor, it's time to stock up on the craft supplies, lights, candles, pillows and throws. Then call your friends, gather the kids, put on some holiday music and make a day of creating holiday décor.
Do you have a favorite DIY holiday home décor project? Share it with other readers in the comments.