Ever seen Fixer Upper with Chip and Jo? Or who can forget the amazing stories and "Move that bus!" reveals from Extreme Makeover: Home Edition?
Everyone loves the beautiful before & afters on these popular design shows. But you don't have to be on TV—or spend thousands of dollars—to refresh the place you call home.
The Numbers
In a home renovation, the kitchen and bathroom are usually the most expensive rooms to redo. A kitchen remodel runs from $13,000 to $38,000, and a bathroom remodel ranges from $6,000 to $16,000, says HomeAdvisor.com.
Appliances, flooring, cabinetry—these big-ticket items, plus the high cost of labor (think plumbing, demolition and electrical) to install them, drive up the price.
Besides the financial impact, turning your home into a construction zone is a huge hassle, especially if you're juggling grandchildren or caring for aging parents.
Here are five ways to get a new look without the oversized bill.
Get Inspired by Instagram
You don't have to be Joanna Gaines to create a stylish space—but you can take some tips from her feed! Pinterest, Instagram and other online design sites are the perfect place to start the process of a refresh. Snap screenshots and pin posts of color palettes you love, room arrangements that speak to you and textiles that spark joy.

As you gather ideas, remember that your home is your own—and so is your style. The goal isn't to replicate what you see online but to find inspiration—a starting point—and build from there, weaving in the personal touches that are unique to you and your family.

And speaking of your family, ask for input from a design-savvy grandson or a daughter who loves to decorate. Check in with a friend whose style you admire. Get feedback on an idea you have or a fresh perspective from someone who's not looking at the space every day.

You might get an idea you wouldn't have thought of yourself. And if a family member wants to help, it could turn into a wonderful intergenerational bonding/memory-making experience!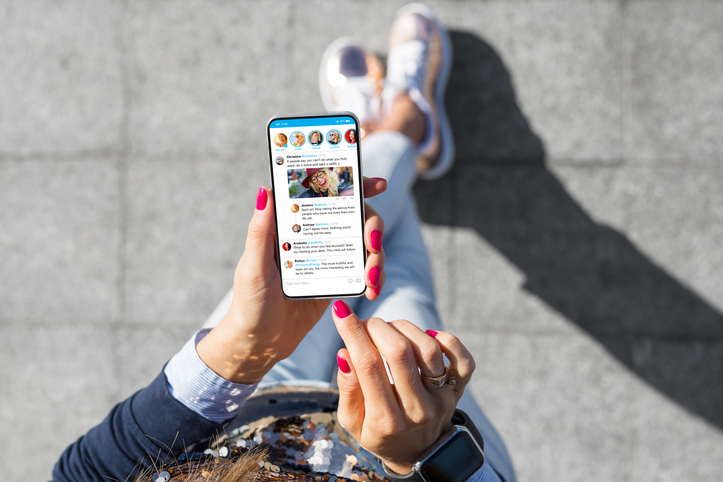 Be Intentional About the Space
Bored with your bedroom? Tired of the same paint color that's been on the bathroom walls for years?

Maybe you finally have an empty nest and want to convert your children's rooms into a cozy guest space, or you're working from home and want a dedicated office.

You could also transform the basement into an entertainment center or create a little nook in your living room for bird-watching or book reading. The possibilities are endless and entirely up to you!

Choose the area(s) you want to refresh and plan accordingly. Take inventory of what you want/need for that room to be transformed and make a list, keeping the purpose of that space in mind: i.e., dining, working, relaxing, etc.
Shop With a Save vs. Splurge Mentality
Think about your priorities in the space and what you're willing to spend. Draw up a basic budget or agree on a total amount you'd like to spend. Even though you're intentionally going low, things can add up quickly without a plan or limit.

As you're shopping, apply the "save vs. splurge" mindset:
Since you're saving on a gut remodel, can you splurge on some luxurious towels or high thread count bedding?

·  Since you're saving on labor costs and doing the painting yourself, can you splurge on top-quality paint?
·  If you're saving on the cost of new cabinets, can you splurge on pretty new dishes to go inside them?
·  Since you saved by getting a gently used armchair at the local thrift store, can you splurge on a lovely throw pillow and blanket combo to dress it up?

Besides exploring local thrift stores, area flea markets, or select antique shops, there are several online platforms to help you discover great décor deals and score big bargains—from plants to pianos and everything in between.

An added bonus: if part of your room refresh involves getting rid of some outdated or no longer used items, sell them on the following sites and use the money for a splurge:

·  Nextdoor
·  Facebook Marketplace
·  Letgo
·  Freecycle
·  Craigslist

Just remember: safety first when meeting up with a buyer—whenever possible, choose a public location for the exchange, rather than your home. And don't share personal details or financial information on these online forums.
Focus on a Small Area With a Big Impact
There's a lot you can do in what's often one of the smallest but most frequently used rooms in the house: the bathroom! Check out these tips for a low-budget bathroom facelift and get started on your "no-demo reno." (Good news: you can apply a lot of these refresher tips to other areas of your home!)

A few cans of paint can go a long way. Paint cabinets. Paint trim. Have fun with it and choose colors that you love, not just what you think will sell later.

Purchase new hardware. Or get some spray paint to transform the knobs, hooks and pulls you already have. Craft stores, Anthropologie and Etsy offer a wide variety of unique options for any style preference or budget.

Dress up the walls. Swap out those yellowed switch plate covers for something modern or decorative. Hang some meaningful artwork—maybe frame a few of the grandkids' paintings or postcards from your favorite travel spots. You can also check out Mixtiles or Easy Canvas Prints to do an in-home photo gallery for a low price, using images that are on your phone. Another idea: consider supporting local artists by purchasing their work to liven up your wall space and give it a distinctive touch.

Make it feel like a spa. Spring for comfy towels and luxurious robes. Buy some soaps and lotions in pretty bottles and display them in a decorative way.

Do a deep clean. Instead of adding new tile, get your tile floor professionally cleaned (remember the splurge vs. save mentality?).

Brighten it up. You don't need to be a master electrician to change up a light fixture or two. But if you're not the most mechanically inclined, perhaps ask a handy neighbor or friend for some assistance. A new shower curtain and rug also give the space an updated look.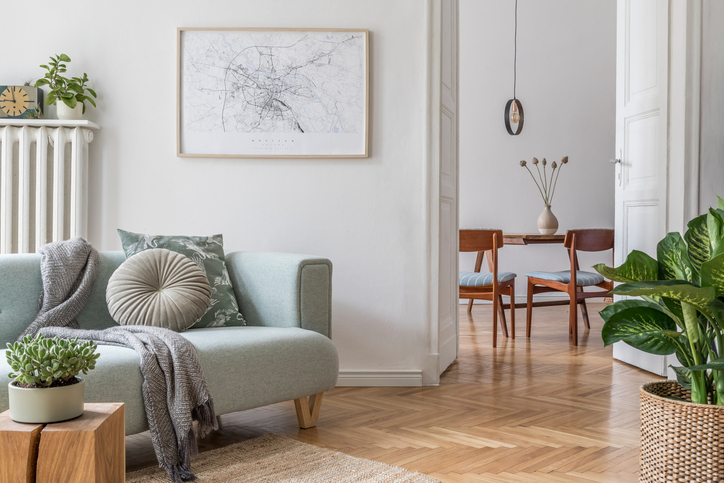 Rearrange For a Fresh Perspective
Before you commit to a full-room refresh, think outside the box a little. You may be surprised by the results!

Try moving a few things around. Ever wondered what the couch would look like on the other side of the room? Or what the family heirloom grandfather clock would look like in your master bedroom rather than the dining area? Or how much wall space you'd have for the grandkids' school photos if you moved the giant hutch that stores fancy dishes you rarely use?

Inject pops of color in décor and textiles. This is an easy and affordable way to refresh a space. If you just don't feel brave enough to paint a bold color on the walls, get some brightly colored throw pillows or a vibrant piece of artwork.

Remember that organization can be beautiful too. Pick up a few pretty baskets at Home Goods or Target for your magazines, the dog toys or the books you read to the grandkids.

Take redesign cues from a statement piece. This could be an item that's meaningful to you because of the memories associated with it, like a decorative vase that was your grandmother's or a painting from your father's family estate. It could also be a brand new beautiful tablecloth that you build a dining room refresh around or a bedding set that redefines your bedroom.

Sometimes, a small change makes a huge difference—not only in how your home looks, but how you feel when you're moving through it. And after the last two years of spending more time at home, a new look within our four walls might be just the thing we need in 2022.
What areas of your house need a refresh? Which of these tips will you try? Let us know in the comments.