Trending Home Design Ideas & What's Going Out of
If you're living with avocado-colored sinks or shag carpeting, you probably already know those styles won't be back in fashion, at least not any time soon. While it may not make sense to change your home design every year, pay attention to interior design trends and make periodic changes to keep your home feeling fresh and up to date. This can help make it easier to sell if that time comes, and also give you a more satisfying and inviting place to live and entertain.
Seven Home Design Plans That are Trending
Trends come and go, and homeowners are free to ignore the ones they don't like. But if you love being known as the one on the cutting edge among your family and friends you may want to upgrade a few rooms of your house. If you need to sell your home, remember that buyers are often looking for the latest home design styles, so incorporating some of these elements into your home can make it stand out even to young buyers. If you have some room in your budget and the desire to spruce up your home, check out these current popular home design plans.
1. Transitional and Contemporary Kitchens
Today's buyers are leaning more toward kitchen home plans with clean lines and tons of natural light. Simple cabinet doors rather than ones with intricate molding and architectural details are a major trend home design style.
2. Two-Toned Kitchens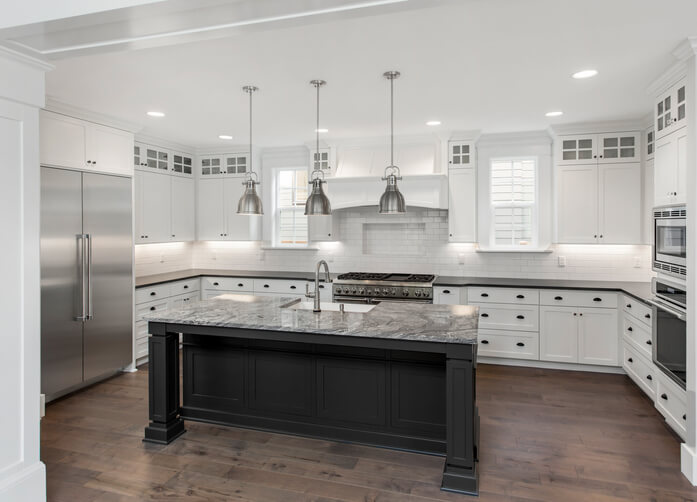 Traditionally, the same material is used for kitchen counters and center islands. Overhead and floor-mounted cabinets match, and the hardware on your drawers and cabinets is the same. These days, mixing it up with a wood island and granite counters or a mix of white cabinets on your walls and gray cabinets on your island is popular. Homeowners are even mixing brushed nickel and brass fixtures or adding gold accents. Mixing white cabinets with a neutral color or wood accents are one popular way to warm up an all-white kitchen color palette and give a house the coveted custom home design touch.
3. Light Hardwood Flooring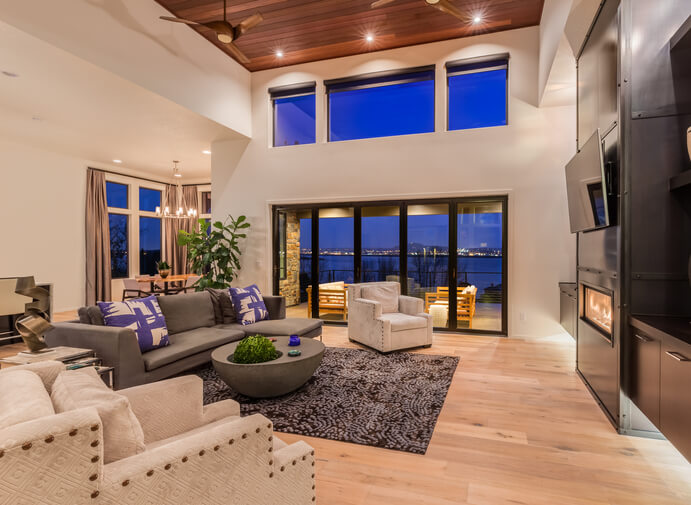 Although hardwood flooring is highly prized among most homebuyers, preferences for the look of the wood shifts over time. A decade ago light white-washed or pale maple floors were all the rage, followed by a trend toward dark stained floors in espresso or black. Now wide-planked gray, blond and whitewashed wood tones are preferred. Hardwood flooring can strongly reflect a home design style and if you don't want to replace your floors, consider refinishing them to change the stain.
4. White and Gray Bathroom Color Scheme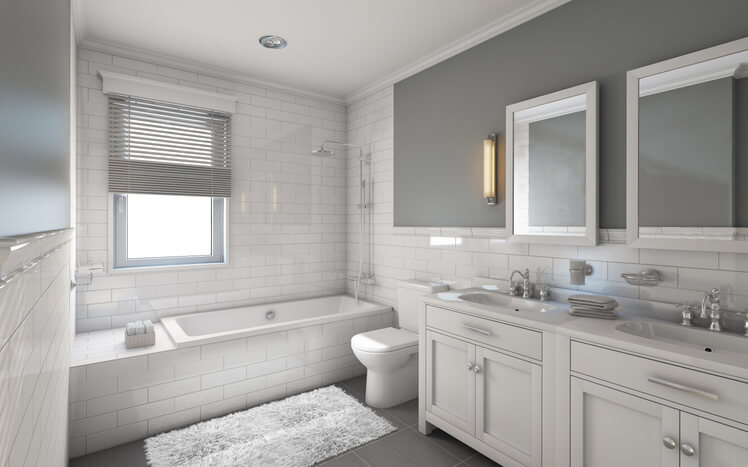 Although the NKBA's survey shows that some young interior design professionals are leaning toward bringing blue, violet and purple into bathrooms, the survey also shows that the vast majority of buyers want white, off-white and gray color schemes in their bathrooms.
5. Universal Design Elements Incorporated in Kitchens and Bathrooms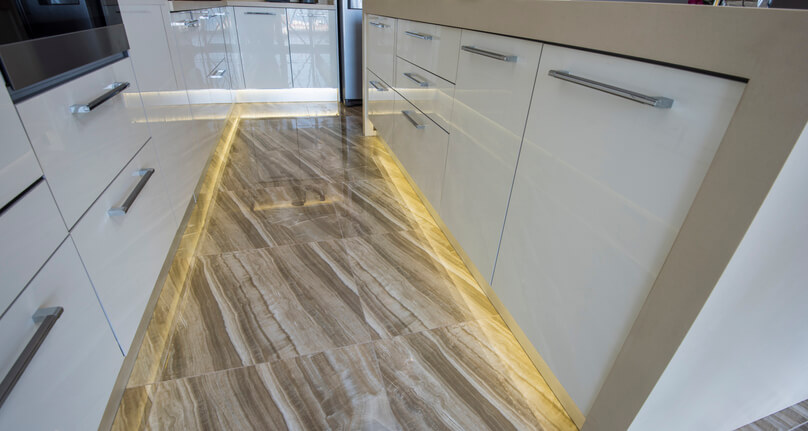 Universal elements that are both attractive and functional—especially ones that increase safety—are popular in both kitchens and bathrooms. Relevant features include comfort height vanities and toilets, as well as lighting in showers, underneath kitchen cabinets and under toe kicks; so consider incorporating those into your dream home.
6. Rustic Touches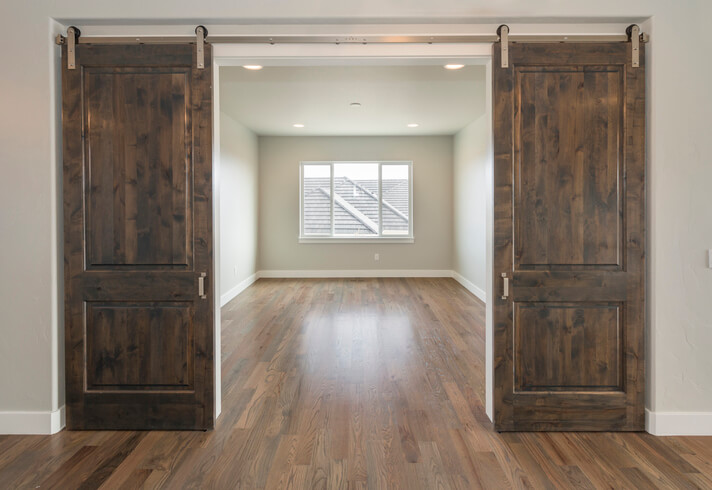 Although sleek modern styling is popular for kitchens and bathrooms, and open floor plans with lots of big windows are favored, designers like to rough up these rooms with an old barn door over an entry or a pantry. The traditional design of a reclaimed wood plank dining table can also provide a comforting contrast in a contemporary house plan. According to real estate site Zillow's research for their book, "Rewriting the Rules of Real Estate," homes that are advertised as having a barn door sell for 13 percent more than homes that don't feature a barn door! Custom home designs for the win.
7. Flexible Rooms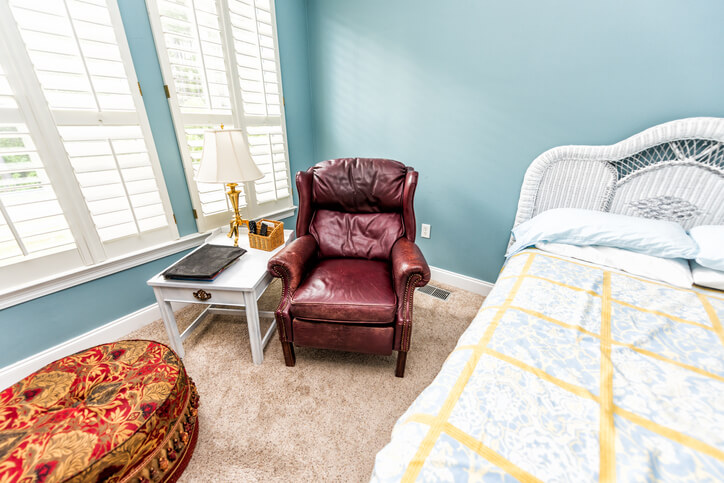 New floor plans often include a flexible living space either on the main level or the upper level, or sometimes both. These rooms can serve different functions during various life phases and home design styles, such as a home office, a playroom or a guest room. Some rooms can serve for multiple purposes at once. You can take one of your extra bedrooms or a loft area on the upper level or even your formal living room and furnish it in a different way to accommodate various functions.
Seven Home Design Ideas to Upgrade
If you're planning to remodel your home or just want to update a room, we don't recommend the following designs that are being phased out of new homes:
1. Vessel Sinks and Pedestal Sinks in Bathrooms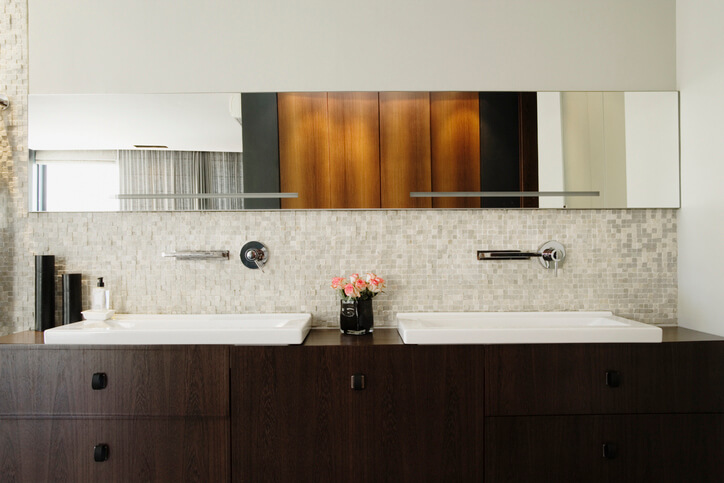 The survey shows that vessel sinks, which were recently trendy in home design plans, are already fading in popularity, with under mount sinks and trough-style sinks requested more often. When it comes to pedestal sinks, homeowners are beginning to value storage above the appearance. If you're not ready for a total overhaul of your bathroom, try updating it with a new sink and/or vanity.
2. Bathtubs
Today's busy homeowners prefer the luxury of a big shower with a seat and multiple shower heads over a traditional combination shower and tub or even a separate soaking tub and shower. The exception to this trend is an elegant freestanding tub with architectural style if you have a big bathroom and a big budget. Freestanding tubs aren't the best option if you plan to age-in-place, so you may prefer a shower with a low threshold entrance if you're remodeling.
3. Corian and Granite Countertops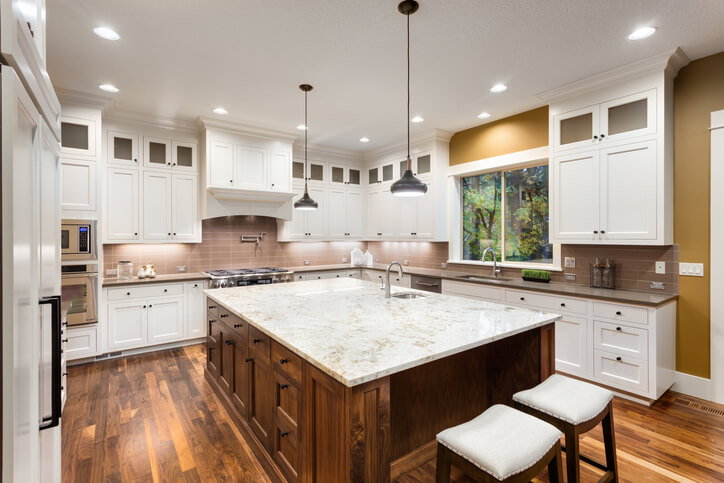 Quartz is now the most popular countertop material, whereas granite is trending down. Corian counters became less popular in favor of granite a few years ago, so even a pristine Corian counter can look dated when it comes to home design now.
4. Wood Burning Fireplaces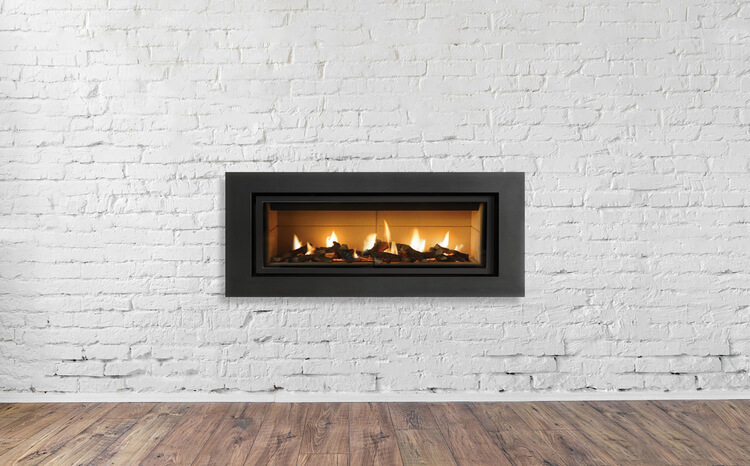 At the 2017 International Builder's Show, numerous booths showcased the latest craze in fireplaces: linear gas fireplaces with artistic crystals or sculptural elements inside; some even included remote-controlled color changes. If you're remodeling, instead of a wood-burning fireplace, consider adding warmth and some architectural excitement to your home with a linear gas fireplace.
5. Dated Breakfast Bar Stools
According to Houzz, one of the easiest ways to add pizzazz to your kitchen and give it a more modern home design is to simply purchase modern bar stools to replace traditional stools. Modern stools come in a variety of styles such as rustic wood pieces, industrial metal or even clear or colored plastic for a sculptural look.
6. One-Size-Fits-All Style of Interior Design
If your home is decorated entirely in one style—whether it's colonial, traditional or even mid-century modern—it likely looks outdated. Today's buyers want a mix of interior design styles. Adding an industrial-looking faucet to a farmhouse sink or placing vintage and contemporary furniture side-by-side is a quick way to update your home. Try mixing more expensive items with flea market finds.
7. Sticking to Table Lamps in Your Bedroom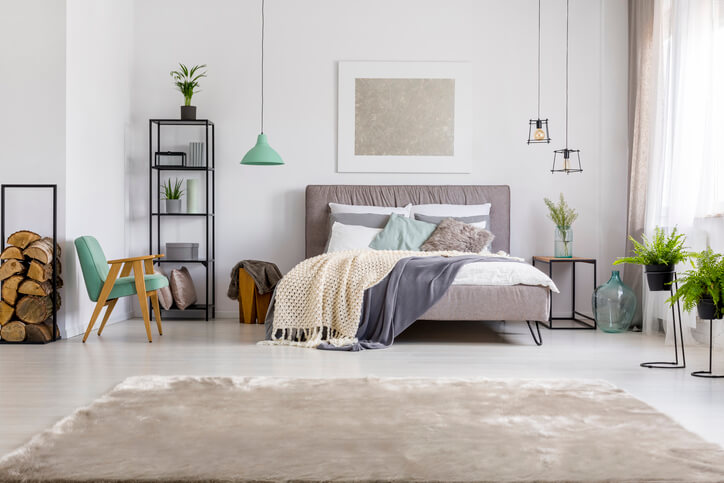 For a simple decorative lift to your bedroom, Houzz suggests hanging pendant lights next to your bed to add light and free up space on the nightstand.
Eliminating dated looks such as an oversized soaking tub or espresso-stained flooring and updating your home with a white-and-gray palette in the kitchen and bathroom or a rustic touch can make your home more attractive to buyers who are comparing your abode with model homes. Even if you don't intend to sell your home, keeping up with trends can perk up your space and enhance the things you already love with an extra boost of home design style.
We all have our own individual styles—A taxidermy deer head. Bright-colored shag carpet. A waterbed.
Which home design idea do you tend to gravitate towards? Please share with us and other readers—both your favorite trends and your less desired trends—in the comments below.