Are you looking to create a place to work from home? Whether you're turning a guest bedroom into a workspace or just revamping a lackluster home office, you may need some inspiration. The right space can help you get tasks done, whether you run a business from home, work remotely or just want a dedicated space to pay bills and do video chats with family. Learn how to affordably jazz up your décor, colors, lighting and furniture to create a cozy and practical home office.
Carve Out a Workspace
Starting from scratch? Maybe you're working remotely now and tired of taking care of business on your laptop from the living room couch. Or maybe you're finding it hard to set a dining room table because it's taken over by piles of paperwork. If that's the case, you can create a makeshift home office even if you don't have a spare room at the ready. Here are some tips to help you get started.
Pick an Area That Allows for Privacy
If you have an unused spare room with a door that closes, you're in luck. Even a room like a home gym or guest room can be useful. Try splitting it in half with an attractive room divider. You might even be able to make one from materials you already have in the house. Check out these room divider ideas for cheap and quick solutions. A few examples:
An attractive curtain
A tall bookshelf
Shipping pallets
Three pieces of plywood attached with hinges and painted with chalkboard paint. Bonus: This will also give you space to jot down ideas or plan your day.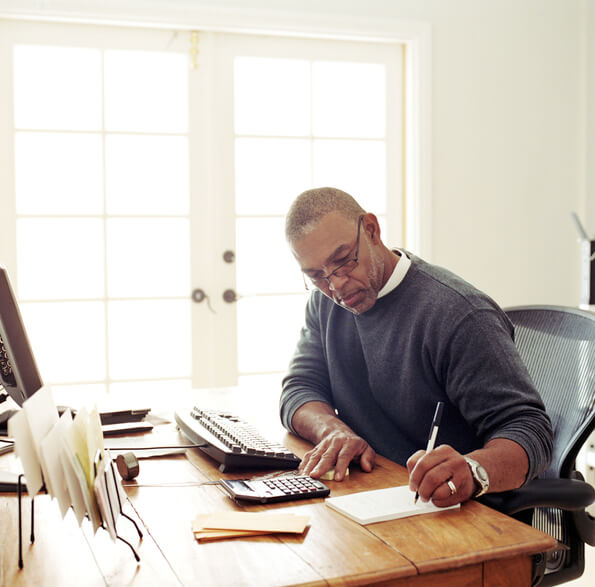 Get Creative With Small Spaces
Don't have a room, or half of a room, that can be made into a private office? You might have to get creative and convert a corner of your home or even a closet. Consider the noise factor when choosing an office space. Other members of your household (or even your barking dog) may be around more than usual. That's why it's important to choose an out-of-the-way corner if possible. And for a few hundred dollars, you can get noise-absorbing acoustic panels. Sometimes known as hush panels, they create a makeshift room that offers some privacy and quiet. You can buy these as standalone pieces or pop a few together to create a cubicle.
Ask About a Home Office Stipend
Are you working from home for your employer? Some workplaces are offering remote work stipends to employees who have switched temporarily or permanently to working from home. You can use extra funds for dividers and other home office elements that will help you to focus on your work amidst any commotion happening around you at home. That may make investing in sound-absorbing dividers much more feasible.
Get the Right Lighting
Lighting is an important aspect of your home office. Good lighting makes your office more attractive and functional. It's also essential for making sure your colleagues (or your family) can see your smiling face well via Zoom or other video chats. A well-lit office can also prevent eye fatigue and headaches. And good lighting just makes it easier to see which helps you get things done quicker.
Here's how to optimize the lighting in your home office:
Step 1. Create Diffused Ambient Light
Use overhead light for the majority of your lighting. If you have overhead lighting installed in the ceiling, make sure that it is bright enough to illuminate 80% of the room. You'll also want to make sure that it is diffused. To do this, you can install a frosted light fixture. This will reduce the overhead light's glare on work surfaces, and also help prevent poor lighting and shadows. The Mayo Clinic also recommends installing a dimmer to lower the overhead lights to reduce glare while working on the computer. This may help you see the screen better and reduce eye strain and headaches. If you don't have overhead lighting, buy large standing lamps with shades and place them in the corners of your office.
Step 2. Choose Specific Lighting for Zoom Calls and Other Tasks
Create a lighting setup for your Zoom meetings or video chats with family. Here's a guide to setting up your office for video conferencing. A few tips: create your video conference seating in an area where your main light source is in front of you. It's ideal to sit toward a north or south facing window. Place a camera directly in front of you at about eye level for a flattering shot (using books or a tripod if necessary to achieve the right height). Setting the scene for a video chat will help you communicate better in a work meeting or give a lift to loved ones who want to see you clearly.
Also add task lighting for other jobs, such as reading books or documents. Lighting that is too dim can tire out your eyes and lead to strain, according to Harvard Health. To avoid eye fatigue while reading, get a task lamp with an opaque shade and an adjustable arm. Set it up behind your chair so the light falls directly on the page.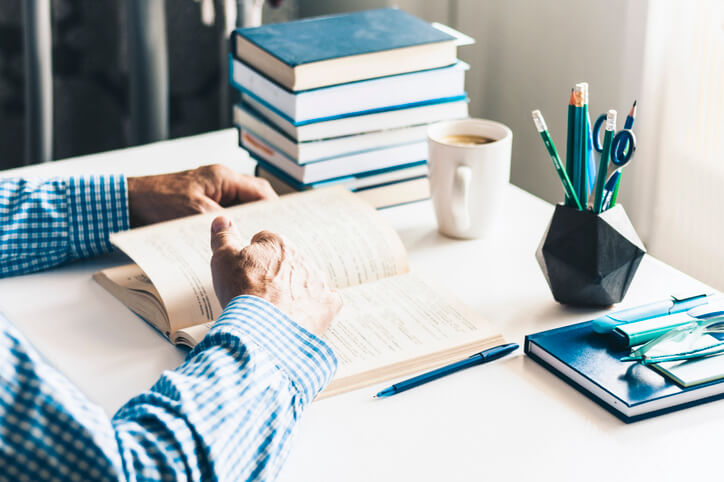 Step 3. Use Natural Light
The rays from the sun can provide an energizing light source that's impossible to mimic with any lamp or light bulb. If your windows face east or west, then you should definitely consider placing your workstation on a north or south wall. And make sure your windows have good curtains or light filtering shades that you can draw to block any distracting or headache-inducing glare from the sun in the morning or afternoon hours.
Find New Furniture
It's important to feel comfortable in your new space. So if your office chair or desk causes you any pain or discomfort in your back, legs or wrists, look into ergonomic solutions. Ideally, the top of your computer monitor should be level with your eyebrows while you're sitting down. This will help ensure that you are not tilting your head down or up and straining your neck.
Deciding on a Desk
Start by making sure you have a desk that fits you. A flat surface that sits 28 to 30 inches above the ground works for most people. But if you're looking for a stylish and comfortable desk that doesn't require you to spend a lot, check out these DIY desk ideas. For example, a long table you already own or even a door placed across two short bookcases or end tables could work. Another option is to make a desk from a piece of wood and four table legs, all of which are available at any home improvement store.
You can personalize your desk and add a pop of color to your office by painting it in the color of your choice. To make your work surface ergonomically correct, consider adding a pullout keyboard tray to your desk (or getting a desk that has one) so you can type comfortably and keep your wrists in a neutral position. This may reduce your risk of carpal tunnel syndrome and other injuries that could cause pain.
Choosing a Chair
Also, consider a chair with wheels on the bottom. This can help you move closer to and away from your desk and prevent hunching forward. Your feet should be able to rest flat on the floor, and your knees should be bent at 90° angles when you're sitting in your chair. For safety purposes, make sure the flooring underneath the chair allows for easy movement. For example, a throw rug under your desk may become a bother when your chair keeps getting hung up on the corner every time you move.
Your chair should also have armrests. If you relax your shoulders, the armrests should be at a low level. This way, your forearms can lie flat on the armrests and your shoulders can relax. Your keyboard and desk should be roughly the same height from the ground as the tops of your armrests.
Hang Art and Decor
Hanging art can transform your walls by adding texture and depth. Adding bright hues to your space can help you feel more creative. You can also incorporate neutral tones accompanied by an accent color can help you feel more relaxed.
It's always a good idea to pick colorful pieces of art to help add some life and personality to your office space. If you don't have the funds to invest in costly art right now, consider downloadable art from Etsy and other sellers that can be printed at your local copy shop and put in inexpensive frames.
Another easy way to liven up your space is to create a family photo gallery on a cork board or stencil an inspirational quote on your wall in large letters. There are plenty of ways to add pizzazz and personality to office walls without breaking the bank.
You can also add a few throw pillows to deepen the texture of the room and highlight accent colors. A throw rug or window treatment can also help to pull the room together. Accessories that express your personality are a great way to connect with the space and make it your own.
If art and throw pillows are not your thing, consider using wallpaper to create an accent wall or adding a new coat of paint. New paint will not only look cleaner, but it can help provide a fresh take on a familiar (and possibly drab) room. The colors you use can have a large impact on the energy you feel when you're in your office. Dark colors (maroon, navy, black, brown) can add a sense of sophistication and intimacy. Lighter colors can make rooms feel larger and brighter. They also usually add a sense of energy and excitement.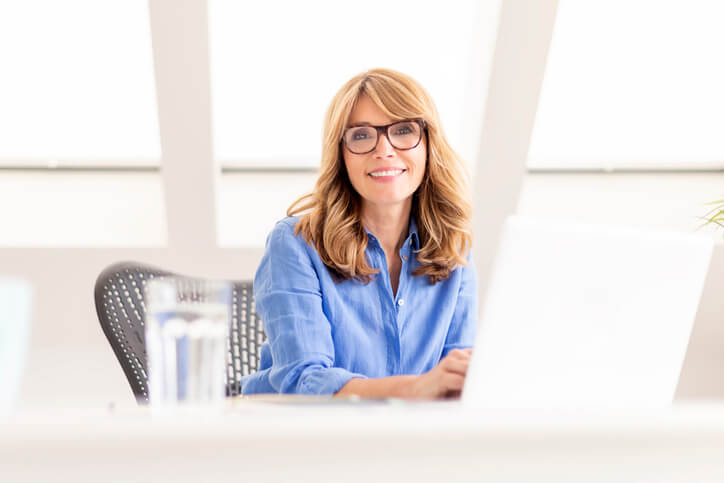 Work Smart
Creating or revamping your home office doesn't have to cost a fortune. With a little effort, you can boost your home office's functionality and take it from an unused corner or tired space to a lively work hub that reflects your style. Even if you only spend a few hours a month in your office or think you may not work remotely forever, you should still consider it as important as any other room. Make sure it has all the furniture and equipment you need, and an aesthetic that suits its purpose.
Have you found yourself suddenly faced with the task of carving out a workspace at home? We'd love to know how it went. Please comment to share your favorite thing about your new home office, or a home office décor tip for others.