Remodeling your home can not only help spice up your living space, it can help you create an environment that will better suit your needs as you age. A study from The Hartford and the University of Southern California observed that 40% of Boomers expect to remodel their homes sometime in the future. One of the best ways to do this is to incorporate universal design features that bring added comfort, safety and convenience to your home. Universal Design, also referred to as Livable Design or Better Design, means creating an environment that's easy for everyone to use – regardless of age, size or ability.
Most importantly, universal design is easy to include in your home, with your kitchen and bathroom being the most important areas to focus on. To see how you can upgrade these two rooms, read through our tips below:
Create a Kitchen Everyone Is Comfortable In
Your kitchen is one of the main gathering points in your home. This means you'll want it to be comfortable for everyone, whether they're stopping by for a cup of tea or they're helping you prepare a meal.
To help enhance your kitchen, read through our list of recommended universal design features:
Pullout drawers: With standard shelving, it can be hard to reach pots and pans at the bottom of the cabinet. You can fix this by installing pull-out drawers and Lazy Susans in your corner cabinets.
Single-lever faucets: Easy for everyone to use, these faucets let anyone easily operate one of the most used tools in your kitchen. These faucets also let you more easily shut off water and control their temperature.
Multi-level countertops: Installing multi-level countertops allows you to avoid having counters that are too deep or too low. They offer surfaces that can help anyone enjoy the space easily.
D- or U- shaped handles: Curved handles are better for grip if you or your family members have smaller or less flexible hands.
Below counter appliances: If you feel like your appliances are getting in your way, consider installing them in easier to reach places like below counter cabinets. Microwaves are a great option for this placement.
Lighting: Installing windows in your kitchen can help you utilize natural sunlight. You can also use new light bulbs and fixtures to help brighten up your space.
Thresholds: Your thresholds are the strip of metal or wood that runs across the bottom of your doorframe. To make moving between your kitchen and other rooms easier, consider getting rid of these thresholds. You can also lower them to a quarter or half inch in height to make them easier to walk over.
Rocker light switches: These allow you to use the back of your hand or even your elbow to switch them on and off. This can be easier if you're carrying lots of items.
New appliances: Certain appliances like wall ovens can help you navigate the kitchen easier with hot or heavy items. Bottom-freezers on refrigerators can also be easier to reach into.
Slip-resistant flooring: You'll want to make sure your kitchen's surface is even and has a low glare. This can help you create a space that's safe if your balance or vision changes in years to come.
On top of these features, it's also important to consider the amount of space available to move around in your kitchen. Widening the space can allow for multiple cooks to work in the kitchen and for anyone to pass through easily.
Redesign Your Bathroom With Safety in Mind
Your bathroom is one of the most important rooms in your house. To make sure your bathroom can accommodate everyone for years to come, consider these improvements:
Non-slip floors: When choosing the material for your new floors, be sure to install slip-resistant, even surfaced and low glare flooring.
Hand-held shower heads: Installing an adjustable height and hand-held shower head can give you much more flexibility. Ideally, the length of the hose should range from 60 to 72 inches. The handheld nozzle makes it easy to bathe while sitting. It also helps you bathe young children and pets.
Walk in shower: Choosing a walk-in shower with little or no threshold or lip to step over can make your life easier and safer for all.
Shower bars: These grab bars can help you avoid slipping in your shower. They also come in a variety of colors and finishes that can provide contrast with the wall for better visibility and to complement your décor.
Faucets: For the easiest operation of your faucets, you can select single-lever handles rather than two separate knobs or handles. You can also install pressure-balanced faucets which help regulate temperature during changes in water pressure. They also keep the temperature at 120 degrees or lower to avoid burns.
Comfort height toilet: These toilets have a seat height of 17 to 19 inches compared to a typical toilet height which is 14 to 16 inches. This increased height makes them easier to use.
Accessible shelving: Your bathroom should have storage that you can easily reach. For instance, you can add open shelves into your shower for your soaps or shampoos.
Doorways: Consider wide entryways — between 32 and 36 inches wide — to allow ample space to move through.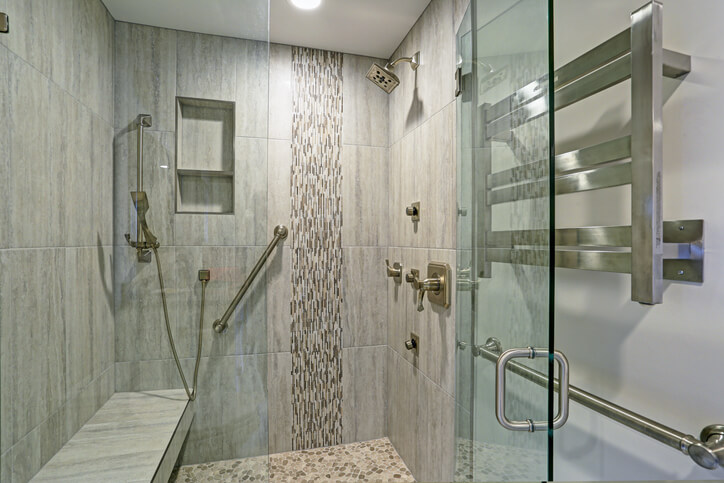 Getting Started
Outfitting your home with universal design features starts with talking to your remodeler, contractor or designer. They can help you choose features to include that also fit your style and décor. They should be able to provide you with sketches or pictures of design features and detailed descriptions of how everything works.
As you work with your remodeler, it's also important to:
Outline the rooms that you'll want to update.
Explain why certain spaces don't feel comfortable anymore.
Go over any safety concerns you have for your home as you age.
Discuss your budget so they can find features that fit your needs at the right prices.
Remember, universal design is centered around safety and flexibility for people of all ages. It also aims to minimize physical effort within the home. Some other design tips to keep in mind during remodeling include:
Limiting stairs: Ideally, you should have at least one step-free entrance into your home, particularly important for any relatives or visitors in a wheelchair or pushing a baby stroller.
Switching to automatic lighting: Using a timer for your lights is a good start. However, you can also get control systems that let you turn on groups of lights throughout your house from one remote.
Remodeling can also give you a chance to consider foot traffic in your home. If you have clutter or too many objects throughout the floors of your home, it can cause tripping hazards. To make sure everyone can easily move throughout your home, you'll want to keep aisles and doorways clear.
Conclusion
Remodeling your home with universal design features can help you create a more comfortable space now and for the future. To get started, all it takes is seeing what features are available. You can then strategize with your contractor on what will work best in your home. Here's a guide to help, Remodeling Today for a Better Tomorrow: Design Ideas for the Kitchen and Bathroom.
In some cases, you may also want to upgrade the exterior of your home. To learn more, read our article "Livable Design Ideas for the Exterior of Your Home."
What updates have you made to make your home more functional and comfortable? Share with other readers in the comments.