An antique is "anything that's hand built and over 100 years old," says 30-year restoration veteran Brian Hillmann of H Restoration in Atlanta, Ga. Some pieces can be quite valuable. Most antiques restoration work is completed on pieces that hold more sentimental than monetary value.
Some antiques owners restore or refinish a piece to revive a cherished heirloom. Some DIY for a sense of self accomplishment. Others are looking to preserve a piece that could hold significant monetary or historical value.
The question on the lips of many antiques owners is this: Will antiques restoration affect the value of my piece? In short, the answer is, "It depends."
It's important to know the facts about antiques restoration before deciding how to proceed with a piece. DIYers may love the art of the craft but a pro can help an owner decide what steps will enhance—or hurt—the market value of your antiques.
Will Restoring Antiques Ruin Their Value?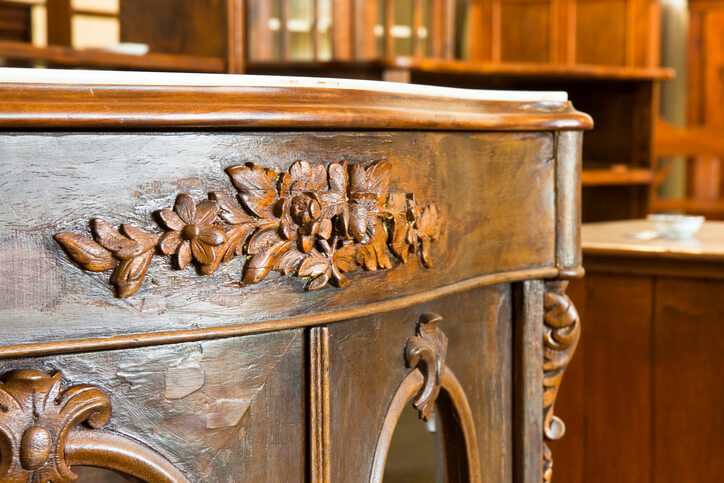 If you suspect you own a high-value or museum-quality piece, have it looked at by a licensed appraiser who can verify its value and authenticity. "You need to do that to have it insured if it is a high value piece anyway" says Hillmann. By doing so, you're also uncovering necessary information that can help you decide what steps can help preserve the value of a precious antique.
If you own a museum-quality antique table, for example, you may want to have it conserved, instead of restored (and not refinished, which is the most invasive method of the three). "Anything a conservator does to a piece has to be completely reversible," says Marshall Young, owner at Astonish Restoration in Roanoke, Va. "If it's a little candlestick table and the leg broke off, you have to glue it back on, but you have to do it in a way where the leg and the glue can be removed at a later time."
It's when you restore a high-value piece, instead of conserve it, that participants on shows like Antiques Roadshow learn the shocking news of their heirloom's drastic decline in value.
Refinishing Antiques
Many antiques are beyond use without restoration or even refinishing. "If you do restoration work, the goal is always to leave the inherent value of an antique untouched," says Hillmann. Even so, "if someone spills nail polish remover all over an antique dining room table, you have to repair it. In that case, it's not the restoration that decreases the value of the piece, it's the spilling of the nail polish. That's the damage that made the restoration necessary."
Antiques damaged by fire or water could require more than mere restoration work. That's where refinishing could be beneficial, even though the act is often not the first choice of experts on antiques reality TV shows.
If you don't know the value of your piece, or even if the piece is monetarily valuable, Hillmann recommends a consultation with a restoration expert, like himself. "Generally, we try to educate the client about their best choice," Hillmann says. That could be a visit to an appraiser, a conservationist, or even to another restoration professional who specializes in the type of repair needed for a particular piece or type of damage. "One of the best qualities of the people in the refinishing business is that we'll walk away from a job if we're not qualified to do it. We get a lot of calls from other shops who receive fine antiques they're not comfortable working with."
Should You Restore Your Antiques?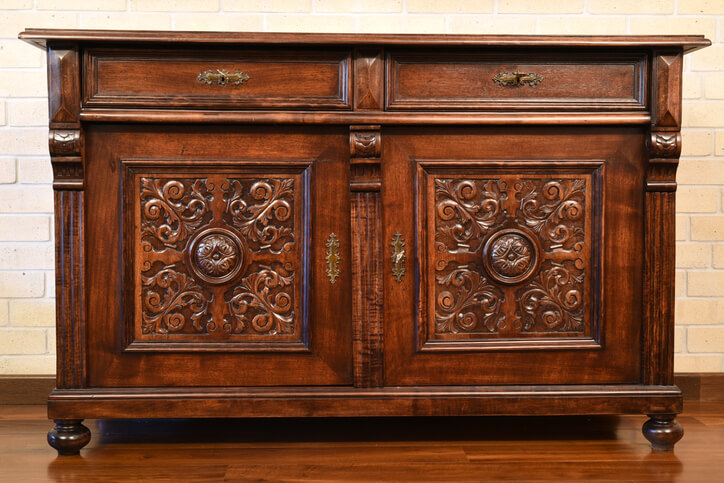 When making restoration decisions, it's important to identify the value of a piece and the reason for planning the restoration.
"If it's a piece with historical significance or from the 18th century or earlier, you'd want to hire a professional conservator," says Young. When it comes down to it, he says restoration choices are up to the antique's owner. "If it's been in the family for generations and will remain in the family, who cares if you want to change the finish? Change it. You're living with the piece and whether it's being used is the main thing."
What Decorator Value Means
There are not a lot of period antiques on the street. Hillmann previously worked for one of the top antiques dealers in the southeast U.S. and, even with that background, the majority of his work has been on pieces with sentimental or what he calls "decorator value" (for example, a late 19th century settee with replacement legs or an otherwise high-quality hardwood dresser that's suffered damage). These flaws in otherwise fine antiques are "why they are on the market for less than $300,000," says Hillmann.
Preserving the integrity of these and other high-value pieces often comes down to taking a less-is-more approach. In general, anything that changes or minimizes the original character, style or tone of a piece can decrease its monetary value. In short, clean instead of strip. Repair instead of replace. Proceed with caution and do nothing unless you're sure.
What about those non-monetarily valuable yet sentimentally precious antiques? "Sentimental value is 100% in the eye of the beholder and it varies from person to person," says Hillmann. "People will ask me, 'It costs $1,000 to repair this item but it's not worth that amount. Should I do it?' but I can't answer that. It's an individual question and it's for each person to decide."
How To Decide
To assess the condition of your antiques, and to decide if it's time to plan a restoration project, consider:
Sturdiness. You can take some pieces apart and reglue them to enhance strength.
Finish. A painted finish could mean a previous owner was trying to cover up a dent or stain. It may not be worth the time to restore painted pieces.
Materials. Pieces built before the 1960s are generally built from solid wood materials. More modern pieces or those made from manufactured materials like laminates are often not worth refinishing.
Still, it's not always easy to know when to shell out the money for a professional restoration and when a little DIY elbow grease could do the trick. You should consult an antiques restoration expert if you answer yes to any of the following:
Does this piece hold monetary or historical significance?
Is the piece damaged beyond use in its current state?
Am I concerned about the monetary value of this piece (either today or in the future)?
Does this piece hold sentimental value that will be diminished (or enhance!) if the integrity of this piece is altered?
How to Restore Antiques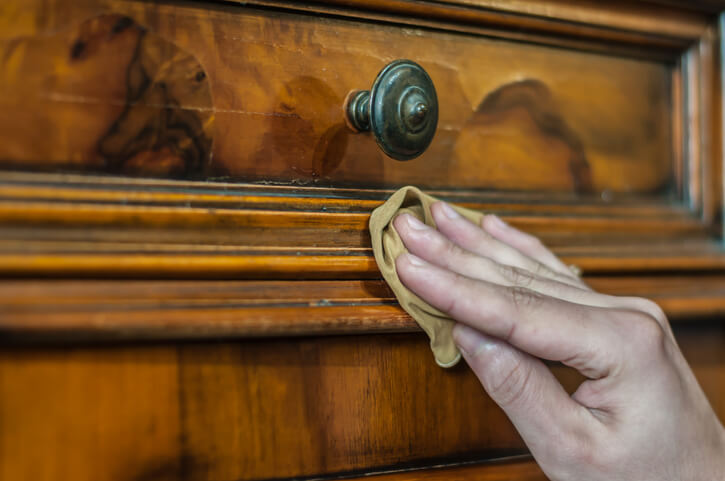 When caring for your antiques, "the main thing is to stay away from furniture polishes like Pledge that contain silicone," says Young.
Hillmann agrees: "Those products collect more dirt, which then causes your piece to collect more dirt." Instead, Young recommends the following:
Choose an inconspicuous spot on your piece—like the side or back of a chest of drawers. Then wipe with a simple damp rag. Check to make sure you're wiping away dirt, and not a finish. The goal is always to maintain the integrity of the original piece, whenever possible.
If the damp rag is insufficient and you need more power, add a drop or two of Dawn dish soap in a bucket of water.
If your project requires an even stronger agent, add a small amount of mineral spirits to the bucket. This helps to get rid of grease. Be sure to rinse your cloth between each use.
For tougher dirt, consider a Scotch-Brite pad or a magic eraser—"something non-abrasive," says Young. "Once you start in on cleaning the piece, you can tell how hard you can scrub without removing any finish."
Once your piece is clean, apply a light coat of paste wax. This will add sheen to solid wood furniture without doing any damage (as silicone-based sprays can).
When to Use a Professional Restorer
For more challenging antiques projects, Young says success often comes down to a restorer or refinisher's skill level and availability of materials and tools. For DIYers, "I don't mind if someone wants advice on what to do. I don't mind answering questions. There's so much information out there, on YouTube and online, that it can be scary for a novice. If a hobbyist gets in too deep, they can always come in for help."
Professional restorers have access to workshop space and tools that aren't available to the typical weekend warrior. "I have a spray gun and a spray booth," says Young. "If someone is at home, brushing on a finish, it takes a lot of skill to make sure you don't have a bunch of brush streaks on the finished piece. You also need a space that's dust free while you work and also while the piece cures." A dusty work space, he warns, can lead to a good deal of rework, including unexpected sanding and buffing, to eliminate the dust from a finish.
Hillmann also warns that some stripping agents can only be bought commercially, so they aren't available to antiques refinishing hobbyists. "Some of the chemicals used in the restoration process can also be harmful," he warns. "Safety gear should be worn, including masks and gloves. Also, make sure there is proper air flow within your environment."
Young loves what he does but he does want hobbyists to know: "It's a lot of work." That doesn't mean someone can't do this at home, but "they should know what they're in for."
You can find a professional antiques restorer through an online trade site, like Professional Restorers International. To DIY, look for online tutorials created by antiques restoration masters, who have been in the business for at least a decade.
What tips and tricks have you learned when conserving, restoring, or refinishing your antiques? Let us know in the comments below.
Your experience may help another antique lover maintain a treasure or bring a cherished piece back to life.