Just because the air is chilly and you're sporting your favorite sweater doesn't mean that you have to miss out on nutrient-rich vegetables during winter months. From hearty stews and soups to roasted veggies, winter produce can liven up meat and pasta dishes. Winter vegetables are equally delicious in vegetarian entrees or sides.
If you've cultivated your own vegetable garden and live in a warmer climate, you may be able to harvest certain winter vegetables that you planted in the summer or fall in the early weeks or months of winter. Do you live in a region where the winter arrives early and sticks around for months? No worries. You'll still find a wide array of winter vegetables in the grocery store produce aisle.
The table below lists common winter vegetables and the top nutrients each provides:
| | |
| --- | --- |
| Winter vegetables | Nutrients |
| Acorn, spaghetti, pumpkin and butternut squash | vitamin A, vitamin C, potassium |
| Beets | vitamin A, vitamin C, calcium, potassium, magnesium, sodium, folate, betaine, carotene, folate |
| Brussels sprouts | vitamin A, vitamin C, vitamin K, potassium, phosphorus, magnesium, sodium, folate |
| Carrots | vitamin A, vitamin K, carotene, potassium, sodium |
| Sweet potatoes | vitamin A, vitamin C, potassium, sodium |
| Cauliflower | vitamin C, potassium, sodium |
| Broccoli | vitamin A, vitamin C, vitamin K, lutein and zeaxanthin (excellent for eye health), potassium, phosphorous, magnesium, sodium |
| Collard greens | vitamin A, vitamin K, vitamin C, carotene, lutein and zeaxanthin, calcium, potassium, magnesium, phosphorous, folate |
| Swiss chard | vitamin A, vitamin K, vitamin C, calcium, potassium, magnesium, iron, folate, sodium, carotene, lutein and zeaxanthin |
| Kale | vitamin A, vitamin K, vitamin C, calcium, potassium, magnesium, folate, carotene, sodium, lutein and zeaxanthin |
As you can see, winter veggies are packed with essential nutrients that promote overall wellness and healthy aging. Continue reading for four winter recipes that make the most of winter vegetables on winter days or nights.
Spaghetti Squash with Goat Cheese and Tomatoes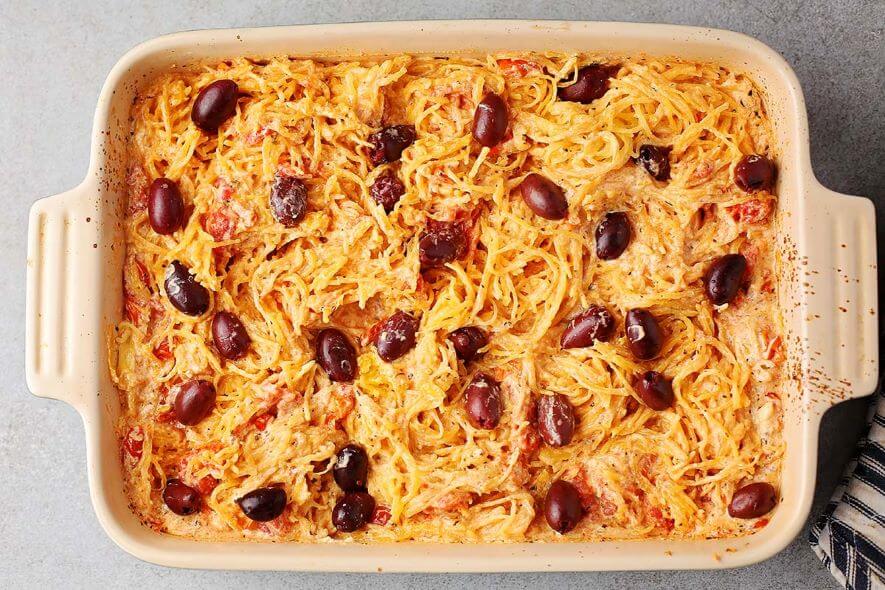 This nutritious, gluten-free, low-carb recipe from Natalia Thompson and Flavorful Home combines spaghetti squash, goat cheese, Kalamata olives, and tomato sauce from grape tomatoes for a healthier alternative to traditional pasta dishes.
"Spaghetti squash is a great winter vegetable for various health benefits to incorporate into your meals. It's rich in essential nutrients like vitamins A and C and is also a great source of dietary fiber," says Thompson. This recipe appeals to those wanting to add more plant-based food options to their diet, she says.
But it also appeals to anyone craving a tasty pasta dish that's easy to throw together for a delicious lunch, dinner, or side dish.
"This dish is versatile and easy to prepare. You can personalize this recipe to suit your taste by adding herbs, spices, or additional vegetables," says Thompson. If you prefer a meat dish, add leftover rotisserie chicken or Italian sausage.
One Sheet Pan Maple Dijon Pork Chops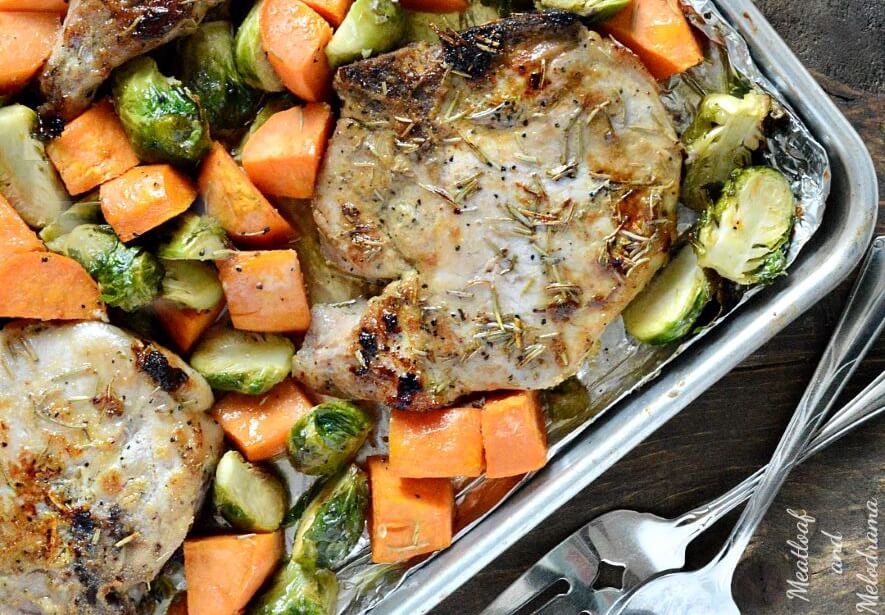 This easy-prep recipe from Dee Martin at Meatloaf and Melodrama makes a delicious meal on a winter night, pairing Dijon mustard and maple syrup pork chops with vitamin-rich Brussels sprouts and sweet potatoes.
"Sheet Pan Pork Chops with Sweet Potatoes and Brussels Sprouts is a simple, healthy meal that cooks on one pan for easy clean-up," says Martin. "This is one of my favorite meals to make in cooler weather because it features winter veggies and maple mustard pork chops, plus it only takes about 30 minutes to cook."
Martin recommends prepping the sweet potatoes and Brussels sprouts early in the day to save time. You might also find the veggies already cut and packaged at the grocery store.
Cozy Beef Stew with Winter Greens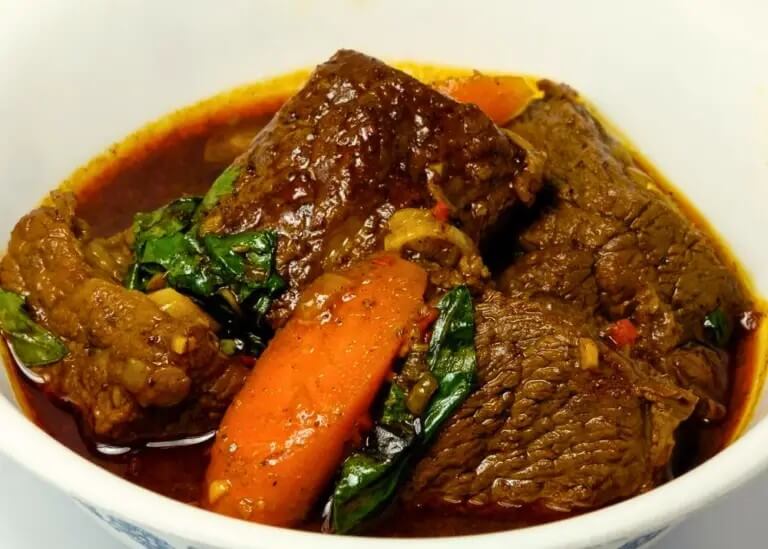 This hearty stew recipe from Jakob Miller at Barbecue Pals combines tender chunks of beef with carrots, onion, and the nutritious winter greens kale or Swiss chard in a beef broth. Add an optional cup of red wine for more complex flavors and deepened undertones.
"The beef becomes incredibly tender through slow simmering, absorbing the savory goodness of beef broth and, if you opt for it, red wine," says Miller. "But what truly sets this dish apart is the addition of winter greens. These greens add not only a delightful texture but also a healthy dose of nutrients like iron and vitamin K, making this stew a nutritious choice."
Harvest Sheet Pan Dinner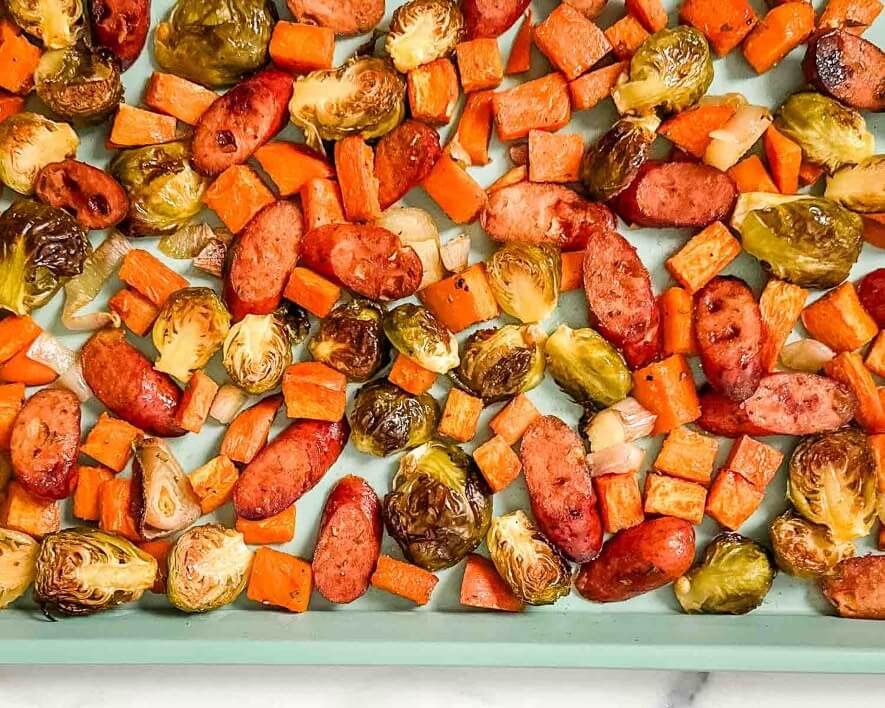 Sweet potatoes and Brussels sprouts are paired with chicken apple sausage, roasted shallots, and a hint of rosemary for a delicious winter meal in this recipe from Gen La Rocca at Two Cloves Kitchen.
"This sheet pan dinner is a great use of winter produce like caramelized Brussels sprouts and velvety sweet potatoes," says La Rocca. "It's an easy recipe that's packed with flavor and ready in just about 30 minutes."
Cooking in a Winter Wonderland
Now that you have a handful of recipes using winter vegetables, try your hand at the ones that appeal to you most. Maybe you'll even come up with a few tweaks or additions of more winter vegetables to make these dishes even more delicious.
Do you have favorite winter recipes to share with other readers? Tell us about them in the comments!