After a long winter of bland tomatoes and so-so berries, you're probably craving ripe fruits and vegetables in season for healthy summer recipes.
Whether you plan to pick summer veggies and fruits from your own garden or shop at the local farmer's market, lots of fruits and vegetables are at their peak during summer months.
Summer fruits and vegetables offer more than just a treat to the taste buds. A diet rich in fruits and vegetables may also lower your risk of stroke, heart disease and heart attack and protect against certain types of cancer, according to the U.S Department of Agriculture.
In fact, the USDA recommends eating one-and-a-half to two cups of fruit and two to three cups of vegetables per day as part of a healthy diet.
The list of fruits and vegetables that are ripe all summer long includes:
Green beans
Bell peppers
Tomatoes
Corn
Okra
Watermelon
Blackberries
Zucchini and other summer squash
With that variety, there's no shortage of healthy summer recipes to try. And even beginner cooks can put together these four easy summer salads, sides and dinner recipes in a snap.
Chicken Stuffed Peppers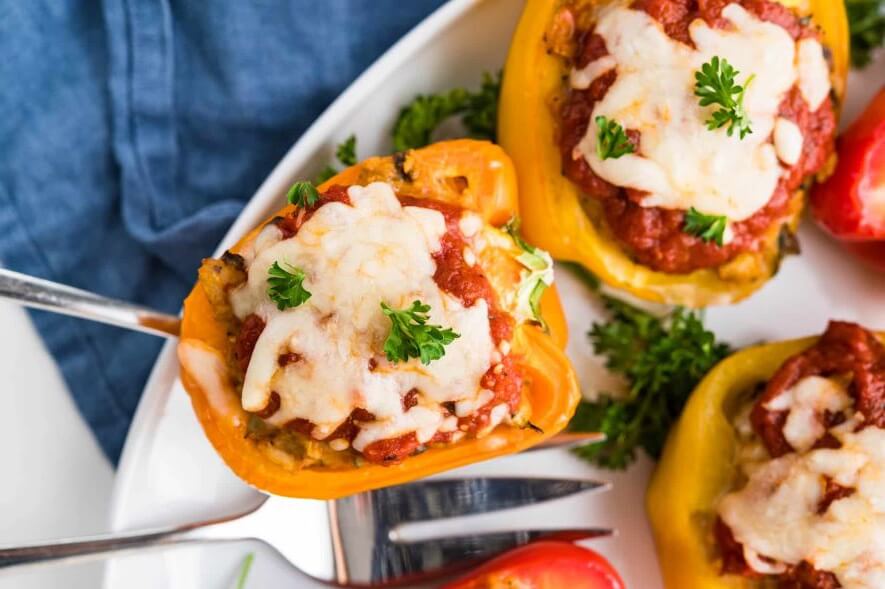 If you're looking for a healthy alternative to ground beef stuffed peppers, you'll find it in this recipe from Lisa Lotts and the Garlic & Zest blog. These chicken stuffed peppers are loaded with onion, zucchini, garlic, bell peppers, mushrooms and a homemade marinara sauce from pureed tomatoes.
The recipe takes under an hour to prepare for a quick lunch or dinner. Grated zucchini, chopped onions and minced mushrooms in the chicken filling help keep the chicken moist and tender, Lotts says.
"These chicken stuffed peppers are a lighter, healthier version of the original," Lotts says. "They're perfect for summer because they only need 20 minutes of prep, and they fill you up without filling you out."
Once prep is complete, slide these peppers into the oven for 30 minutes for a tasty summer meal.
Watermelon Strawberry Bocconcini Salad with Basil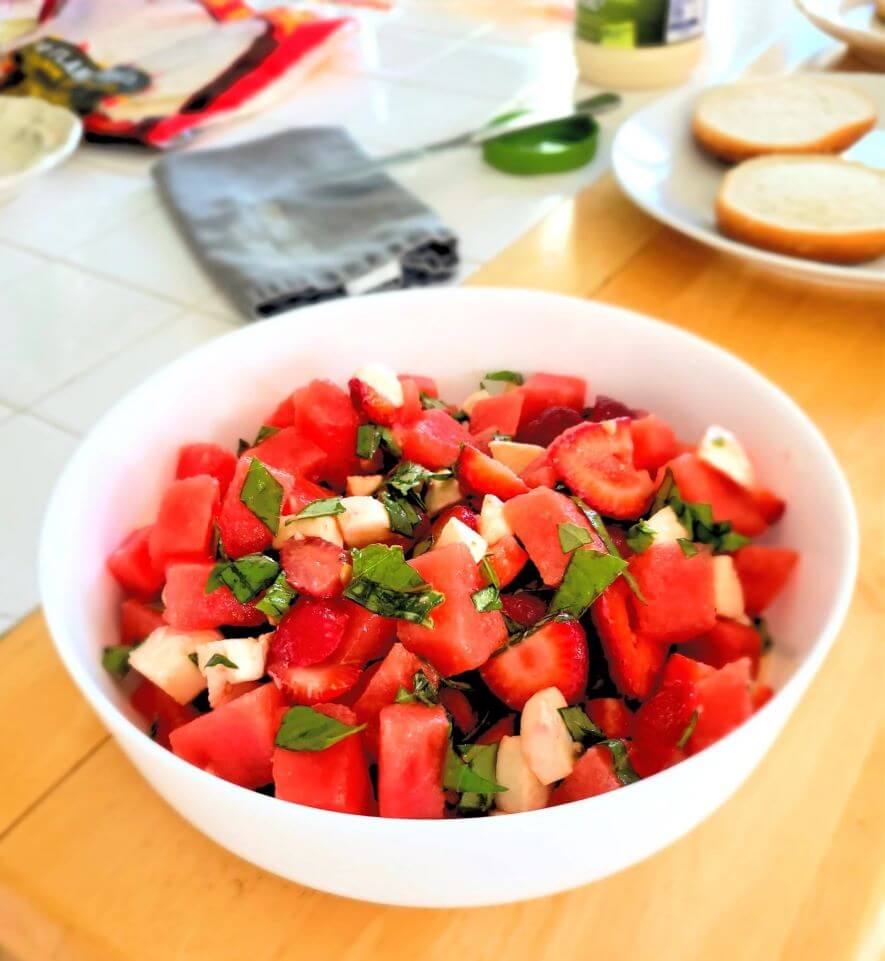 This fruit and cheese salad recipe comes from Colleen Woods and the Zest Nutrition blog. Watermelon, strawberry and basil blend with bocconcini (small, mozzarella cheeseballs) to create a light and juicy fruit salad that's perfect for cooling down on hot afternoons and evenings.
The summer salad is packed with nutrients that support better health. Watermelon contains antioxidants that slow cell damage and non-protein amino acids that help repair body tissue and regulate blood pressure, according to the USDA. Strawberries are an excellent source of antioxidants, fiber, Vitamin C and manganese, a trace mineral essential for normal nerve and brain function and forming connective tissue.
"Watermelon Strawberry Bocconcini Salad with Basil is a delicious summer side that helps provide hydration during the hot and humid days," Woods says. "With only five ingredients, the dish comes together in about 20 minutes and offers an alternative to the familiar lettuce-based salad."
Summertime Chopped Veggie Salad with Creamy Shallot Vinaigrette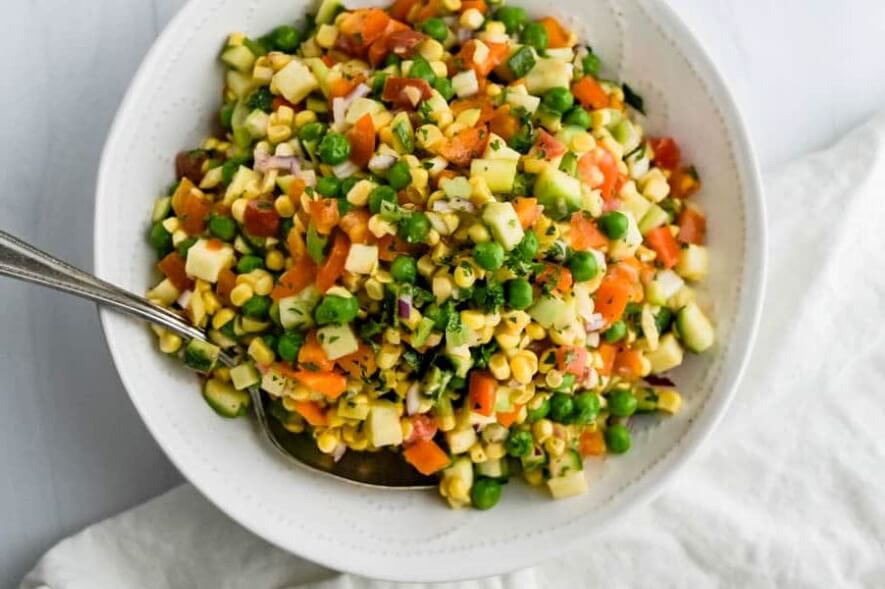 This recipe from Lisa Lotts and Garlic & Zest is loaded with fresh corn, zucchini, tomatoes, bell peppers, celery, scallions and red onion and takes only 20 minutes to prepare. Better yet, you don't even need to turn on the stove to prep this dish.
"This chopped veggie salad is perfect for summertime because it uses fresh garden vegetables when they're at their peak," Lotts says. "The vegetables only need a quick chop. The creamy shallot vinaigrette is lightly tangy and lets the flavors of the vegetables shine through."
For variety, toss in frozen peas, which thaw quickly in the salad. To turn this salad into an easy dinner, simply add protein with shredded or chopped rotisserie chicken.
Summer Fregola Sarda Pasta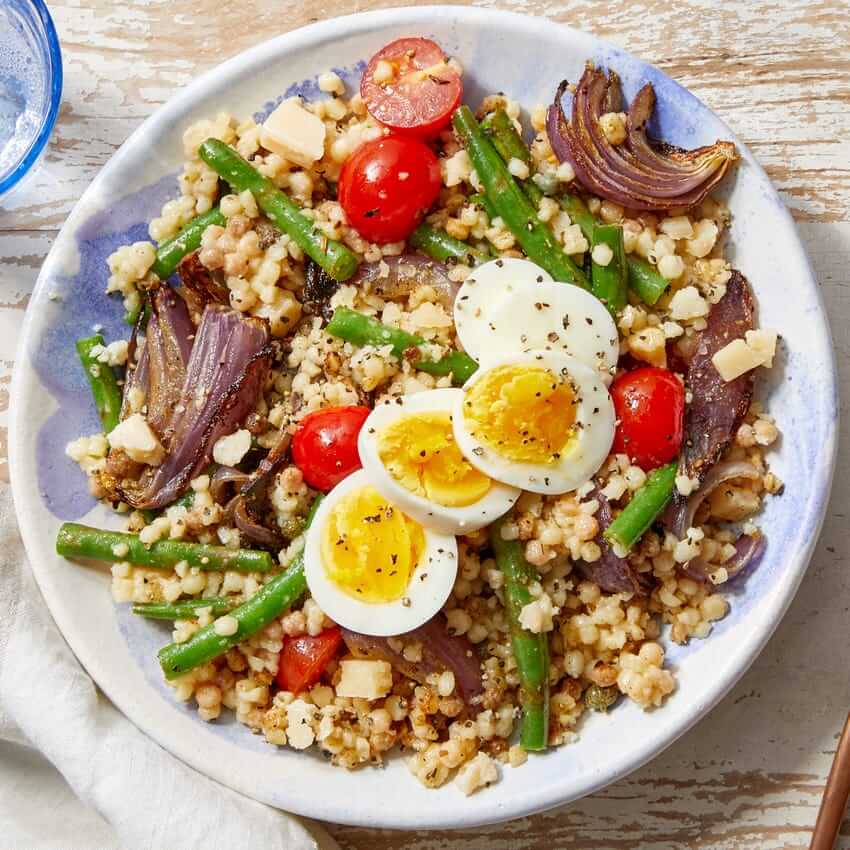 This Italian-style pasta recipe from home meal delivery company Blue Apron is a tasty mix of green beans, tomatoes, capers and roasted red onion. The dish is made with fregola sarda pasta, a Sardinian pasta with a nutty flavor and texture similar to couscous.
Loaded with Vitamin C, Vitamin A, calcium and iron, this pasta and veggie dish is seasoned with a Tuscan spice blend of whole and ground fennel seeds, ground rosemary and ground sage. Top the salad off with Grana Padono cheese, which tastes similar to Parmesan, and a tangy, creamy mustard dressing.
The recipe's creamy mustard sauce arrives premade to home delivery customers. But you can whip the sauce up yourself, using equal parts of mayonnaise and mustard, says Chef John Adler, head of culinary at Blue Apron.
Take Your Pick of the Summer Harvest
Now that you have some ideas for healthy summer recipes, it's time to head to the garden, produce aisle or farmer's market to stock up on summer fruits and vegetables that pack a nutritious punch.
Do you have a favorite summer vegetable recipe? Share with other readers in the comments! Then try your hand at one of these recipes to make the most of the summer harvest.
Want more recipe ideas? Check out these articles: