Moving to a new home across the country can be overwhelming. Relocation comes with all kinds of stress, but with a few moving across country tips, you can streamline your move cross country.
The Extra Mile wants you to know the best way to move cross country, so you can spend less time planning and transporting, and more time loving your new home. If you're confused about renting a moving truck, tipping, or transporting your household across the country, these moving across country tips will save the day!
Long Distance Moving Tips
The moving across country tips in this section address relocation several states away. If you're moving even farther, don't worry – we have additional tips relating to the best way to move cross country below.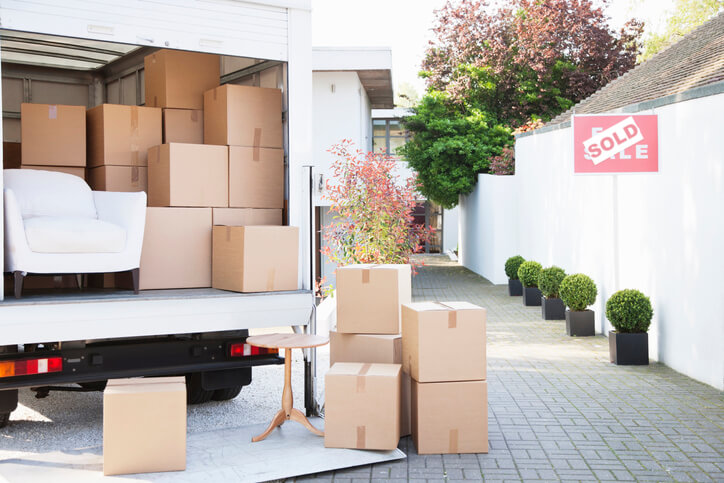 Determine If Your Furniture Will Be Moving to New Location
One constant dilemma of moving is the choice between bringing your bulky, heavy furniture with you (which usually involves professional movers) or leaving it behind and starting fresh in your new home. There are numerous factors that go into determining which choice is cost-effective and right for you. Consider:
The price of hiring movers compared to that of renting a truck or traveling light and taking only what you can fit in your own vehicle(s).
What you could realistically get for your used furniture , and how much any new furniture you'd want for your new place would cost.
Whether you will need the same items in your new place as you do now (a smaller home or different climate might mean different furniture anyway.)
Of course, if you love your décor and can't imagine parting with it, the choice is easier, unless the cost of transporting is prohibitive.
Determine if You'll Drive or Fly for Your Long Distance Move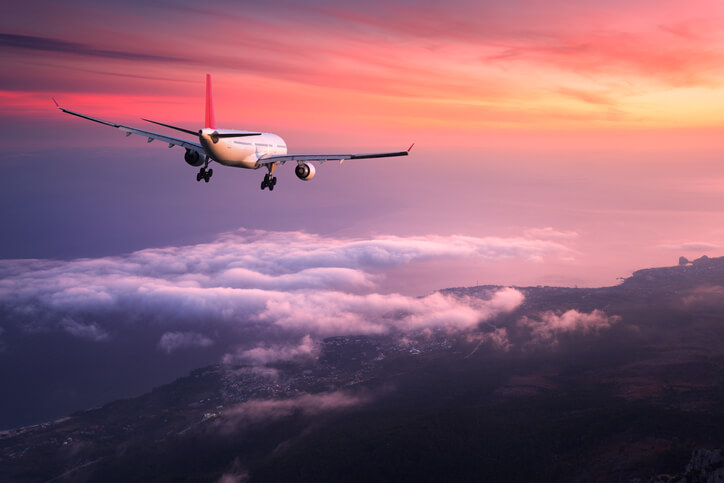 One of the best ways to move cross country is to determine whether you will fly and ship your car or drive to the new location.
Do you have a free week for a semi-leisurely cross-country drive, or would you have to make the trip in three rushed days?
Beyond plane tickets versus gas and hotel stays, add up transportation to and from the airport and the price of having someone move your car.
If you decide to fly, you can have your car shipped by a company that specializes in moving vehicles or driven by an individual with time to make the trip.
Keep in mind that your car will arrive days after you do.
Make sure you're properly insured for either option.
Schedule Appointments Into Your Timeline
When planning the timeline of your move, factor in any appointments you need to make and people you want to see one last time before you go. If you need to see your current doctor, or get together with friends, schedule this ahead of time or else you might run out of time in the whirlwind of the moving process. You might want to plan a going away gathering, or simply set aside some downtime to spend with family and friends prior to moving. Put these meetings on your moving calendar and arrange for them to take place about a week before you leave.
Work-Related Relocations May Be Tax Deductible
This is true even if you are self-employed. It's a good idea to hang on to moving-related paperwork like bills, receipts, and proof of mileage driven. If your move meets IRS requirements relating to the timing of the relocation and distance from your workplace, you can deduct some of the costs of your travel, the transportation of your belongings, insurance, setting up new utilities, and more. Because tax laws change, check with the IRS or your accountant for updated information before you file.
Research Local Resources in Your New Community
Start with your municipality's website as well as local newspapers, blogs, and social media groups. Your town might have an official (or unofficial) Welcome Wagon-type outreach program for new residents; if not, local meetup groups are another popular way to find out what's happening in your neighborhood or town once you're settled in.
Manage Your Pet's Long Distance Move
Prepare an overnight kit with everything your pet will need during the move.
If you'll be driving long distance with your pet, keep your pet safe while driving; begin acclimating them to driving, being in their carrier or crate, and so on in the months and weeks leading up to the move. Keep your pet secured along the way to prevent escapes in unfamiliar places during your road trip.
Before you leave, obtain your pet's health records from your vet. When you arrive at your new home, establish a relationship with your new vet and get your pet's information updated.
Familiarize yourself with your new state's laws and local ordinances regarding pets; for example, you may need health certificates, rabies tags, or permits.
Relocation and The Best Way to Find the Perfect Place Long Distance
If you live too far away to physically tour houses or apartments yourself, you can still find the perfect place. It just takes a little extra work, and not only on your part. When searching for a home from afar, find a real estate agent who will take plenty of time to communicate with you, send you pictures and video of your options and in some cases, you may be able to experience a virtual reality tour. It's the closest thing to being there. If you have a friend or family member who lives in the area and can scout neighborhoods for you, that's great too. If not, Google Maps can provide a virtual tour (just remember some images may be outdated.) Start out with a detailed list of what you want and what you don't. When you can't get a personal feel for a house or neighborhood, you must rely more on requirements (e.g. three bedrooms) and deal-breakers (e.g. too far from work) to make the decision.
Long Distance Moving Tip: You can always rent for six months to a year before you buy in an unfamiliar place. This will help you get a feel for the community before committing to a mortgage.
Keep Your Previous Home Safe
A sometimes overlooked relocation tip is if the home you're moving out of is still on the market, you can help keep it safe and deter burglars by making it appear as if the house is inhabited. Consider smart home technology solutions to turn on lights and adjust blinds with timers.
Make the Decision: Truck Rental vs. Moving Container
If you're debating the benefits of renting a truck versus using a moving container company, make sure to consider moving costs, timing, and your individual circumstances.
Renting a truck might save money and grant you more freedom in some ways, since it's a fully DIY process, while a container can give you more time for packing and loading your things. If your home has a driveway, a container will be more convenient; if only street parking is available, it may not be the best option. And factor in costs like tolls, fuel, and rental fees when considering driving yourself or hiring professional movers to do it.
What to Tip Your Long Distance Movers
Make sure to include a tip for your movers in your cross country move budget. Moving etiquette is divided on whether to tip per hour or as a percentage of the overall charge, and ranges from between $20 and $100 to between 10% and 20% per mover, mostly depending on the time it takes to load and unload your things. What's considered the standard rate for a relocation service may vary regionally, so do some research based on what part of the country you're in and whether you live in a rural or major metropolitan area. Tip more for exemplary service or if your move was particularly complex or strenuous. If possible, tip each mover individually rather than counting on the foreman to divide it up.
Mark Moving Boxes with Your Information
If you're using a long distance moving company, you'll need to label your boxes with your name in addition to their contents. Long distance movers may transport your stuff and another client's in the same truck, so make sure your boxes are clearly marked with your information to prevent them from being sent to the wrong house.
Prepare to Live in Your New Home Before Boxes Arrive
Because of all the complex factors that can impact a long-distance move compared to a local move, your moving company will probably not be able to provide a precise arrival date. Instead, your contract will include a move-in window, sometimes up to 20 business days. Expect to be living in your new home for that long and, to be safe, slightly longer, before your things arrive. If you've arranged to stay in a temporary location like a relative's house or hotel, be aware of how long you might need to remain there. Bring enough clothing, food, and necessities with you to get through that window as comfortably as you can.
Keep All Your Relocation Related Receipts and Documents
As hectic as moving can be, don't forget to read everything you sign and to keep documents, like your truck rental agreement, and receipts for any last-minute home purchases in your moving binder. To have a stress free long distance move, it's a good idea to hold on to these for tax purposes, in case you have to return or exchange anything, or in the event that you need to dispute a charge.
Moving Tips for the Best Way to Move Cross Country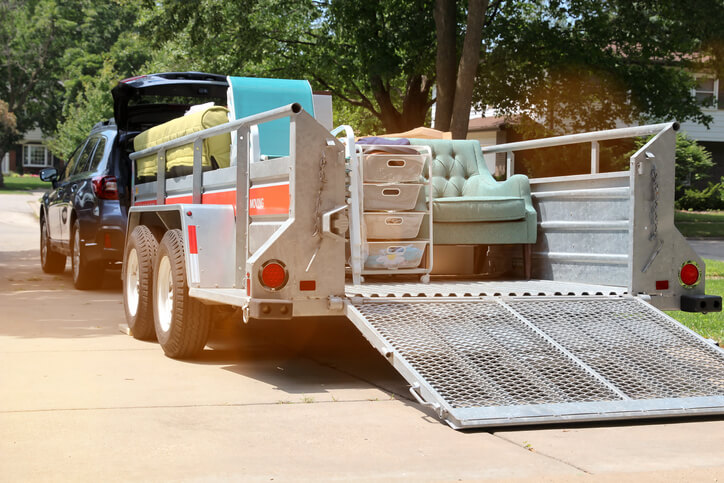 Packing and Loading Your Car for a Move Across Country
If you're able to, relocating with your car may be the cheapest option for long distance moving. Pack as many of your belongings in it as you can. If you're moving long term – consider selling furniture and purchasing other furnishings once you arrive. If you'll be staying in hotels along the way, choose locations and parking spaces with security in mind.
Hiring Movers for Moving Across Country
One of our tops moving across country tips is to hire professional movers to transport the bulk of your belongings. Some situations in which you might decide to D.I.Y. are if you're moving with very few possessions (i.e. you only must move yourself and what fits in your car), or if you are very experienced in driving rental trucks long distances. Though long distance movers aren't cheap, don't assume moving yourself will cost much less – factor in the time it will take you and the costs of travel and time off work. To find movers you can trust, ask around – your friends or even your realtor might have experience with reputable companies. Get quotes from several companies to compare prices and find out what the terms of your contract with them would entail; a seemingly lower price might simply include fewer services.
Communicate Effectively with Your Across Country Movers
Know when all payments are due and what method of payment is accepted (typically, payment is required prior to unloading items.)
Make sure the movers know the exact address of your new home and/or storage unit.
Exchange detailed contact information with your movers and provide your cell number in case any questions arise during moving.
Inspect Items Before Moving Across Country
Before packing up certain items, make sure they are free of larvae, fungus, mold, bug infestations, and so on. Belongings to check include:
Outdoor furniture
Other outdoor items (garden decor, birdhouses, etc.)
Items stored in the basement or attic
These items may be moved in the same truck as your bedding and kitchen items, which could be ruined by any kind of infestation. Inspect each item closely, including the undersides of furniture and any hidden areas. Clean items well and thoroughly dry them before wrapping them in plastic. If you have any doubts, leave the items behind or find a way to move them yourself, separately from your other belongings. If your belongings do become infested or damaged in any way during the move, check with your insurance company to see whether professional cleaning or replacement is covered.
If Your Items Are Damaged During the Move Cross Country
Interstate moving companies are regulated by the Federal Motor Carrier Safety Administration (FMCSA.) Per these regulations:
Movers will cover your items based on weight
If your items are damaged during the move, they'll reimburse you for $0.60 per pound per item.
They must also offer you additional valuation coverage for an extra fee. This ensures that your items are protected for their actual value. (However, this protection is not insurance.)
Read up on the FMCSA's consumer rights and responsibilities, which your mover must inform you of. (The FMCSA also provides tips on how to protect yourself from moving fraud.)
Check Certification Laws
If you'll be looking for work after your relocation, in addition to making sure you have copies of your existing certifications (as mentioned above), check the laws for your new location. Different states may require different certifications for your profession.
Professions such as the following often require different certifications for different states:
Lawyers
Doctors
Teachers
Aestheticians
Interior designers
Check Local Economy and Crime Rate Before Moving Across Country
Economic information should be available on the websites of the relevant state agencies where you are moving. When researching crime, look for reputable sources, like law enforcement and local newspapers; also talk to current residents to get an accurate picture and avoid misleading statistics. These facts are helpful to know if you'll be searching for a house, apartment, or new job, and simply to understand what life is like in your new location. But don't let numbers alone put you off; a seemingly stagnant regional economy might be booming in your industry, and a city with an overall high crime rate may have many safe neighborhoods.
Find Temporary Housing Before Cross Country Moving
In some situations, you may need to move out of your current home before your new home is ready to live in. This might be because your new house needs serious renovations, or your closing date does not line up with the date of your move. In these cases, you'll need to look for temporary housing.
Option 1: Stay in a hotel (look for suites or extended stay hotels where you can cook and do your laundry) and or short-term vacation rental. Inquire with local real estate agencies for rental options.
Option 2: If you're moving to be closer to family, staying with them might be a possibility depending on space and the length of time involved.
Option 3: If you're being relocated for your job, your company may be able to find you temporary housing.
Consider Renter's Insurance to Protect Your Belongings
If you owned a home for many years, the idea of renter's insurance may be new to you, but it's important to know that your landlord's property insurance policy only covers damage to the building, not to your home contents. If you're moving to a new apartment, or renting before buying, a renter's insurance policy is crucial.
---