Packing up your house for a move can be stressful and time-consuming. With some clever packing tips for moving your life and your family however, the moving process can be simplified and efficient. Check out The Hartford's list of top moving packing tips and tricks and feel prepared for the big pack!
Moving Packing Tip And Tricks – The Ultimate List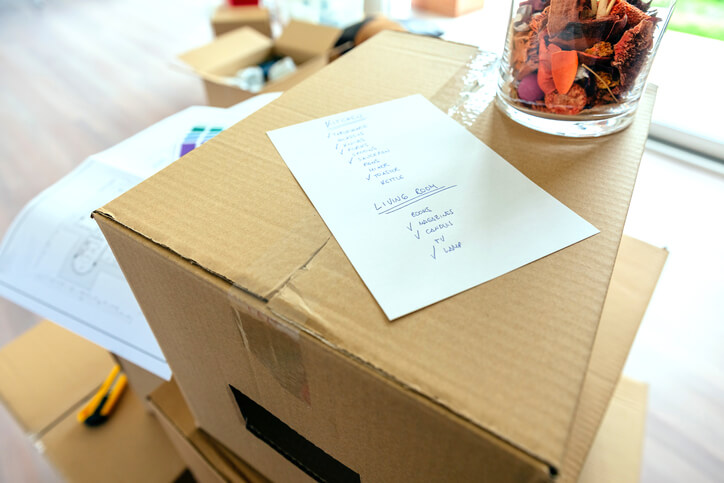 Purchase all Your Moving Supplies Before You Start Packing
Unless you're hiring a full-service moving company who will do everything for you, you'll need:
Various size boxes (don't forget small boxes – you can't put everything in big ones!)
Sturdy packing tape
Markers
Rubber bands
Packing materials such as newspaper, bubble wrap, tissue, or packing peanuts
Optional: plastic wrap (great for wrapping large dresser drawers shut for transport)
Stock up on Cardboard Boxes with Handles
These are much easier to lift. If you don't already have pack boxes without handles, it's easy to make them yourself. See below for a DIY packing tip:
Just draw two rectangles, about four inches long by two inches high, on opposite sides of each box.
Cut out the rectangles with a box cutter, and voila – instant handles.
Place your handles wherever feels most comfortable to you but take care not to cut too close to the top of the box, as that will risk tearing the cardboard when you lift the box.
Get Free Boxes for Packing
Check out networks like Freecycle or Craigslist for free boxes.
Social media can be helpful too – if your neighborhood has a Facebook group, start by posting there.
You can also ask whether extra boxes are available at businesses like grocery stores, offices, liquor stores – their boxes are clean and perfectly sized for packing glassware – or even at your local recycling center.
Let your friends, neighbors, and others in your community know you're about to start packing – someone in your circle might be waiting for a chance to dispose of a stash of supplies from their own recent move.
Check apartment buildings or dorms during the prime moving season, usually summer.
If convenience is more of a priority than price, you can buy boxes at office supply stores, home stores, retail shipping locations, or online.
Packing Tip: Don't use boxes that are torn, damp, or otherwise weakened. Check out the seams, where boxes tend to wear out first. Don't worry about existing labels or writing on the boxes; these can easily be covered with your own labels when you are labeling each box.
Label Your Boxes by Room When Packing
One of the best and easiest packing tips for moving is labeling each box once you've filled it. This will make for easier packing, loading, unloading, and unpacking. You may also want to inventory the contents of each box on a separate sheet of paper. Make a copy of the paper and tape one to the box. Keep the other copy in a folder that you can check after you've moved in to make sure you have all your items.
How to Pack Curtains and Carpets
It costs a little bit, but if you take your curtains and carpets to a cleaner, they will wrap them in plastic and paper after cleaning. This will make it easier to move and keep clean.
If you can't afford to have your curtains and carpets cleaned then keep them wrinkle-free by folding lengthwise, placing over a padded hanger, and pinning them securely before transporting in wardrobe boxes, rather than regular moving boxes.
Curtains may also be folded and placed into plastic bags, then packed in a box lined with clean paper.
To pack rugs and carpets yourself, vacuum and spot clean then roll them up and tie securely with ropes. Rolling carpets prevents creasing and makes for easier packing and transporting.
Don't Pack Away Cleaning Supplies
This is one of the packing tips for moving that people often forget! Clean up after yourself before you leave. On moving day, signal that a room has been completely packed and cleaned by shutting the door or taping a color-coded piece of paper to the wall. Some more moving day packing tips and tricks are below:
Pack and clean high traffic areas last.
Complete dry-cleaning tasks like dusting, vacuuming, and sweeping first.
For best results, clean top to bottom, back to front.
How to Pack Your Houseplants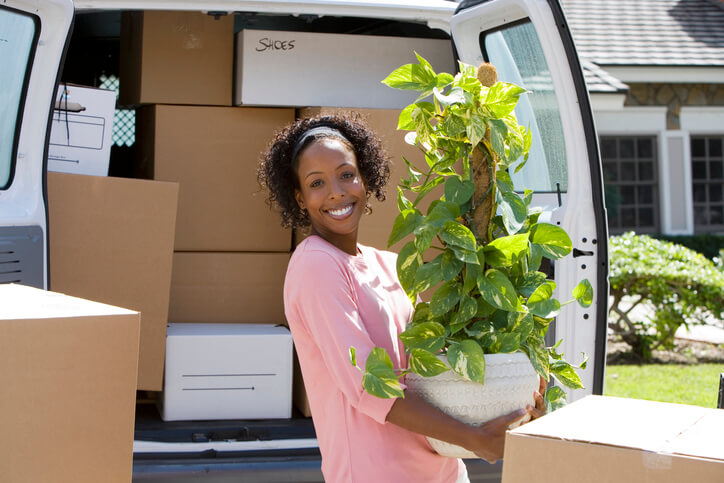 Moving companies may or may not agree to move your plants, so ask about their rules beforehand. You might not want your plants in a moving truck anyway! Research your specific plants' needs in case they require specialized care.
Make sure they can be brought into your new state legally
Pack them in a sturdy box lined with plastic
Pad box with newspaper or foam so they don't tip over
Place them in the back seat – taller plants can go on the floor – and not in the trunk.
Ensure that plants have room to breathe, and don't leave them in a cold car overnight.
Wait to water your plants until you arrive unless they seem especially dry.
Pack Clothes Without Having to Fold Them
Clothes can become disorganized during a move, so one of our top moving packing tips and tricks is to use wardrobe boxes, which allow clothing to be transported on their hangers. If your moving company has great customer service, they may provide these for you, so ask if that's included. If you'd rather pack clothes quickly and easily, and deal with wrinkles on the other side, use unscented trash bags. Don't forget to leave out an outfit to wear for moving day as well as a few more items to get you through the first few days at your new home.
How to Pack Electronics
Move electronics in their original boxes if you have them
Color code your cords and chargers with tape or stickers so you know which ones go with what.
Place small, loose parts in plastic bags, seal them, and tape them securely to appliances.
Use bubble wrap and sturdy tape to protect fragile items. Keep in mind that while it's not cheap, bubble wrap is reusable if you unpack carefully.
Avoid Injury and Practice Safe Lifting Techniques
Take the time to keep yourself and your belongings safe as you pack.
Lift heavy items by bending at the knees and using your leg muscles, not your back muscles.
Be realistic about what physical tasks you can handle alone.
Stay hydrated.
Keep boxes and small tripping hazards like rolls of tape out of busy pathways.
Load fragile items or items with sharp edges first and keep them away from areas with lots of activity, in order to avoid bumping them and damaging the item or cutting yourself.

Reserve a Box for Packing Last-Minute Items
This box…Or bag (or two) will be for those items you'll pack right before you lock the doors for the last time. Keep in mind that for the last day in your old home, and the day(s) you spend moving, you only need to have a minimal amount of your things with you. Imagine you're camping or staying in a hotel, and only keep those items with you that are truly necessary.
Pack a Relocation Essentials Bag or Box
Plan to keep this with you throughout the move. It will function as your personal carry-on suitcase (even if you're not actually flying.) Pack the following:
Clothing you'll need while moving
Snacks and water
Any documents related to the move
Cellphone
Wallet
Glasses
Daily medications
You might also include your laptop, camera, or any other equipment you'll want to access during the move.
How to Pack Artwork and Mirrors
You can buy so-called "mirror boxes" or "picture boxes" designed to hold framed items in place, but you can also transport mirrors and paintings in regular boxes.
Use masking tape on glass to hold it in place in case it breaks, then wrap the frame in paper and cover the corners with cardboard or Styrofoam protectors.
Wrap the whole thing in bubble wrap and secure with packing tape before packing it.
Fill any empty spaces in the box with newspaper and mark the outside of the box to let anyone handling it know that it's fragile.
Artworks without frames can be rolled and placed in a cardboard tube.
If you're using professional movers, consider letting them pack mirrors and other wall décor items for you.
Packing the Moving Truck – First In Last Out
If you're renting your own moving truck, load the items you'll need to unpack first into the truck last and vice versa.
Keep carpets at the back of the truck so they can be unpacked and laid down before furniture.
Pack items tightly to prevent them from sliding around while the truck is moving.
Maximize space by using pillows, blankets, and clothing packed in garbage bags to fill gaps between or above stacks of boxes.
How to Pack Books
If you're moving and you own a large collection of books, you can lighten the load with some simple packing tips and tricks:
Pack multiple boxes half with books and half with pillows or towels.
Pack reusable cloth grocery bags with books; you may find it easier to carry heavy items in bags with shoulder straps than in boxes.
Make Plastic Wrap Your Friend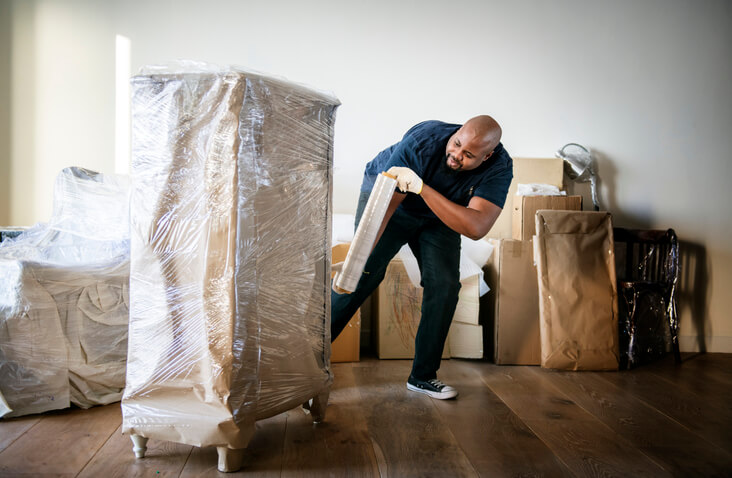 Plastic wrap is one of the best packing tips for moving. Plastic wrap or stretch wrap can be a surprisingly versatile packing material. If you're going to use plastic wrap in your move, buy a large size at your favorite big box store, because you'll probably go through a lot of it. Consider using it to:
Hold dresser drawers shut
Keep protective padding in place
Bundle small items together
Tie cords to appliances
Stop cleaning products from leaking
Protect surfaces from dirt and dust
Take Your Time with Packing Fragile Items
To save space or fill the awkward corners of a box, use tea towels or sweatshirts to wrap fragile items. When packing and unpacking fragile things, prevent breakage by wrapping and unwrapping over a padded surface and taking your time.
How to Pack Jewelry
When packing jewelry and other small valuables, the goal is to protect fragile items and keep them safe. Make sure items are adequately padded, like inside a jewelry box or wrapped in protective material, so they don't become scratched or tangled. Consider keeping these items with you rather than shipping them.
Drain Fuel from Equipment Before Packing
If you're moving any equipment that uses gas or oil, like a lawnmower or grill, drain the fuel before packing. Moving companies will not transport hazardous materials. Use moving blankets to protect equipment during the move, and pack any detachable parts separately to prevent damage en route. Make sure that any large or wheeled equipment is held securely in place inside your moving truck.
Packing Tips for Moving By Room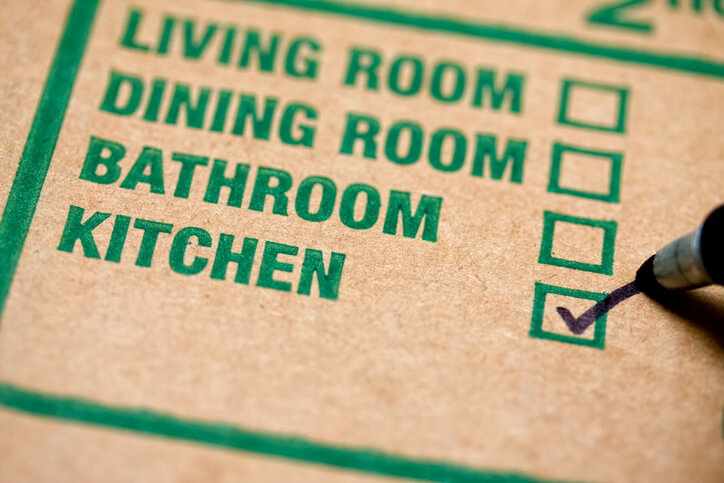 Prioritize Unloading and Unpacking
Assign priority in unloading and unpacking to the boxes containing essentials for the following:
Bedroom
Kitchen
Bathroom
Pets
When you move in, among the first tasks you'll want to do are make the bed, prep the bathroom so you can shower, and set up the kitchen, at least enough to make your first few simple meals. Unpack these three rooms first, along with necessities for your pets, and you'll be comfortable enough to start unpacking further in the coming days.
How to Pack Your Kitchen Supplies
Divide your kitchen supplies into boxes based on what you'll need right away, what can wait a while, and what you can leave in boxes for longer if you choose. You don't want to be rifling through boxes of baking supplies looking for a drinking glass. A great packing tip for moving to keep flatware clean is to wrap them in paper towels. You can then use these towels to clean up your new kitchen when you unpack.
Packing Tip: If you'd rather not deal with the kitchen at all at first, bring some paper plates and plastic cups and utensils with you in your bag of essentials.
Decide Which Pantry Items Are Worth Packing
Figure out whether it's more cost-effective to pack pantry items or buy new ones when you arrive. (In many cases you can give away, donate, or consume existing food items before you move.) If you have a large collection of special spices, moving them will likely make sense; devoting space in your truck or car to numerous boxes of pasta or crackers probably won't.
Don't Use Newspaper to Pack China
The ink from the paper can come off; if you choose to use paper, brown paper bags or plain newsprint – sometimes called packing paper – are better. To protect delicate items as much as possible, though, use bubble wrap.
How to Pack Up the Bathroom
When packing bathroom items, divide them into boxes based on the frequency of use. When settling in, you'll need your shampoo long before your back-up supply of dental floss. Buy and pack a new, inexpensive shower curtain to put up when you reach your new place. Your new house or apartment may not provide one.
Pack Wardrobe and Bedding by Season
Some bedroom items will probably need to be packed towards the end of the moving process, because you'll be sleeping in your bedroom until the day you move. But many other bedroom items are seasonal – think bedding and clothing – and can therefore be packed well ahead of time. Dividing your wardrobe and bedding into boxes by season means you can quickly access the items you need first as soon as you move in.
Consider Renter's Insurance from The Hartford to Protect Your Belongings
If you owned a home for many years, the idea of renter's insurance may be new to you, but it's important to know that your landlord's property insurance policy only covers damage to the building, not to your home contents.
We welcome your tips and tricks too! What are your top moving and packing tips? Let us know in the comments below.