If you're like a lot of Americans, you've rung in the new year with the television tuned to the big ball drop in New York. The Times Square ball drop may be one of the best-known New Year's traditions in the United States, but it's far from the only celebration going on as one year ends and another begins.
From watching unusual objects drop from tall buildings on New Year's Eve to enjoying special dishes prepared for good luck in the new year, New Year's traditions continue all over the U.S.
Here are some of our favorite — and a few too quirky to leave out — American New Year's traditions and celebrations.
New Year's Traditions: Special Meals for Good Luck
Even if you're not superstitious, nothing beats a feast on New Year's Day for a better shot at good luck in the new year. This year, consider digging in to one of these regional favorites:
Black-Eyed Peas (Hoppin' John)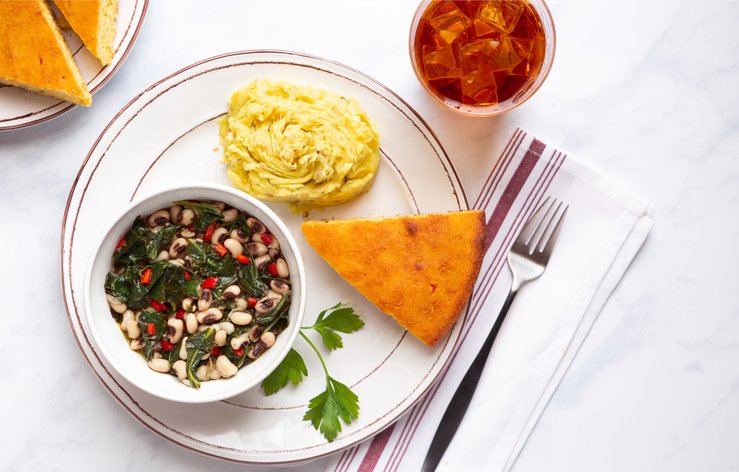 This New Year's Day good luck meal, also known as "hoppin' John," originated in South Carolina and is practiced widely in the South. The New Year's Day meal, a mix of black-eyed peas, rice and pork, is typically served with collard greens and cornbread. This Southern tradition may have gotten its moniker from English speakers mangling the French word for dried peas "pois pigeons," pronounced "paw-peejohn."
Tamales
In Mexico, families feast on tamales throughout the December holidays and well into the new year. Tamales are pork or another meat stuffed inside sweet corn masa dough and steamed in corn husks. The New Year's Day tamale tradition is also popular in U.S. cities with a large Hispanic population, thanks to Mexican immigrants who brought the dish here long ago.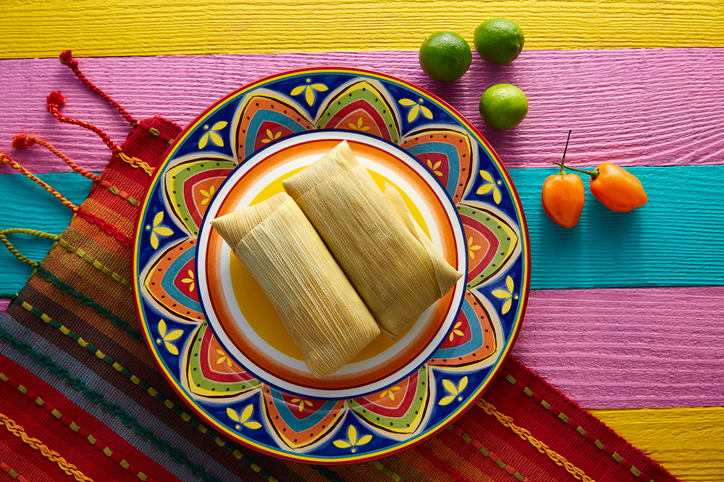 This meal symbolizes family traditions, gatherings and celebrations more than good luck. Whether the family matriarch spends days preparing the labor-heavy dish or you pick up your tamales from a restaurant on New Year's Eve, tamales in your tummy may be just what you need to kick off the new year right.
Pork and Sauerkraut
People in Pennsylvania and Ohio like to dish up good luck on New Year's Day with slow-cooked pork and sauerkraut. This Germanic tradition came from the early Pennsylvania Dutch and German settlers. The dish symbolizes good luck and progress for the new year, since pigs are known for rooting forward. Some believe this meal brings good luck in the new year because sauerkraut is made from cabbage, which symbolizes riches and prosperity. The long, pickled strands are symbolic of long life.
New Year's Pretzel
In Pittsburgh, Pennsylvania, it's a tradition to eat a New Year's pretzel to bring good luck for the coming year. And we're not talking about some crispy snack out of a plastic bag, either. For the greatest amount of good luck, share the bread-like, salty and sweet glazed baked treat with several people at once.
Pickled Herring
In Poland and Scandinavia, it's a New Year's Eve tradition to take a bite of pickled herring at the stroke of midnight for good luck in the coming year. However, you'll also find pickled herring, an oily fish symbolic of long life, fertility and riches (due to its coin-like silver color) gracing New Year's Eve buffets in Chicago, which has a large Polish-American population. The pickled herring New Year's Eve tradition is also popular in Minnesota, which has a large population of Norwegian immigrants.
New Year's Traditions: Quirky New Year's Eve "Drops"
The ball drop in Times Square isn't the only awe-inspiring event when it comes to crowds watching an object descend at midnight on New Year's Eve. Some cities have their own quirky traditions the locals love that also draw crowds from other regions.
Midnight Music Note Drop: Nashville, Tennessee
Each year at midnight more than 200,000 people celebrate New Year's Eve by watching Nashville's Midnight Music Note Drop. Spectators sing and cheer as a 16-foot-tall music note illuminated by more than 13,000 LED lights descends down a 138-foot-tall structure on the main stage.
This year, the event takes place at Bicentennial Capitol Mall State Park in Downtown Nashville. The celebration features nearly 50 musical performances by big-name country artists on the main stage and at various Nashville venues.
Can't make it to Nashville but still want to celebrate New Year's Eve in Nashville style? You can watch the drop and musical performances live that night on the CBS television network and on-demand at Paramount+.
Mobile Moonpie Drop: Mobile, Alabama
Since 2008, the City of Mobile has lowered a 12-foot-tall, lighted, mechanical Moon Pie 317 feet from the 34-story RSA BankTrust building just before midnight to celebrate New Year's Eve.
Mobile was the home of the first Mardi Gras celebration, and the famed "Moon Pie," a childhood staple for many, was the favored toss from those early parade floats. Today, around four million Moon Pies are sold a year in Mobile, which embraces the chocolate, banana and vanilla confection as its informal city emblem.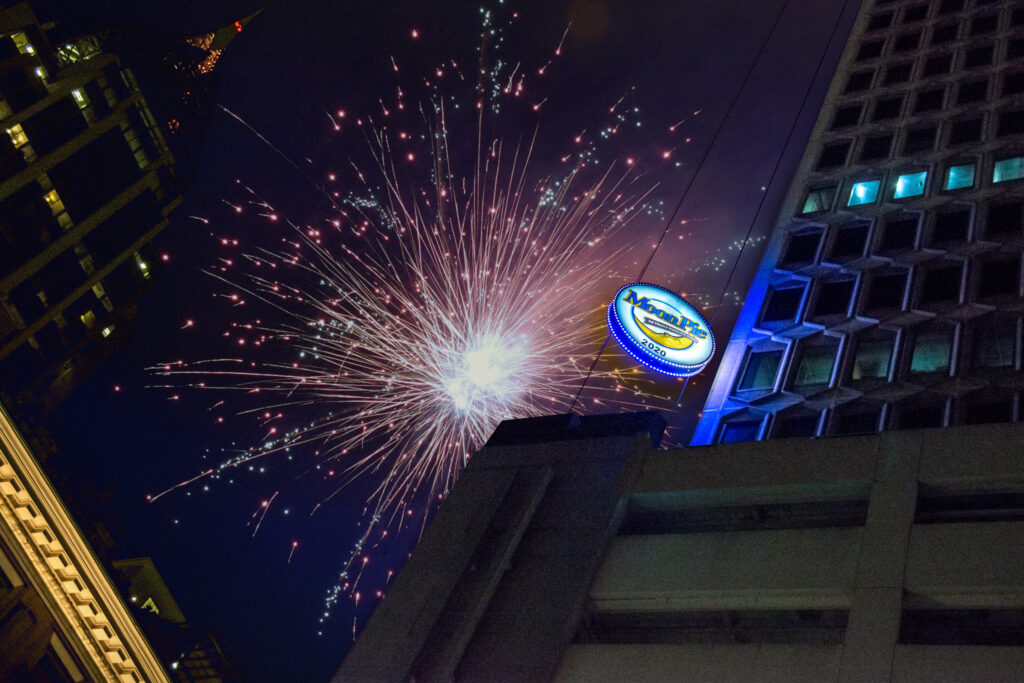 Celebrants gather in downtown Mobile to party to live music and scribble New Year's resolutions on the event's resolution wall. Festivities include the ceremonial cutting of a giant Moonpie to feed the throngs of attendees.
Read more about the Mobile MoonPie Drop here.
Maple Leaf and Great Sardine Drop: Eastport, Maine
For 16 years, an eight-foot sardine has beckoned a swimmingly good New Year as it descends on New Year's Eve from the third floor of the Tides Institute and Museum of Art in Eastport, Maine (pop. 1,300). However, the easternmost city in the U.S. doesn't usher in the New Year with the giant sardine alone.
Eastport is just across the Bay of Fundy from the Canadian island Campobello. So, it's only fitting that an hour before the great sardine drops at midnight, the celebrants sing "O Canada" as a giant, lighted Maple Leaf floats gently to the stage. Then, just before midnight, hundreds sing "Auld Lang Syne" to accompany the descent of the great sardine.
This year, you can attend in person, watch the festivities as a participant in a drive-by parade or stream the event via Zoom.
Giant Marshmallow PEEP Drop: Bethlehem, Pennsylvania
Every New Year's Eve in Bethlehem, Pennsylvania, a massive PEEPS Chick descends on the town that is headquarters for Just Born Quality Confections, maker of the marshmallow candy PEEPS. The giant PEEPS Chick, which weighs four hundred pounds and stands four feet and nine inches tall, isn't one for late-night celebrations, however.
The massive yellow chick glides slowly down at 5:15 p.m. to kick off Bethlehem's annual New Year's Eve PEEPSFEST at the SteelStacks, a ten-acre campus dedicated to arts, culture and family fun. This year's celebration will be virtual-only due to pandemic safety precautions.
You can watch the live stream at steelstacks.org/peepsfest, the PEEPS Facebook page or the Just Born Facebook page.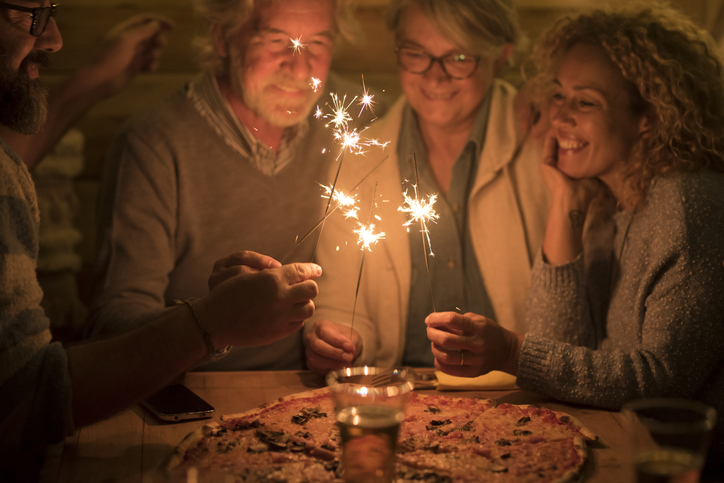 What Are Your New Year's Traditions?
Whether you stay up late to kiss your sweetie at midnight or get up early to prepare your favorite good luck meal on New Year's Day, you can start 2022 with an optimistic attitude and a clean slate for New Year's resolutions.
How does your city or family celebrate New Year's Eve and New Year's Day? Share your New Year's traditions with other readers in the comments.