Winter holidays around the world offer a way to brighten up the darkness of a long and (in some parts of the world) cold and dark winter. They often center around lights, festive foods, gatherings with loved ones and special traditions to look forward to all year long.
Here are 10 winter or end-of-year holidays from around the world and where and how they're celebrated:
Boxing Day
Boxing Day has nothing to do with counterpunches or knockouts. The holiday originated as a day for the rich to give presents or money to servants and trade workers who had worked through the Christmas holiday. Boxing Day got its name from the tradition of wrapping those tokens of appreciation in boxes.
Boxing Day is celebrated on the day after Christmas, December 26, in the United Kingdom as well as Australia, Canada, New Zealand and Hong Kong. It used to be celebrated in South Africa, but that holiday there was changed to the Day of Goodwill, a simple holiday for relaxing with family and friends.
Most people have the day off of work on Boxing Day in countries that observe it. Favorite ways to celebrate include gathering with family and friends, watching cricket, football (soccer) and horse racing, and eating Christmas leftovers. Popular Boxing Day foods include baked ham, mince pies and turkey sandwiches.
Diwali
Diwali is a festival of lights that dates back more than 2,500 years and is a major Hindu religious holiday also observed in the Sikh and Jain faiths. The origin stories of Diwali vary by country and region. In parts of Northern India, for example, Diwali is said to commemorate King Rama, an incarnation of the god Vishnu, gathering an "army of monkeys" to rescue his wife from an evil king, according to "The Ancient Origins of Diwali" on History.com.
The holiday is celebrated in India, as well as in Fiji, Malaysia, Nepal and Singapore. It starts on the darkest day of the lunar month known as Kartik, and it lasts for five days, with the main celebration happening on day three. The start date varies by year, but Diwali usually takes place in either October or November.
People who celebrate Diwali begin by cleaning their homes and lighting a row of clay lamps outside to drive away darkness. Diwali celebrations also often include fireworks, feasts and exchanges of gifts and money with friends and family. Common Diwali celebration foods include samosas, rice kheer, masala peanuts and dried fruits.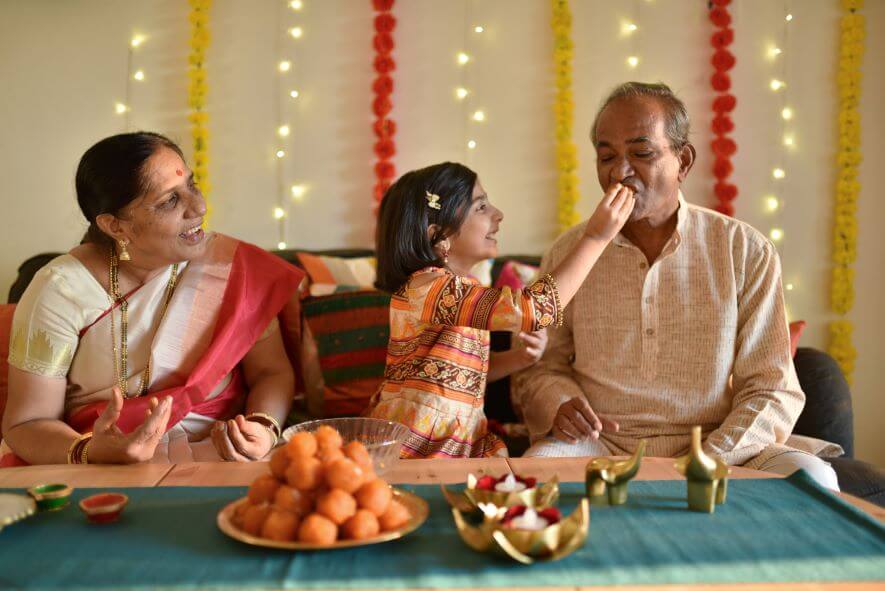 Dongzhi Festival
Dongzhi Day, known as the Chinese Winter Solstice, is a celebration of the arrival of winter that dates back to the Han Dynasty (206 BC to 220 AD). The day is considered a time to celebrate ancestors and new beginnings.
The Dongzhi Festival is celebrated in China and Taiwan on either December 21, 22 or 23 depending on the date on which Winter Solstice falls. Many people celebrate Dongzhi Day by worshipping the heavens at temples. They may also set up displays of ancestor images with incense and offerings, then visit and sweep the graves of deceased relatives. Popular celebration foods include dumplings, roasted meat, won ton soup, mutton soup, eight treasures porridge and ginger rice — served with homemade rice wine.
Another important Dongzhi tradition is singing a folk song that counts the nines of winter. The idea is that once you've counted down through winter, spring will arrive. The song starts with the air being too cold for your hands and walking on ice, and it ends with geese flying north and oxen beginning to work the fields.
Hogmanay
Hogmanay began in the eighth and ninth centuries when Vikings would celebrate the winter solstice with "wild parties in late December," according to VisitScotland.com. The word may come from the French word "hoginane," which means gala day.
The holiday of Hogmanay is celebrated in Scotland starting on December 31 and lasting for three days. Cities and towns hold festivals that include street parties, concerts, fireworks and processions of light.
In Scotland, getting ready for Hogmanay traditionally includes completing many tasks before midnight on the 31st: cleaning the house, sweeping out ashes from the fireplace and paying off debts. These activities all represent getting a fresh start. In some parts of Scotland, Hogmanay tradition involves bands of men and boys dressing up in animal skins, running from house to house, collecting fruit buns and lighting bonfires.
Loy Krathong
The Loy Krathong festival dates back at least 800 years to a king who decreed that people should thank the water goddess, Phra Mae Khongka, for the gift of water.
Loy Krathong is celebrated in Thailand, usually in November, but the date varies. It officially takes place on the twelfth full moon of the Thai lunar calendar which, in 2023, falls on November 28.
In Thailand, people celebrate Loy Krathong by releasing lighted baskets made of lotus leaves into rivers, lakes and other waterways. These little boats may contain candles, flowers, incense sticks and offerings to the water goddess.
Lunar New Year
The Lunar New Year celebration dates back thousands of years and is meant to celebrate the arrival of spring. One legend surrounding the origin of the holiday states that the fireworks, lights and bright colors were meant to chase away a human-eating beast called Nian.
The Lunar New Year, also known as the Chinese New Year, is celebrated in China, South Korea, Vietnam and other countries. It starts on the first new moon of the lunar calendar and takes place over 15 days, ending on the first full moon of the new year. The dates change from year to year, but the celebration usually falls somewhere between late January and late February.
The Lunar New Year starts out with a thorough house cleaning, known as "sweeping of the grounds." This is meant to chase away bad luck. Lunar New Year celebrations center around family gatherings, especially on New Year's Eve and Day. It's a Lunar New Year tradition to give family members a red envelope containing money.
The multi-week celebration also includes dancing, parties and fireworks. It ends with the Lantern Festival, where people hang bright lanterns on their homes and feast with friends and family. Common Lunar New Year foods include many symbolic dishes: whole fish (abundance), sticky rice balls (family togetherness) and a special cake that symbolizes prosperity.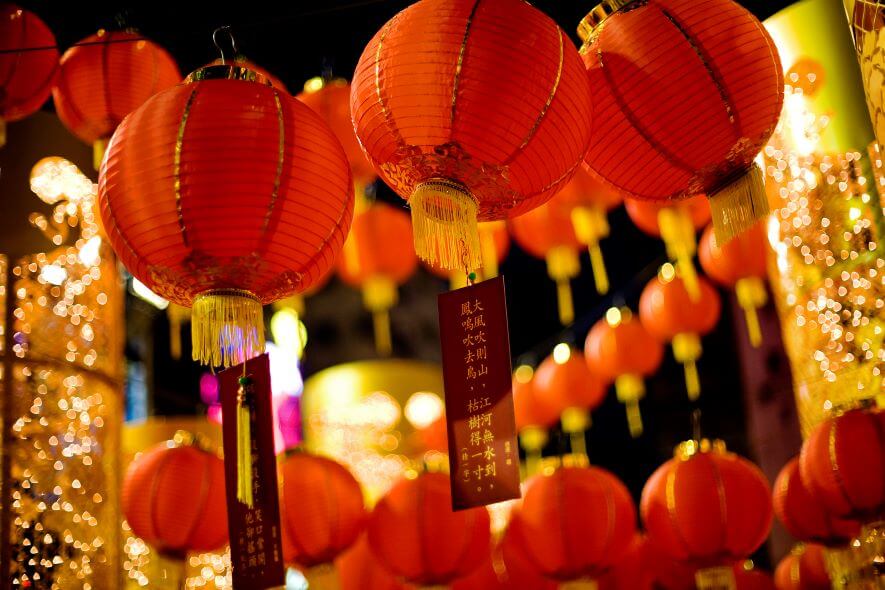 Makar Sankranti
Makar Sankranti is a Hindu harvest festival to mark the time of year when the end of winter is in sight and spring is on the horizon.
This holiday is celebrated in India and Nepal on January 14 or, in leap years, January 15, and it honors Surya Dev, the sun god.
Makar Sankranti is celebrated differently in different areas, and event has many different names across the Indian subcontinent. In some places, people bathe in sacred rivers. In other places, there are multi-day festivals, or people fly kites and give away household possessions. It's common to eat sweet sesame balls and other festive dishes during the holiday.
Noche Buena
Noche Buena, which means "good night," is a celebration that dates back to the 1400s and the Spanish colonization that brought Catholicism to the Americas.
This holiday is celebrated across Latin America and in the Philippines on December 24, Christmas Eve. Often this is the primary celebration of Christmas, with feasts, parties and family gatherings.
The celebration of Noche Buena varies based on location, and may include midnight mass for practicing Catholics. And there's always plenty of traditional food. Depending on the country, the menu might include tamales, enchiladas, roast pork, some variation on rice and beans and Christmas punch.
St. Lucia's Day
St. Lucia's Day dates back to the fourth century and honors the martyr Lucia of Syracuse, who was said to have brought food to Christians fleeing persecution, wearing a candlelit wreath on her head to light the way.
St. Lucia's Day is celebrated on December 13 in Sweden and parts of Finland. It's a festival of lights meant to bring light to the darkest time of the year when evil spirits were once believed to be out and about. The day is also celebrated in other countries, including Germany and Italy.
This holiday is traditionally celebrated by having the oldest daughter in a family dress up in white and serve coffee or mulled wine and "lussekatter," traditional saffron buns made with raisins, to family and visitors. Many towns have processions where a Lucia leads a group of other children dressed in traditional costumes that include maidens and gingerbread men.
Three Kings Day
Three Kings Day, also known as Epiphany, is the final day of the 12 days of Christmas. Dating back to the fourth century, the holiday honors the baptism of Jesus and pays tribute to the Three Wise Men, or "Los Reyes Magos" in Spanish. The three wise men, or magi, were said to have brought gifts of gold, frankincense and myrrh to baby Jesus.
Three Kings Day is celebrated on January 6 in Spain, France and in the Caribbean, Latin America and among Latinx communities and in and around New Orleans in the United States. This holiday may be celebrated slightly differently depending on the country. In Puerto Rico, children may leave a box containing hay under their beds, knowing they will wake up to find gifts in it. It's common to eat king cake, or Rosca de Reyes, which contains a hidden baby Jesus figurine. Whoever finds the baby must host a February 2 party for Candlemas, a festival of lights holiday that takes place 40 days after Christmas.
Do you celebrate any of these holidays, or have you experienced them during your world travels? Drop a comment and tell us your fondest memories of these holidays or a winter celebration in your corner of the world.