A road trip is an American tradition and a great way to travel affordably. And a good road trip requires a good plan. This is true whether you're checking a dream destination off your bucket list or getting to know an area in a way you simply can't from an airplane.
While there are many reasons to take a road trip, you'll need to prepare and plan your budget. In fact, whether you're preparing for the trip of a lifetime or the trip of a weekend, road trip planning can be almost as fun as the journey itself.
Read on to learn how to plan your travel, save money on road trips and see what you should pack before you hit the road.
How to Budget for a Road Trip
The best way to make sure a road trip won't break the bank is to create a budget ahead of time. There are all kinds of sneaky expenses you may forget to tally (tolls, for example!) that can add to the cost of a vacation on wheels. Unexpected problems, such as a car breakdown, can also be costly.
The first step in budgeting for a road trip is to list all the expenses you may incur along the way, like:
Gas: Wondering how to calculate gas for a road trip? Use GasBuddy's trip cost calculator to get an idea of how much gas will cost on your road trip. You'll plug in your starting point, destination and route. Then add the make and model of your car, and the tool will give you a total. You can also reference GasBuddy's gas price charts to factor rising fuel costs into your budget and find the cheapest prices by state.
Vehicle prep: Plan to pay for any preparation your vehicle might need before the trip. This includes things like an oil change, new tires or battery, or a check by a mechanic to make sure your car is running well.
Lodging: Add in the cost of hotels or other accommodations, like camping, which is cheap but not usually free.
Food: Tally the anticipated cost of meals, snacks and drinks for the road.
Tolls: Check your route ahead of time to see if you'll be traveling any toll roads. Add up those costs.
Parking: Remember that you may need to pay to park. For example your hotel may charge for valet parking or if you're planning to park in a big or small city you may also have to pay to park.
Souvenirs: If you plan to hit some of America's roadside attractions, from the shoe tree to the world's largest ball of twine, you may want to budget to purchase mementos along the way.
Entertainment: Plan for entry fees for parks and attractions, plus anything else you'll be doing or seeing that isn't free.
Emergency fund: It's unlikely, but a flat tire or breakdown is always possible. You may want to bank some money just in case and possibly invest in an AAA membership.
Car rental: When renting a car for a road trip, make sure you include fees and insurance in your budget.
Once you've completed your list, start researching prices for these items in the areas and times of year that apply to your trip.
How to Save Money on a Road Trip
Once you have a general idea of how much your road trip will cost, you may want to cut expenses. Here are five ideas for saving money on a road trip:
Rev up your fuel efficiency. Don't forget that you can save money on gas on a road trip by making a few simple changes. For instance, on average, 100 pounds of cargo can reduce your fuel economy by 1%. And a rooftop cargo container can reduce your fuel economy by 25%. To save on gas, limit your cargo and store items in the trunk of your car instead of on the roof. You'll also want to stick to the speed limit. For every 5 mph you drive over 50 mph, you may spend 17 cents more per gallon of gas. (It's also a good way to avoid being pulled over by law enforcement looking for out-of-state plates. The cost of a speeding ticket can set you back $300 or more.)
Plan affordable meals. Something as simple as packing snacks from home can save you a considerable amount of money on a road trip. You'll also be likely to eat healthier and feel better too. For a shorter trip, you can pack simple foods like apples, carrot sticks, and sandwiches. On longer trips, seek out grocery stores, farmers markets and local restaurants. Bring a supply of water, too; staying hydrated will help keep you alert, and buying bottled water at convenience stores can be pricy.
Cut costs on lodging. Hotels can add hundreds or even thousands of dollars to the cost of a road trip. Consider camping or even sleeping in your vehicle if you can make it work safely and legally. Here's a list of places where you can sleep in your car legally, including truck stops and many Walmart parking lots. Some truck stops offer showers. Make sure that you plan ahead and only choose places that are safe. This can be a great cheap option if you take a camper van or station wagon you can outfit with rollaway beds and window curtains.
Check your credit card benefits. A credit card you already carry in your wallet may have benefits that could save you money on the road. For example, some cards have concierge service that will help you plan trips for free. And some have roadside assistance that may offer you a jump, a tire change or a tow. Your auto insurer also may offer towing insurance, so check your policy. And finally, you may have a credit card with free car rental insurance. If the card offers "primary" car rental insurance, that means that the card will act as the primary insurer for any claim rather than acting only as a backup for your own auto insurance or any you purchase from the car rental company. (Check head of time to see what benefits your card offers and how much, if anything, these services cost.)
Plan ahead to avoid problems. Unexpected problems on a road trip can cost you money. A car breakdown is the most obvious, but there are other issues that can crop up. For example, you may get stuck in traffic or hit construction. You may also get tired while you're still hours away from your hotel or camp ground. Allowing extra time for delays or time zone changes and building in back-up plans (for example, making sure you can cancel or change your hotel reservation without a charge) can help save your cash. Packing the right items can also help you avoid expensive mistakes and emergency pit stops along the way.
What to Take on a Road Trip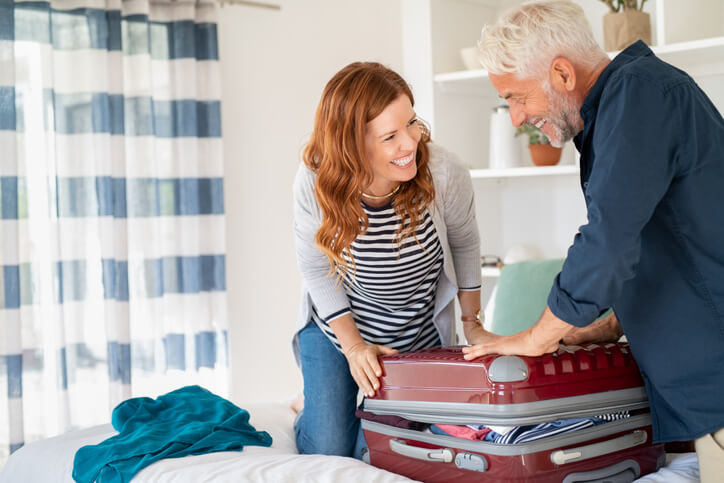 Packing the right road trip essentials is key to having a good time and staying on budget. Here's a road trip packing list to get you started:
Navigation tools. Making sure you know where you're going is one of the most important ways to prep for a road trip. You'll want to have GPS on your phone or in your car (if using your phone, consider a holder that will mount it to your dash for convenience and safety). You may also want to carry a paper map – the old-school variety or something printed from the internet, as a backup in case you have GPS issues.
Road trip smartphone apps. Before you go, download some travel apps for road trippers. Google Maps or Waze can help you get driving directions, check alternate routes and see current traffic conditions. The Weather Channel or another weather app will let you check weather and road conditions. AAA, HONK, or another roadside assistance app like this one from The Hartford can connect you with local towing and repair services. An app like AroundMe can help you find the closest ATM, coffee shop, gas station, hospital, supermarket, etc. And a parking app such as ParkMobile or SpotHero can help you find and pay for parking in big cities.
Trip information. Have your trip planned out ahead of time, and stash all of your important information in one place. That could be in a trip planning app on your smartphone or in a folder in the glove box. You'll also want information like:

Which attractions you're going to
Car rental details
Reservation numbers
Weather forecasts
Hotel names and addresses
Contact information for anyone you plan to stay with or meet along the way
A spare key for your car. Carrying a spare key in an alternate location can keep you from accidentally locking your keys in your car and having to call a lockout service. If you've got a travel companion, consider having each person carry a key.
A roadside emergency kit. Create a car emergency kit that contains all the supplies you'd need in a pinch. Your kit should include:

A flashlight and extra batteries
Flares
Jumper cables
A spare tire
Drinking water
A tool kit
Non-perishable snacks
A first aid kit
Blankets
Extra clothes
An auto safety hammer
Seasonal essentials if you're traveling in winter
A cell phone and charger.
While the other items can go in the trunk, keep the safety hammer, phone and charger near you in the car.
Clothing for the road. Make sure you have comfortable clothes for driving, plus appropriate outfits—including outerwear and shoes—for any activities you plan to do. One perk of traveling by car is that you can bring an extra suitcase or two. This can come in handy if you're crossing the continent or passing through many different climates over a few weeks. On the other hand, staying at hotels with laundry service can allow you to pack light and save space.
Sun supplies. A good pair of polarized sunglasses can help keep you safe and comfortable behind the wheel. Don't forget sunscreen—yes, you can get a sunburn in a car!
Important documents. Make sure you have your car insurance cards and your auto registration in your glove box. Also be sure to carry your:

Driver's license
Health insurance card
Prescription medication
Emergency contact information
While you're concentrating on getting out on the road, don't forget to prepare your home for when you're away. Before you go, take care of chores like having your mail held and arranging for someone to check on your house while you're gone.
And who knows? Maybe after this trip, you'll be inspired to start traveling the country, seeing the sights, following the sun or simply chasing the next adventure.
What are your fondest road trip memories? How long has it been since you set out on the open road? Do you have any upcoming road trip plans or any bucket list road trip dreams? Please share with other readers in the comments.