The bond between grandparent and grandchild is special—free from the responsibilities of parenthood, you can focus on the sheer joy of being together and supporting each other.
More and more of those in the Greatest Generation and Boomers are jumping on the technology bandwagon, both to simplify their lives and to connect with friends and family. According to a 2017 Pew Research Center study, about 6 in 10 adults aged 65 or older use the internet; more than three-quarters of people in that age group have cellphones.
In particular, grandparents can benefit from going online to connect with their Gen-Z grandkids. Technology provides a unique opportunity to meet them where they are, to keep in touch and to better understand their lives.
How Technology Bridges the Generational Gap
The whole family benefits when grandparents get online and can help to maintain relationships between grandchildren and grandparents. This happens in a number of ways.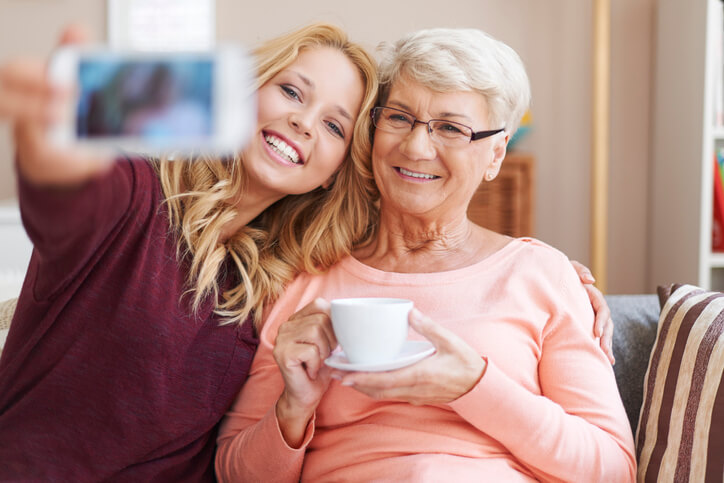 First, speaking the lingo of tech helps you understand your grandkids on a very fundamental level. Members of Gen Z are some of the first people who don't really remember life before computers. Think about how you spent your time when you were 12 years old. Now think about the lifestyle of a current 12-year-old. Chances are, he already has a cell phone and spends much of his life texting.
We're not saying that you should fake it and become a texter, or that you should encourage your grandkids to live life virtually rather than engaging with the real world. That said, simply understanding what Instagram is and how it works could meaningfully change the conversation with a grandkid who spends a good portion of their time on that platform.
Plus, interacting online can boost the quantity and quality of your relationships with family members living far away. We're living in an age of FaceTime and Skype, in which babies and toddlers actually recognize and have genuine relationships with family that lives across the country or even across the world. A 2-year-old probably wouldn't understand the concept of a grandparent who lives far away, whom he sees a few times a year. But a grandparent he chats with "face to face" once a week? It's a totally different story.
If you need a way to keep up to date on the most adorable pictures of your grandkids, especially precious baby pictures, consider asking the parents to set up the family on Tinybeans, where they can share photos of the kids privately with the people they care about.
There are a number of different ways you can harness technology to actually support meaningful, long-lasting relationships.
Grandparents and Kids Learning Together
As grandchildren learn and grow, connecting via educational apps and games can be a rewarding way to build bonds and grow together. Not to mention that learning new things tends to have more redeeming value than playing a violent video game.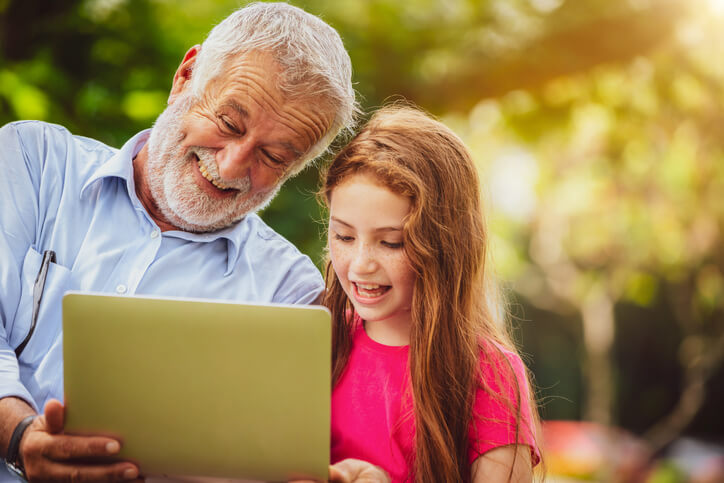 You can play alongside your little ones to help them develop a wide range of skills. In My Very Hungry Caterpillar, kids 5 and under get the chance to play with the colorful character in the iconic picture book. This game encourages them to appreciate nature and navigate individualized play.
If you like to read to your grandkids, Sight Words lets you sit alongside them as they learn to recognize basic words in an engaging interface. Meanwhile, Kodable is great for science- and math-inclined youngsters ages 6 and up, as it helps them explore the basics of coding in an approachable way. You can visit the curriculum section to better help the kids learn.
For older grandkids, consider a role reversal: Have them teach you something you've been wanting to learn on your phone. Artistically minded kids will be eager to share the ins and outs of different Instagram filters and hashtags. Or maybe your grandchild can teach you how to use Etsy to search for creative, handmade birthday and holiday gifts.
Pinterest is your online ticket to creating a vision board. On this application, you can save and share certain images and articles, putting them into categories. Planning your next vacation? Try using Pinterest to find destinations to go to and activities to participate in.
If you have knowledge-hungry teenage grandkids, you can both learn something new at the same time. See if the teens in your life might be up for taking a class together around a shared interest. Massive open online courses, or MOOCs, offer university-caliber classes (many of them free!) in a wide variety of subjects. Signing up for a course together means you can learn something new, discuss long-distance and always have something to talk about.
Services like edX and Coursera provide course options ranging from music and art to foreign languages and economics.
Games to Play With Your Grandchild
One great thing about game apps on your cellphone is that they're passive—are you going to have a revolutionary conversation with your grandkid while you try to earn points off each other in some clicky online game? No, probably not. But will you have an opportunity to interact in a casual setting, perhaps as often as every day? Most likely.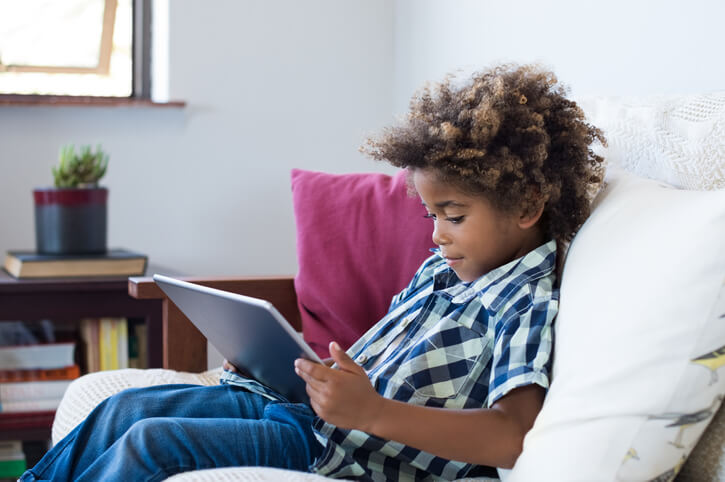 Words With Friends is a Scrabble-type game in which players compete by taking turns arranging words horizontally and vertically on a board. An extra perk? There's a chat section so you can share quick updates or check in (or, ahem, trash talk each other) to make the interaction less transactional and more rewarding.
If you like testing each other's knowledge, consider a modern version of trivia with Trivia Crack, when game night isn't possible in real life.
Facetime for Grandparents
Smartphones can easily add another dimension to routine grandparent-grandkid catch-ups. Try using FaceTime to connect with each other face to face. This has a few benefits above a regular phone call.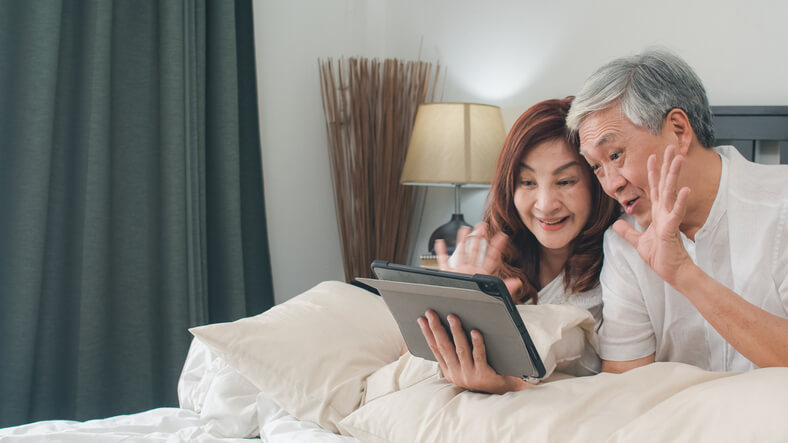 First, for younger grandkids, the visual component is a crucial way to instill recognition and make sure they know who you are. And even for older grandkids, seeing each other can help you feel more in tune with the other's mood and surroundings. If your children are busy parents on the move, it might be best to call or text first to set up a time to chat on FaceTime, so as not to catch anyone off-guard.
FaceTime is only available on iPhones. If you don't have an iPhone, you can have essentially the same experience by using WhatsApp or Skype video-calling on an Android phone.
At the end of the day, technology is just a tool, not an end in itself. Your relationship with your grandkids is still a fundamentally human connection. Computers and phones shouldn't ever replace that—but if you use them well, they can augment it.
What apps have you found helpful in fostering closer relationships with your grandkids?