America's national parks are beloved by travelers from all over the United States and the globe. In 2022, these parks welcomed 312 million visitors. The 63 national parks (plus hundreds of national historic sites, monuments, recreation areas and parkways) overseen by the National Park Service (NPS) range from world-famous destinations to hidden gems.
Originally, we published a list of some of the best national parks to visit, highlighting 10 parks chosen for their unique features. We received so much great input in response to that article that we have updated the list to include 10 more parks, based on your recommendations. The following list has something for everyone who's eager to experience the natural beauty of the United States.
1. Great Smoky Mountains National Park
Where it is: North Carolina and Tennessee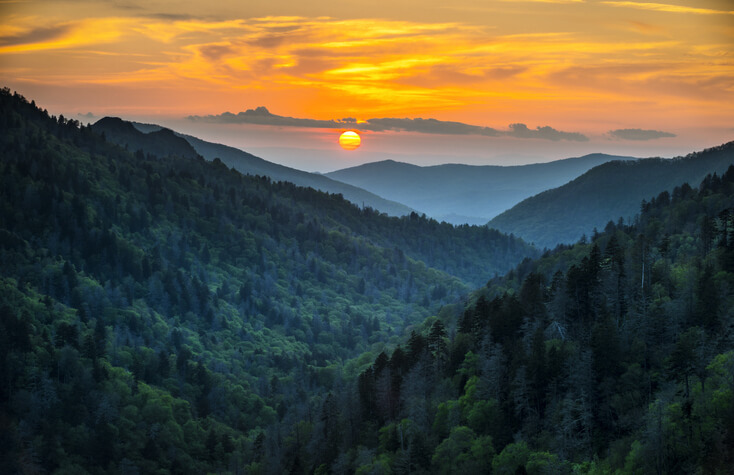 Why you should go: With over 10 million visitors a year, Great Smoky Mountains is the country's most popular national park. This scenic swath of the Appalachians receives almost double the number of visitors as the Grand Canyon, which is the second most popular park. You can get around Great Smoky Mountains in your car, on your bicycle, on foot or on horseback. Keep an eye out for waterfalls, historic cemeteries and a large collection of restored buildings. Wildflowers bloom year-round here and if you time it right, you can catch spectacular fall foliage.
When to visit: The park's primary roads are open all year, weather permitting, but secondary roads are closed seasonally.
---
2. Isle Royale National Park
Where it is: Michigan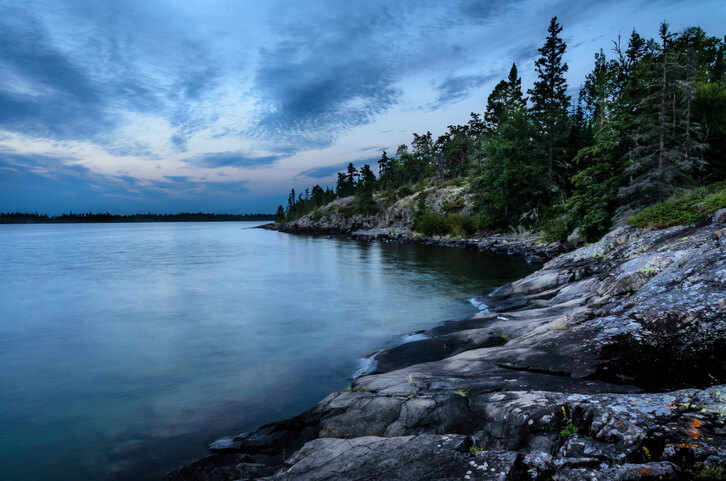 Why you should go: Isle Royale National Park, situated on an isolated island in Lake Superior, is one of the least visited national parks in the country and the least visited in the lower 48 states. This is partly because you can't just drive or hike up to these trail-heads. Visitors must take a ferry to the island and a camping permit is required to stay overnight. Along with solitude, this park offers a plethora of water-based adventures, including:
Fishing
Canoeing
Kayaking
Scuba diving
When to visit: The park is open from April 16 through October 31.
---
3. Glacier National Park
Where it is: Montana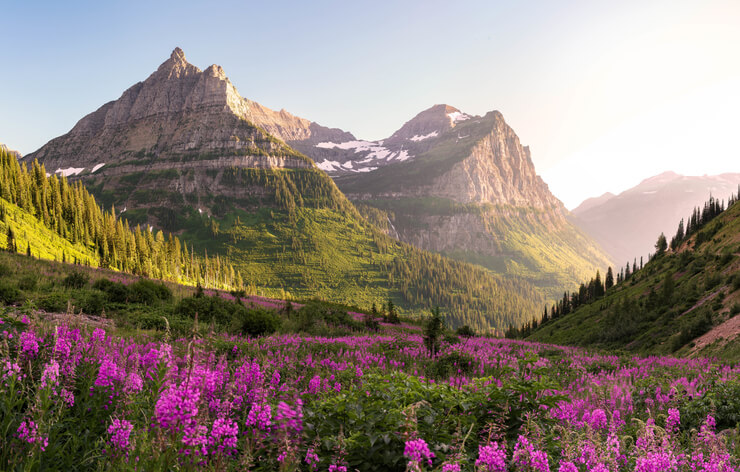 Why you should go: Nicknamed the "crown of the continent," Glacier is often called the most beautiful of the national parks. Beyond snow-capped mountains, reflective lakes and dramatic vistas, Glacier offers an array of relaxing activities, like:
Observing the flora and fauna
Driving the evocatively named Going-to-the-Sun Road
Visiting Waterton-Glacier International Peace Park on the Canadian border
Learning about the region's culture and history from members of local Native American tribes during the summer
When to visit: The park is open throughout the year, although portions of the Going-to-the-Sun Road may be closed due to seasonal weather conditions.
---
4. Pinnacles National Park
Where it is: California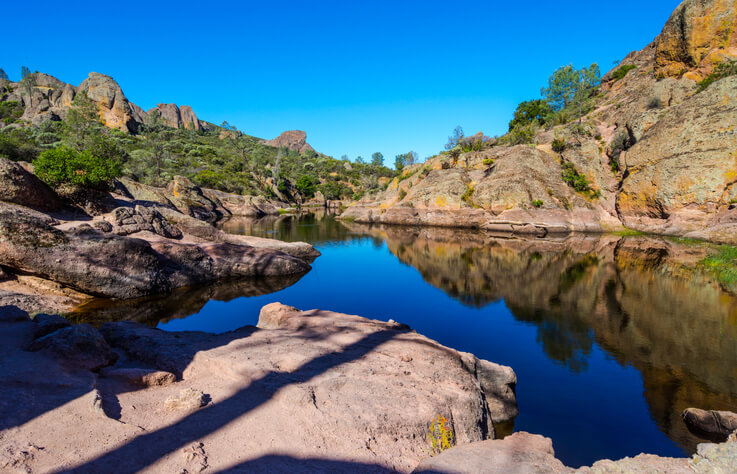 Why you should go: If you're a fan of emerging destinations, take note: Pinnacles is one of America's newest national parks, designated in January 2013. Ancient volcanic eruptions and seismic shifts created this diverse natural environment. Pinnacles features towering rock formations and caves. It's also home to numerous species of plants and animals. You'll experience some magnificent views here and you might even spot an endangered California condor.
When to visit: The park is open year-round. It's most popular for hiking in the spring. The NPS advises visitors to check the weather if hiking between late May and early September because temperatures can reach dangerous highs.
---
5. Virgin Islands National Park
Where it is: U.S. Virgin Islands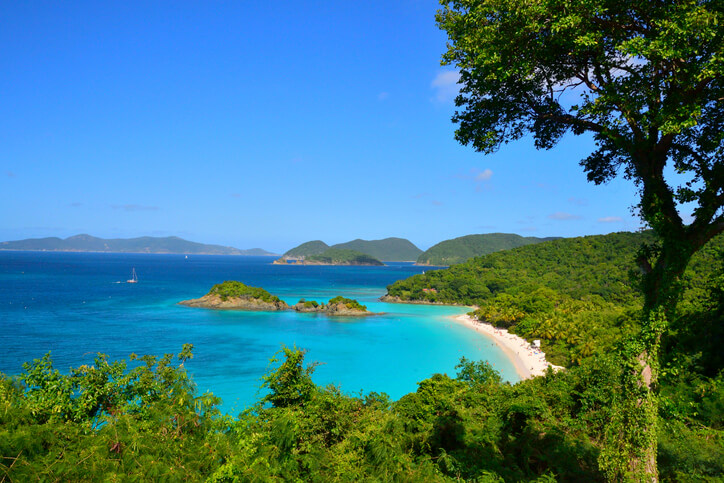 Why you should go: A national park that's not located in one of the 50 states? Yes! This Caribbean park covers most of the island of St. John, plus thousands of acres of the surrounding ocean. Hiking trails lead visitors past ruins of the island's historic plantations. This tropical landscape is home to several acclaimed beaches and has something for everyone, including:
Boating
Camping
Hiking
Snorkeling
When to visit: The park is open year-round.
---
6. Yosemite National Park
Where it is: California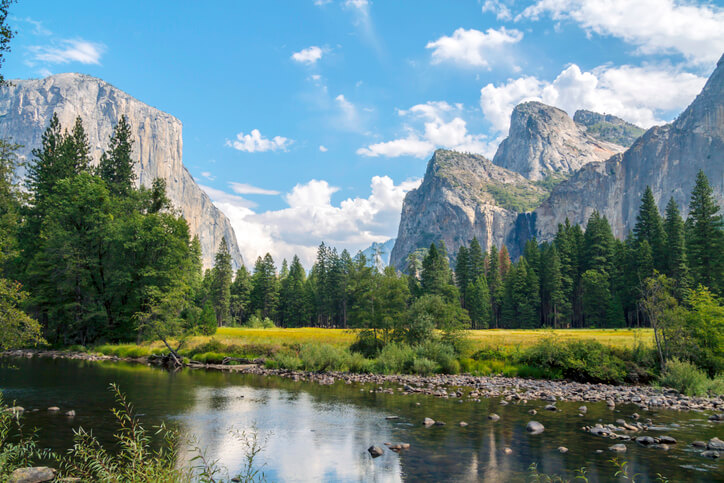 Why you should go: Most visitors drive into this popular park. However, travelers who can't or don't wish to drive can simply catch an Amtrak train to the park. You can even take the train between Yosemite and Yellowstone to experience two of America's best-known tourist destinations without relying on that other American favorite: the car. There's a lot to see in Yosemite. If you arrive by train, why not continue exploring with public transportation and take a Valley Floor Tour on an open-air tram? On the tour, park rangers cover history, nature and other park highlights.
When to visit: The park is open year-round. Some roads may be closed due to snow throughout fall and early summer. In colder weather, a heated bus is used instead of a tram for tours.
---
7. Yellowstone National Park
Where it is: Wyoming, Montana and Idaho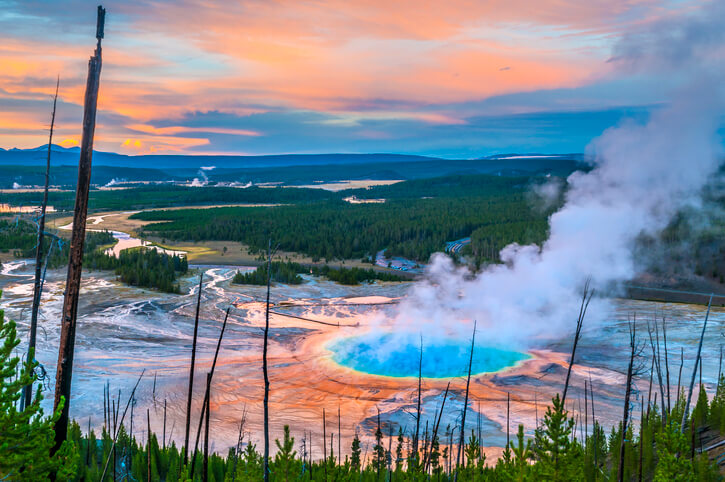 Why you should go: This geothermal landscape is not only one of the most famous national parks in America, it was also the first national park in the world, preserved as parkland in 1872. Yellowstone is famous for its geysers, hot springs and bison. But there are also activities like:
Snowshoeing
Fishing
Guided backcountry trips with horses or llamas
When to visit: Yellowstone is open year-round, but some roads and areas of the park are closed seasonally, so double check your route before you go.
---
8. Everglades National Park
Where it is: Florida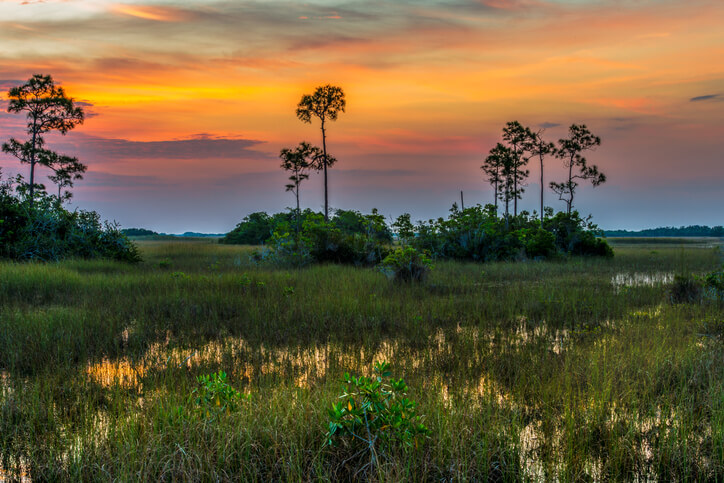 Why you should go: As the largest subtropical wilderness area in the country, Everglades National Park is one of the top picks for travelers wanting to see diverse forms of wildlife. As you explore the park by foot, boat or canoe, you might see:
Alligators
Crocodiles
Greater flamingos
Ibises
Florida panthers
Manatees
When to visit: Everglades is open year-round.
---
9. Denali National Park
Where it is: Alaska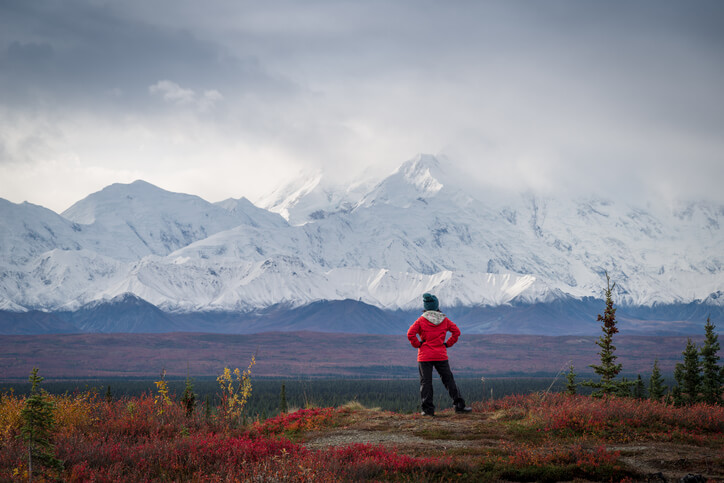 Why you should go: If you like extremes, you'll appreciate the fact that Denali—North America's tallest peak—has been called the windiest national park in the country and the coldest mountain in the world. Climbing Denali, the NPS warns, is a serious undertaking meant for experienced climbers only. This park offers other challenging, snowy activities for visitors of varying skill levels such as:
Cross-country skiing
Dog-sledding
Snowboarding
When to visit: Denali is open year-round, but the park's single road closes in winter. When in doubt, contact the park before visiting.
---
10. Arches National Park
Where it is: Utah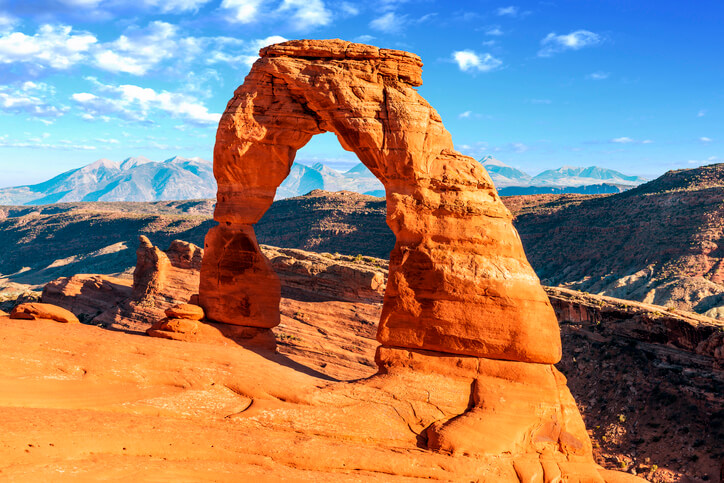 Why you should go: If you've ever seen a vehicle with a Utah license plate, you've seen Delicate Arch, the most famous natural attraction at Arches. There are over 2,000 arches to be found in this 76,679-acre park, as well as countless other surreal red-rock formations. These fanciful structures make this park a jaw-dropping place to spend hours – or days. You can take in the sights of this awe-inspiring natural environment while:
Hiking
Driving
Rock climbing
Horseback riding
When to visit: Arches is open year-round. It's busiest between March and October.
Have you chosen the National Park you plan on venturing to next? If not, maybe the next ten will win you over. Whichever park you decide on venturing to, keep reading for five tips to help you prepare for your visit.
---
11. Zion National Park
Where it is: Utah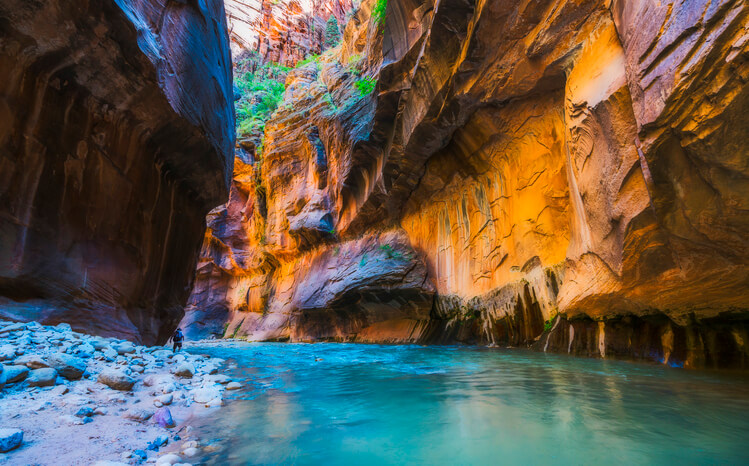 Why you should go: For active travelers, Zion is a vast playground of slot canyons, towering multi-colored cliffs and natural features with intriguing names like:
The Narrows
Angels Landing
The Emerald Pools
This park offers multiple opportunities for challenging activities like canyoneering, rock climbing, whitewater kayaking and strenuous hikes through dramatic landscapes. That said, Zion's not solely reserved for hard-core adventurers. There are also:
Easier day hikes
Scenic drives
An impressive variety of plant and animal life to watch out for
A lodge with dining options
When to visit: Zion is open year-round. Some services and facilities may be closed or their hours limited at certain times of year.
---
12. Grand Teton National Park
Where it is: Wyoming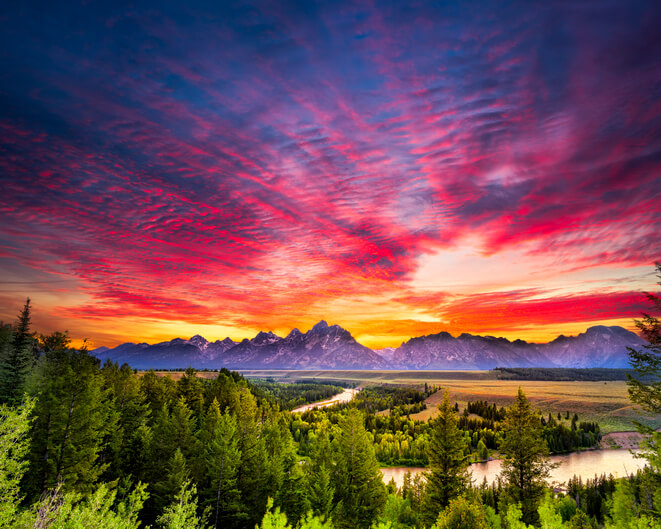 Why you should go: The NPS calls Grand Teton "the mountains of the imagination." And this park lives up to two very different fantasies about the ideal high-elevation vacation. On the one hand, the rugged terrain, including the Teton Range, Jackson Hole, the Snake River and numerous lakes, makes for challenging conditions for:
Hiking
Mountain climbing
Rafting
Snowshoeing
On the other hand, there are opportunities to experience the park's stunning scenery without the workout. Enjoy a 42-mile scenic loop drive and a tram that climbs over 4,000 feet, then stop at a restaurant known for gourmet waffles. The park also has rustic-yet-luxurious accommodations, including:
A resort hotel
Private cabins
A dude ranch
When to visit: Grand Teton is open all year, but some roads may close in the winter, limiting access by car to some areas of the park.
---
13. Grand Canyon National Park
Where it is: Arizona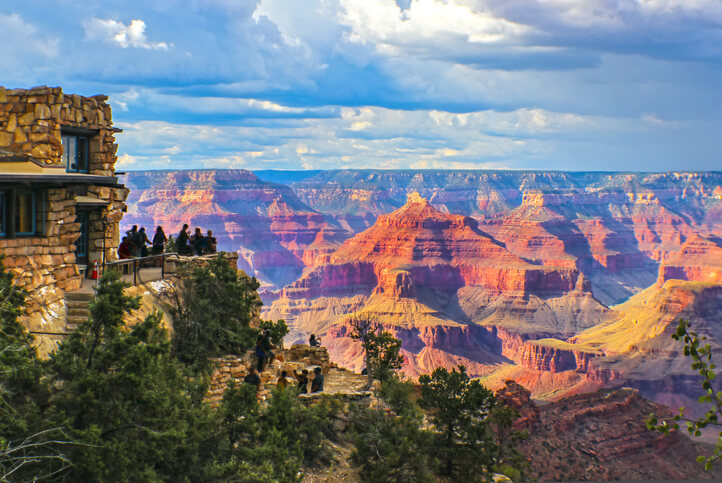 Why you should go: The Grand Canyon is 277 river miles long, an average of 10 miles wide and one mile deep. It is so immense it has to be seen to be believed, which is why tourists have been drawn to it for centuries. Today, most visit the relatively easy to access South Rim, but there's more to this park than the dizzying view from the canyon's edge. From mule trips into the canyon, to backcountry hiking and camping, to rafting on the Colorado River, there are numerous ways to navigate these 1,904 square miles of wilderness.
When to visit: The South Rim is open year-round, though some facilities may close in winter. The North Rim is fully open from May 15 through October 15. It's open for limited use at other times. Check with the NPS for information about seasonal closures and reservations, which may be recommended or required.
---
14. Rocky Mountain National Park
Where it is: Colorado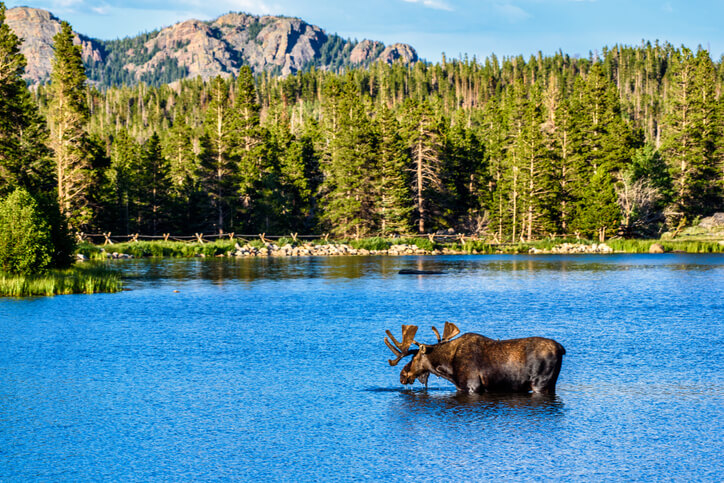 Why you should go: As its name implies, Rocky Mountain National Park lets visitors get close to the natural wonders of the Rockies. The park's scenic drives include Trail Ridge Road, which is the highest continuous paved road in America. This roadway climbs to above 12,000 feet. On top of this, the park has plenty of alpine peaks you can admire. There are also many opportunities for sports in the winter. For wildlife watchers, the colder months are also a good time to spot elk and moose. The busiest season is summer, when visitors flock here to camp, fish, picnic, and hike on hundreds of miles of trails of varying difficulty.
When to visit: Rocky Mountain is open year-round, weather permitting. Keep in mind that some roads close seasonally.
---
15. Big Bend National Park
Where it is: Texas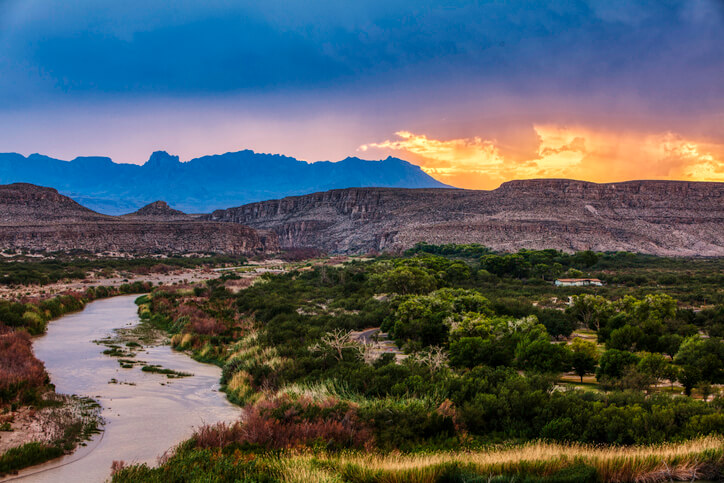 Why you should go: Not every park lets you gaze up at picturesque canyons while floating down the Wild and Scenic River that doubles as an international border. Big Bend, named for a bend in the Rio Grande, does just that. And that's not the only cool feature of this 801,163-acre park. It's also home to the Chisos Mountains, the only mountain range in the United States that's contained within a national park. It boasts an impressive collection of fossil discoveries covering a period of 130 million years. And it's full of historic sites, scenic drives (on paved or "primitive" roads), hikes (choose desert, mountain or river) and many other activities.
When to visit: Big Bend is open – and popular – all year. You'll need to plan ahead if you want to visit on a long weekend or another especially busy time.
---
16. Hawai'i Volcanoes National Park
Where it is: Hawai'i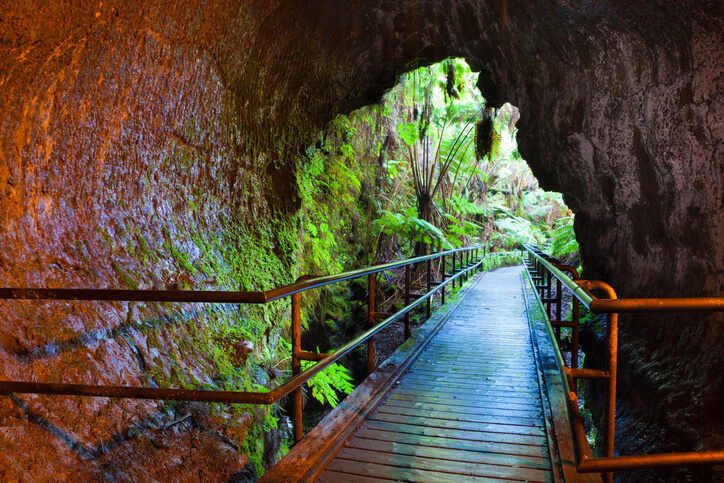 Why you should go: In May 2018, a series of earthquakes and lava flows forced much of Hawai'i Volcanoes National Park to close. The park has since reopened and while some restrictions remain in effect, there's still plenty to see and do. Visitors can follow two main driving routes, the 11-mile Crater Rim Drive loop or the longer Chain of Craters Road leading to the coast. Both pass scenic overlooks and noteworthy natural features. A range of day hikes and backcountry camping take you further into the park. Visitors to this ever-changing place will not see the same sights others have seen here months or years before. But if you're interested in understanding the geology and wildlife of this unique region, that in itself is a reason to go.
When to visit: Hawaii Volcanoes is open year-round, but some areas have reduced hours. Check with the NPS before you go to ensure the area you are visiting isn't closed due to volcanic activity.
---
17. Saguaro National Park
Where it is: Arizona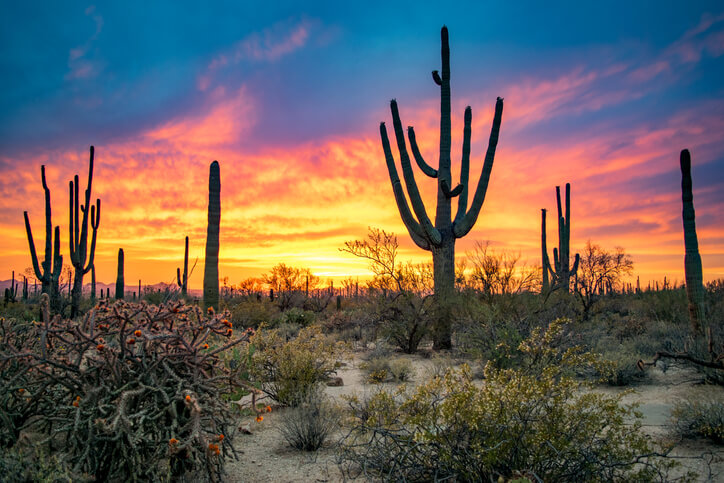 Why you should go: Saguaro, which is split into two sections located at the eastern and western edges of Tucson, makes the Sonoran Desert easily accessible from the city. Visitors can observe a wide variety of desert plant life, including a seemingly endless array of iconic Saguaro cacti. You might also spot a prehistoric petroglyph, a roadrunner or javelina and a stunning sunset.
You can explore the park by car or bike. In fact, each section has a loop drive that takes you past some prime spots for cactus viewing and photography. You can also explore on foot by choosing from the more than 165 miles of hiking trails with options ranging from short walks to challenging treks. You can even venture into the backcountry to camp overnight.
When to visit: Saguaro is open year-round. Both sections are open to pedestrians and cyclists 24 hours a day. Drivers can enter the Tucson Mountain District (west) from sunrise to sunset and the Rincon Mountain District (east) from 7 a.m. to sunset.
---
18. White Sands National Monument
Where it is: New Mexico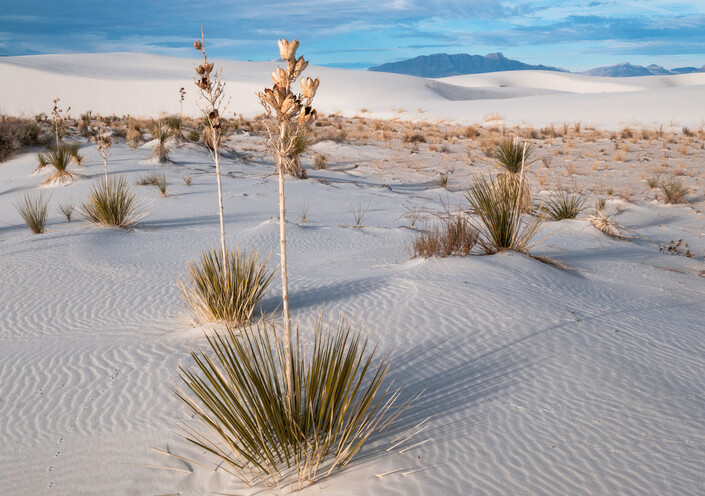 Why you should go: This national monument became a national park in late 2019. White Sands is one of the most unusual landscapes you'll encounter. This remote, 275-square-mile area looks like a cross between a snowy mountain range and a wind-swept beach. It is in fact the largest gypsum dune field in the world. Some of the activities to enjoy include:
Rent a sled to slide down the dunes
Stroll along a boardwalk
Hike
Camp out
Drive the 16-mile road through the monument to appreciate its otherworldly beauty
When to visit: White Sands is open year-round. The monument may close temporarily for extreme weather conditions or missile tests at the adjacent White Sands Missile Range. Check for up-to-date information before you visit.
---
19. Acadia National Park
Where it is: Maine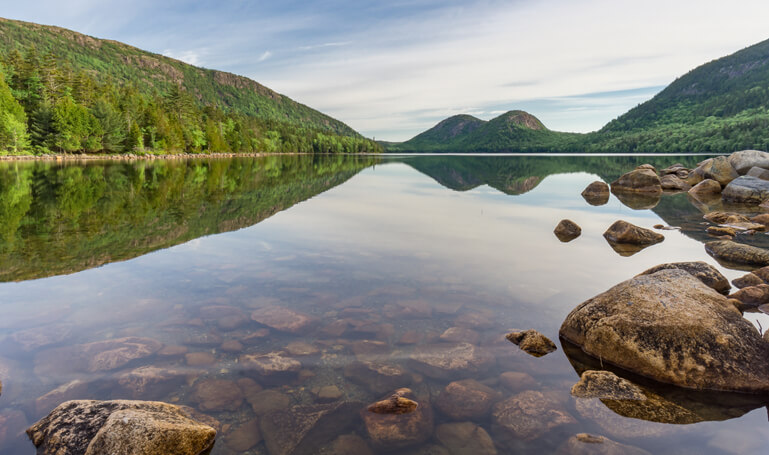 Why you should go: The only national park in New England, Acadia is 47,000 acres of quintessential Maine, with vast swaths of forest, rugged rocky coastlines and unspoiled natural beauty in every season. At Acadia, you can do nearly everything you might imagine at a place the NPS calls the "Crown Jewel of the North Atlantic Coast" including:
Take scenic drives with lighthouse views
Go leaf-peeping
Catch a ferry to a campsite on a remote island
Ski
Dog-sled
Watch for wildlife
Hike mountains and valleys
Stroll beside the ocean
Bike
Swim
Go boating
Enjoy a picnic
When to visit: Acadia is open throughout the year, but roads may be closed and facilities may reduce their hours during the winter.
---
20. Gates of the Arctic National Park and Preserve
Where it is: Alaska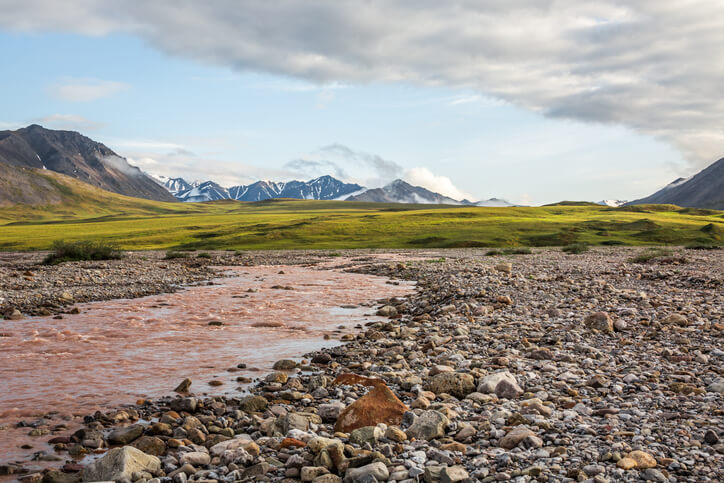 Why you should go: You may have seen news coverage over the past few years about growing issues of overcrowding at America's best-known national parks. One way to experience the splendor of these protected lands without becoming part of the crowd is to visit during the off-season. But to seriously get away from it all, there's nothing like a trip to the least-visited national park in the country: Gates of the Arctic. To be clear, this park is not for everyone. In fact, it's only for the few who are determined enough to fly or hike to its remote location. You also need to be experienced enough to be fully self-sufficient in a region with no facilities, services, roads and marked trails. It's also important to be intrigued enough by this truly unspoiled environment to risk it alone or hire an outfitter to guide you.
When to visit: The park itself is always open. Hours at visitor centers (in the nearest towns) vary by location and season.
---
Preparing for Your National Parks Visit
Before you head to any of America's national parks:
Research the local climate and terrain.
Familiarize yourself with what the park offers in terms of food, water and shelter.
Make sure the dates you're planning on visiting are optimal ones. Some parks are closed on Thanksgiving and/or Christmas Day. The best-known parks can get extremely crowded at certain times of year.
Remember that many national parks are wild places with the potential for extreme conditions and that roads or sections of any park may close for various reasons. To avoid a disappointing experience, check the NPS website for park closures and alerts.
If you're driving your own vehicle or a rental car, keep up to date with local weather and traffic conditions, It's also important to make sure your car insurance is up to date.
Be careful to pack proper clothing, footwear and equipment.
Get a pass. The America the Beautiful-National Parks and Federal Recreation Lands Pass gives you access to move than 2,000 national parks and other public lands locations. There are passes with discounts for those 62 and over, current military and more.
Being well prepared can make a trip to one of America's national parks the trip of a lifetime. To learn more about your options within the national park system, you can search the complete list of U.S. national parks by state, activity and topic. If you are eager to visit any state parks along the way, check out our list of the 25 best state parks in America.
Calling All Road Trip Readers
Have you had a memorable experience at any of the national parks listed above, or one that we haven't mentioned? Share in the comments.